Varmaa is the Tamil remake of the Telugu film Arjun Reddy  and is produced by Mukesh Mehta under E4 Entertainment. It is directed by Bala, and the dialogues were written by Raju Murugan. M. Sukumar was selected to handle the cinematography. Mehta said Varma would be 20 minutes shorter than the Telugu original. Sathish Suriya was chosen as the film editor, after having earlier worked for Bala's Naachiyaar.
[wp_ad_camp_1]
Dhruv Vikram, son of ace actor Vikram, will be making his acting debut with Varma, the Tamil remake of the Telugu blockbuster Arjun Reddy. The Tamil version, which is helmed by director Bala, has Megha Chowdhury, Eswari Rao and Raiza Wilson in pivotal roles.
The Tamil teaser of the much-anticipated film Varma was unveiled on September 23. While Dhruv reprises the role of Vijay Deverakonda, Megha will be playing Shalini Pandey's role in the Tamil remake.
The one-minute long teaser seemed to be an attempt of a frame-to-frame adaptation of Arjun Reddy with minor changes. Dhruv tries to look convincing in the lead role, but needs to work more on his expressions. Megha's performance looks a little underwhelming.
[wp_ad_camp_1]
As the movie is now nearing its release, a shocking press release from the production house has been surfaced. The update says that they are not at all happy with the final out of the film and planning to re-shoot the film with different director.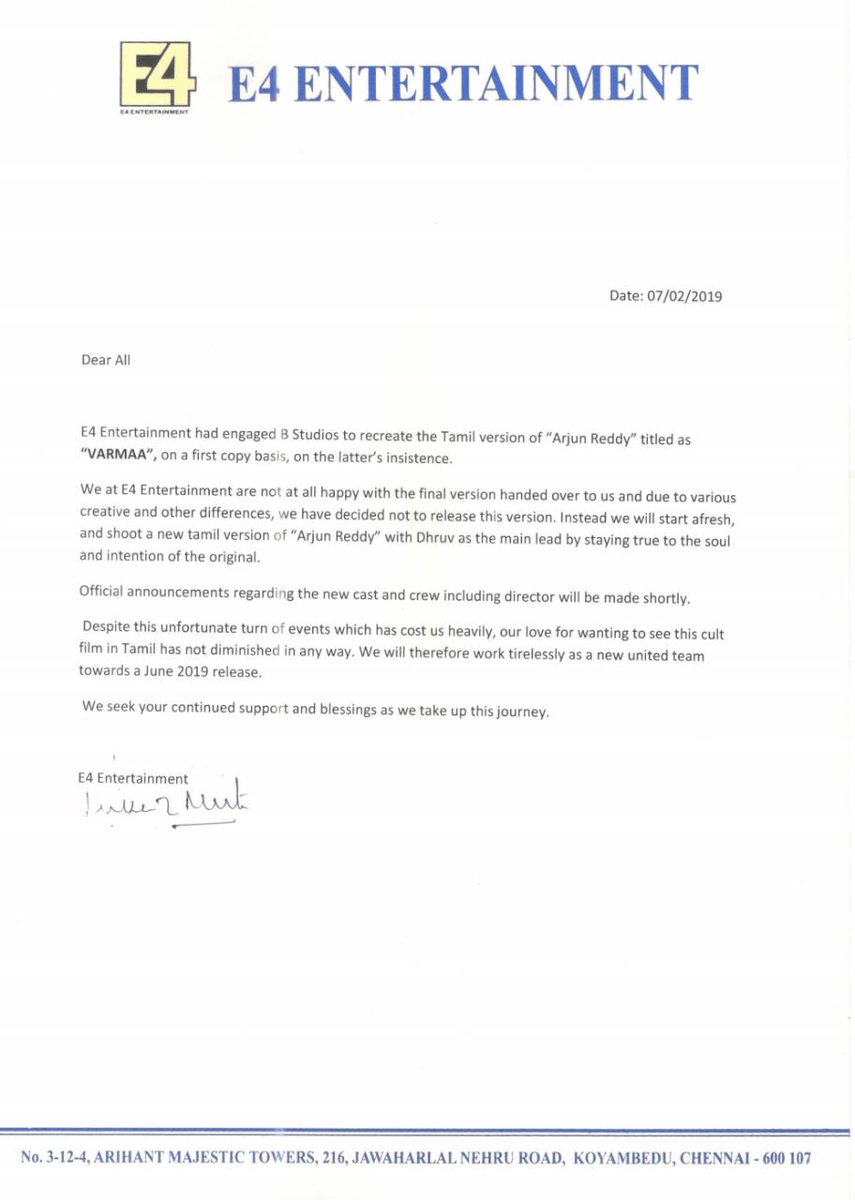 This is first time in Tamil cinema ever to happen. We have seen Kamal Haasan's Maruthanayagam dropped due to the lack of budget and Selvaraghavan's  many projects shelved due to various reason but planning to make a whole new movie again is  first of its kind controversy that Tamil audience witnessing.
Though 'Arjun Reddy' turned out to be a superhit, during the time of its release, the movie was also deemed misogynistic and castist where a guy from upper caste keeps controlling 'his girl' and occasionally hits her too, all in the name of 'love'.
[wp_ad_camp_1]
Bala is one of the top most controversial director of Tamil cinema but also considered as one of the creative makers of all time. The director who is known for films like Nandha, Pithamagan, Avan-Ivan also produced Mysskin's Pisasu which is a blockbuster.
Check out some the reactions from social media for thsi bizarre announcement :
#Varmaa is officially dropped in the direction of #Bala. Will be reshot with a New Director & New cast sticking with #DhruvVikram as the main lead! #E4EntertainmentPressRelease

— Tamilnadu Theatres Association (@TNTheatres) February 7, 2019
Director #Bala is no longer a part of #Varmaa. Due to opinion differences, the film will go for a re-shoot. #DhruvVikram will be retained! pic.twitter.com/LX05fJNhP9

— Review Ram (@MovieReviewRam) February 7, 2019
Official :- #Varmaa Project Has Been Dropped !
Producers are unhappy with the final version So they are going to Start a new film with #DhruvVikram !

— Tamil Cinema Express (@TamilCineXpress) February 7, 2019
Big Breaking #DhruvVikram's debut film #Varmaa directed by #Bala to be reshot by another director!! https://t.co/HQSMNB8HMC

— Sreedhar Pillai (@sri50) February 7, 2019
I believe Bala did not come into this project on his own but Vikram requested for that. It's not fair to insult a creator like Bala like this. its better for him if he refrains from remakes and remain with his original stories

— onlysuperstar (@onesuperstarfan) February 7, 2019
தலைவன் அவன் இஷ்டத்துக்கு படம் எடுத்துருக்கான் போல 😑 https://t.co/xBJSk41CTF

— Sarvs Sagaa (@Sarvs_Sagaa) February 7, 2019
Easily the boldest announcement in tamil cinema in few decades!! #Varmaa to be reshot completely with another director . Production house not happy with what Director Bala Gave them !! This is history !! pic.twitter.com/78WvmfQin8

— Prashanth Rangaswamy (@itisprashanth) February 7, 2019