BREAKING : Is Contractor Nesamani Still Alive ?? Social Media Trends Hashtag For Him !!
CM / Updated: 2019-05-29
17:38 IST
By Dhiwaharan
Friends is a 2001 Tamil romantic comedy drama film, directed by Siddique and produced by Appachan. The film features Vijay, Suriya and Ramesh Khanna, in the title roles while Devayani, Abhinayashree, Vijayalakshmi, Sriman, and Vadivelu play supporting roles.The music was composed by Ilaiyaraaja, while K. V. Anand handled cinematography.
Now after nearly 18 years, hashtag #PrayForNesamani is now trending in social media for absolutely no reason. Nesamani is the character name of Vadivelu who played the role of a contractor in the movie. As we all know, Vadivelu is one of the main face in Tamil meme nation along with Vivek and Goundamani.
[wp_ad_camp_1]
The movie's comedy clips and meme templates would often do rounds in social media as photo meme or video meme by carrying a message that contains the current affairs of the society in order to connect with the social media users.
Now in a way of taking it to the whole next level, Twitter and Facebook users started to exaggerate the movie scenes as real life incident which are just hilarious to read. Taking the movie character of Contractor Nesamani, the SM users making others laugh by creating comments and posts imagining him as a real life character.
In the friends movie, there would be a scene where Nesamani gets hurt by a hammer which was accidentally dropped by Krishnamoorthy (Ramesh Kanna). However he would survive and be back in the next scene to terminate Krishnamoorthy and co.
Watch the comedy scene here :
Now you are going to see the reactions for Nesamani's injury under the hashtag of #PrayForNesamani :
#1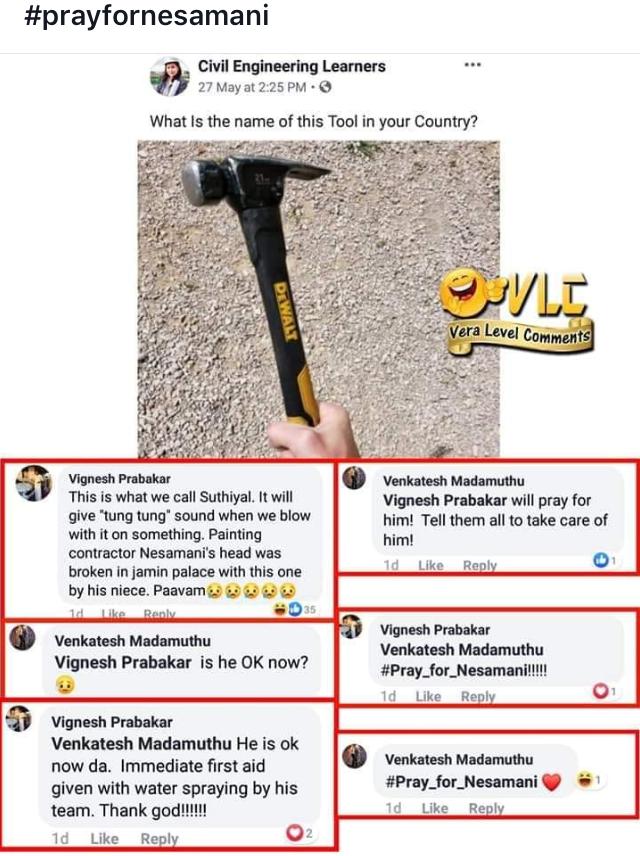 #2
Let's all Unitedly #PrayForNesamani 🙏

— vijay (@vijay07806692) May 29, 2019
#3
கல்யாணம் பண்ணதான்யா அந்த ஒரு லட்சம் ரூபாய் காண்ட்ராக்ட் போட்டாரு பாவி பயலுக அதுல மண் அள்ளி போட்டுட்டானுக#PrayForNesamani

— jagadish (@scb_jagadish) May 29, 2019
[wp_ad_camp_1]
#4
#prayfornesamani 😂 அடேய் அவனை நம்பி ஒரு லட்சம் ருபாய் contracts இருக்குடா 😳 pic.twitter.com/vCYCv5VpWN

— 👔Vinay 👓 (@Itz_VinayG) May 29, 2019
#5
#PrayForNesamani…. இது திட்டமிட்ட சதி !!! கடந்த தேர்தலில் இவருக்கு வாக்களிப்பு மறுக்கப்பட்டது என்பது குறிப்பிடத்தக்கது pic.twitter.com/juQKWKKCFj

— Mersal SivaRasikanda🔥 (@Itz_Mersalsiva) May 29, 2019
#6
தற்போதைய செய்தி: நேசமணி சுத்தியலால் தாக்க பட்ட காட்சிகள் வெளியாகி உள்ளது.😥😥#PrayForNesamani pic.twitter.com/rLPxa0OprC

— Ranjith S™ (@Ranjith_S_Offl) May 29, 2019
#7
காண்ட்ராக்டர் நேசமணிக்கு எதுவும் ஆயிடாதுல்ல#PrayForNesamani pic.twitter.com/R6QZOa1dTf

— 🅔🅝🅘🅖🅜🅐 (@veekaycovai) May 29, 2019
#8
Pls don't share these kind of photos…some light hearted persons can't take it 🙏#PrayForNesamani 🙏

— vijay (@vijay07806692) May 29, 2019
#9
உபவாச செபமிருந்து சொல்வோம்#PrayForNesamani

— Janani (@Janani_Comrade) May 29, 2019
#10
#PrayforNesamani acho pavam

— ajay steve (@ajaysteve25) May 29, 2019
#11
அந்த கோர சம்பவத்துக்கு சில வினாடிகள் முன்னர் எடுக்கப்பட்ட படம்… 😪😪😭#PrayforNesamani pic.twitter.com/yzDhaUe0Yw

— Dobby (@themanhasname) May 29, 2019
#12
அந்த நல்ல மனிதரின் மருத்துவ செலவுக்கு உதவ விரும்புபவர்கள் தொடர்பு கொள்ளவும்… 😪🤗#PrayforNesamani

— Dobby (@themanhasname) May 29, 2019
#13
வெளிய போங்கடா அயோக்கிய ராஸ்கல்களா என்று முதலாளி வர்க்கத்தை எதிர்த்தவர்.🙏😭 #Pray_for_Neasamani pic.twitter.com/8KaPDHt3z0

— சிறுத்தை (@itz_Siruthai) May 29, 2019
#14
Ithayum add pannikanga pic.twitter.com/i8VJFqGmtO

— Valar Morghulis (@ValarMo80047407) May 29, 2019
#15
#PrayForNesamani
Also #PrayForGopal pic.twitter.com/EynpTeVpuN

— Subburaj Super_Structuralist (@subbu_q) May 29, 2019
#16
ஐயகோ இது கொடுமையின் உச்சம்

காண்ட்ராக்டர் #நேசமணி தாக்கப்ட்டார!!

அவரின் உடல் நலம் பெற பிராத்திப்போம் 😒😒#PrayForNesamani pic.twitter.com/FI25H6J9Gd

— BatMan™ (@Batman_offl) May 29, 2019
#17
#Pray_for_Neasamani #PrayForNesamani 😅 pic.twitter.com/4m9yt1gV1X

— TVH_Official 😎 (@TVH_O) May 29, 2019
#18
Correct time la aparentis first aid koduthathaala uyirukku setham yethuvum illa #PrayForNesamani

— vijay (@vijay07806692) May 29, 2019
#19
கான்ட்ராக்டர் நேசமணி பூரண குணமடைய எல்லாம் வல்ல இறைவனை பிரார்த்திக்கிறேன். மேலும் இதற்கு காரணமான சமூக விரோதிகள் மீது சட்டப்படி நடவடிக்கை எடுக்க வேண்டுகிறேன். #PrayforNesamani

— Rajinikanth🍥 (@rajinikanfh) May 29, 2019
[wp_ad_camp_1]
#20
டைம் மெஷின் வெச்சு அந்த சம்பவத்தை நடக்காம மாத்த முடியுமா #PrayForNesamani

— சச்சின் டார்வின் (@stasac01) May 29, 2019
#21
அவிங்கள வேலை செய்யாம பார்த்துக்குரது உன் வேலை என்று தொழிலாளர் மேம்பாட்டை நிலை நிறுத்தியவர் தலைவன் நேசமணி. #Pray_for_Neasamani pic.twitter.com/KIH2lCaAJm

— சிறுத்தை (@itz_Siruthai) May 29, 2019
#22
ரெண்டும் ஒன்னும் நாலுனு புது கணக்கு சொல்லி கொடுத்தியே..😭😭 pic.twitter.com/CAh5nUX0wH

— சிறுத்தை (@itz_Siruthai) May 29, 2019
#23
I met him
Last hours

The brain is confused of him
Pls don't drop your prayers#PrayForNesamani 😥😥🙏 pic.twitter.com/mdMT0DMdMh

— S.Niroshan 🇱🇰 (@Niro_twitz) May 29, 2019
#24
முதலாளி.. தொழிலாளி வித்தியாசமின்றி பழகுபவர் நேசமணி! 😢😢😢 #Pray_for_Neasamani pic.twitter.com/U6nNLCpSWX

— சிறுத்தை (@itz_Siruthai) May 29, 2019
Now it is high time for us to stop scrolling and start praying for his soul. Let us wish him to lead a happy life after recovery. #PrayForNesamani