Articles
BREAKING : "I'm Not Entering Politics" – Superstar Rajinikanth
Superstar Rajinikanth announced that he is not going to enter politics due to his health issues. The actor released a press note saying that he will involve himself in doing good to people by not participating in the electoral politics. He took the decision after "Annaththe" shooting got intervened due to four people tested positive for COVID 19 virus.
[wp_ad_camp_1]
On Friday, a bulletin from Apollo hospital surfaced updating about the Superstar Rajinikanth's admission in their hospital due to BP fluctuation. People who belong to Tamil film industry and prominent members of Tamil nadu Politics prayed for the speedy recovery of the legendary star.
In a recent press meet, Rajinikanth has made it clear that he will be contesting in the upcoming Tamil nadu assembly elections. Earlier, he posted a tweet confirming the same. He who said that he will announce about the launch of his party soon, has made it public that his party will be launched on January month and the date will be announced on 31st of December. "Let's Change Everything, If not now, then it will never happen" are the hashtags he used to make the biggest announcement about his political stint.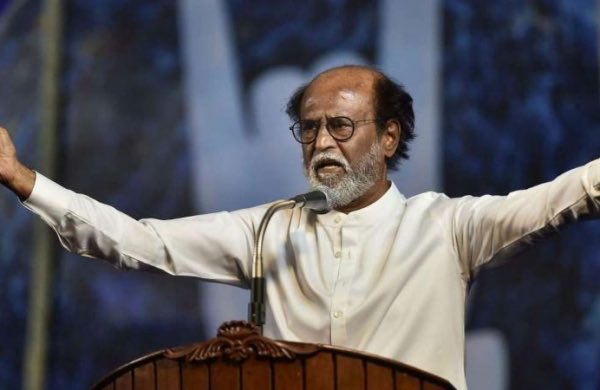 [wp_ad_camp_1]
Now, after the shooting of "Annaththe" got affected due to COVID 19 virus, Rajinikanth decided not to enter politics. The actor says that he sees the interruption as a warning from the God himself. "I can't make the revolution by just campaigning my party through social media platforms and media. Just a shooting that consisted 120 people made me to get hospitalized for 3 days. I have to meet lakhs and lakhs of people if I start a political party" Rajini said in his tweet who believed that it will cause financial and mental stress to the people who belong to his party.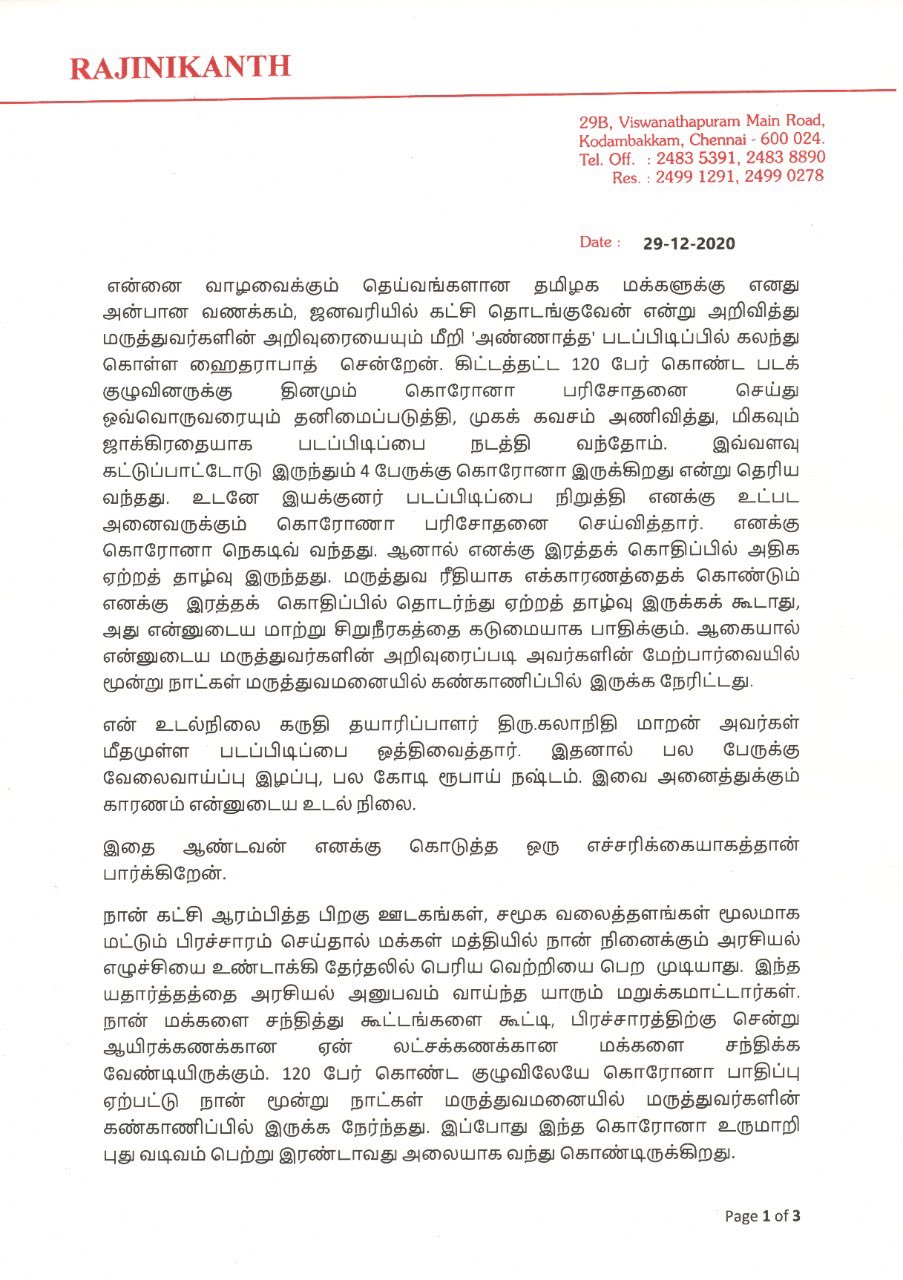 "I don't want to make my believers scapegoat to prove that I am a man of my word. So I am announcing that I will not be starting a political party with grief. The pain I suffered while announcing this could be felt only by me" the Superstar actor said.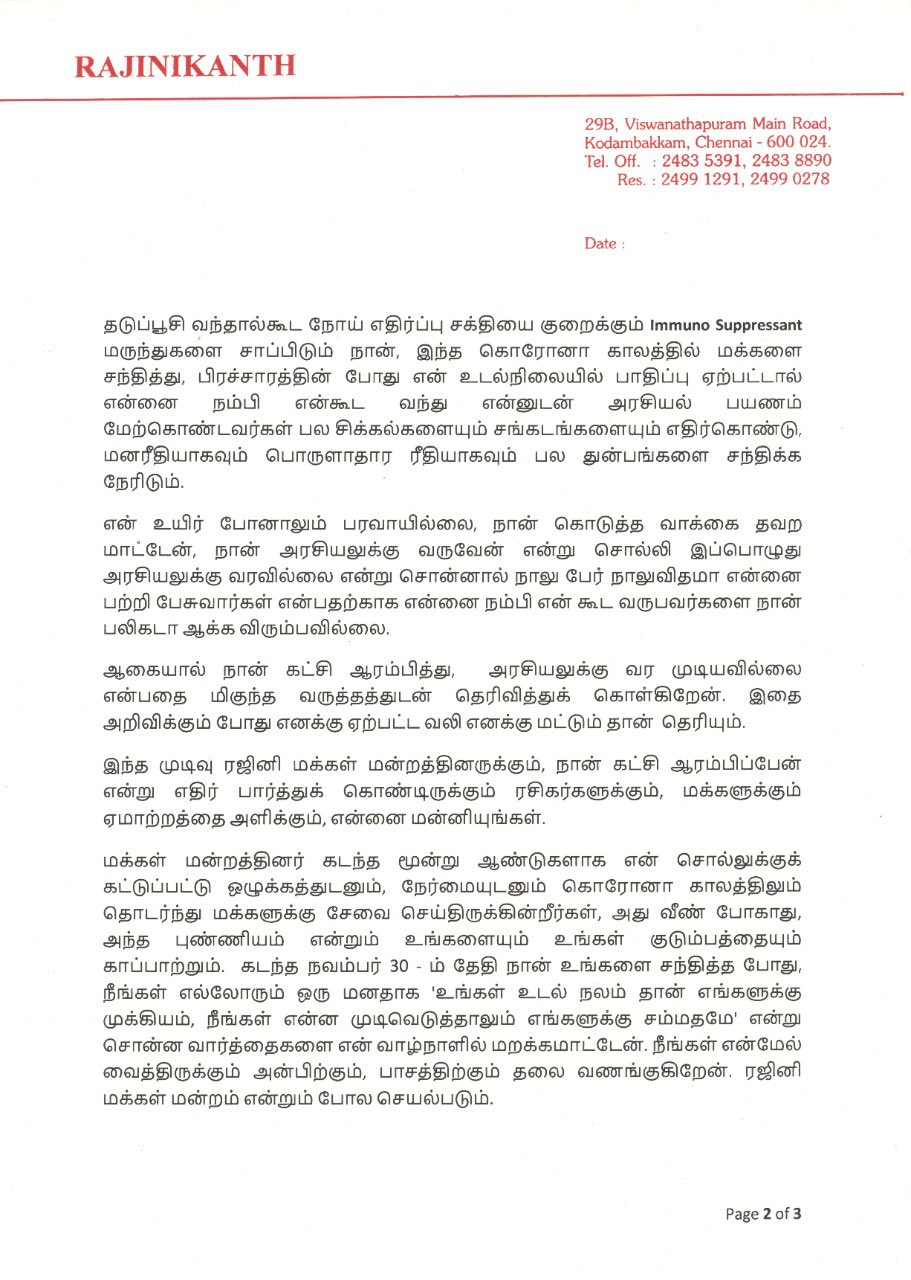 Rajinikanth further asked apology to his fans and the people who belong to Rajini Makkal mandram. He also thanked Tamizharuvi manian and Arjun Sampath for believing in him. "I will serve people without contesting in the electoral politics. I never hesitated to speak the truth." said Rajinikanth and requested people to accept his decision.
[wp_ad_camp_1]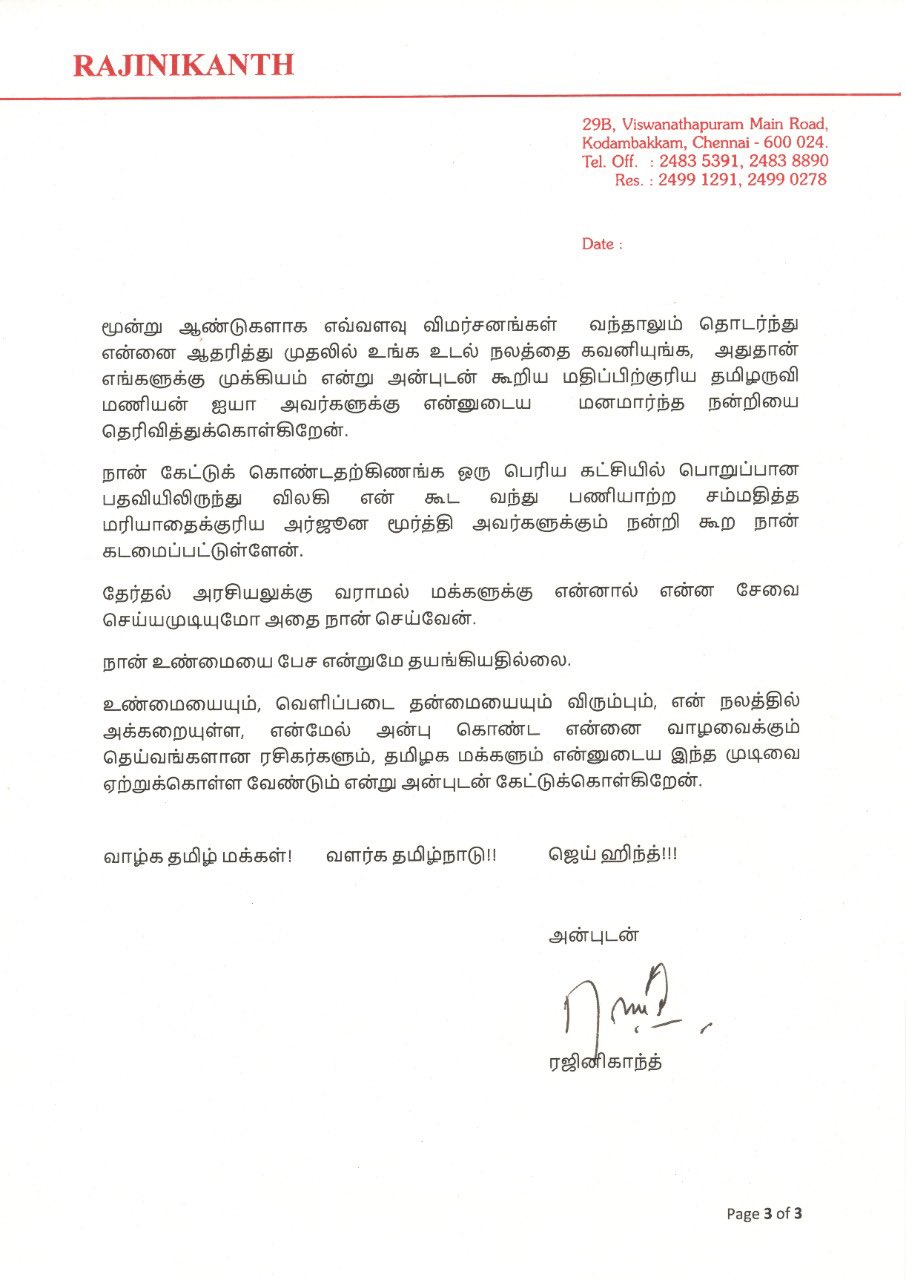 Here's the tweet he uploaded :
December 29, 2020