Madhumitha, a Bigg boss participant and popular comedy actress grabbed headlines few days ago for hurting herself inside the Bigg Boss house. Madhumitha, one of the most controversial contestant of Bigg Boss Tamil season 3, got terminated for harming herself. Madhumitha was considered as one of the contestant to win the title.
[wp_ad_camp_1]
While terminating her, Bigg Boss said that during an argument between Madhumitha and the housemates after a task, the OK OK actress hurted herself to prove a point she stated. Even during interacting with Kamal Haasan, Madhumitha stood with her decision and argued with the host himself. However, Kamal Haasan, sent her by wishing her all the success in the future.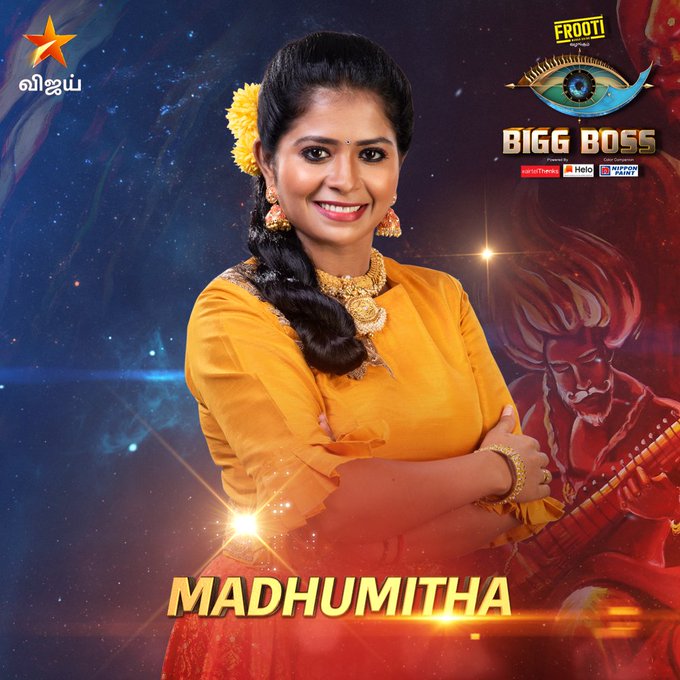 Madhumitha, a month before, filed a complaint against the show in Police station. In her complaint Madhumitha has stated that her co-contestants tortured her for 56 long days and said that it led to mental depression. She also said that they forcefully sent her out of the show on the 56th day. She said that 8 of the contestants which includes Vanitha, Sherin, Sandy, Tharshan, Mugen, Abhirami, Losliya and Kavin harassed her when she was hurt. According to her statement she even says that they laughed when she was harming herself.
Now a tweet from the handle of Madhumitha's husband says that the gang has regretted for what they did. He even asked everyone to stop talking about them until they starts misbehaving again. "———–gang மனம் திருந்தி வருந்தி கேட்டுக்கொண்டதால்…பரவிக்கிடக்கும் அவர்களின் மணத்தைப் பற்றி தயவுசெய்து யாரும் பேச வேண்டாம் மீண்டும் மணம் வீசினால் பார்ப்போம்😊🙏"
[wp_ad_camp_1]
Check out his tweet below :
———–gang மனம் திருந்தி வருந்தி கேட்டுக்கொண்டதால்…பரவிக்கிடக்கும் அவர்களின் மணத்தைப் பற்றி தயவுசெய்து யாரும் பேச வேண்டாம் மீண்டும் மணம் வீசினால் பார்ப்போம்😊🙏

— madhumitha moses (@madhumithamoses) October 11, 2019
Check out some of the replies this tweet received :
கோடிட்ட இடத்தை நிரப்புக! #KakoosGang

— கதிர் கோ 𑀓𑀢𑀺 𑀭𑁆 𑀓𑁄 (@RaviraajAqua) October 11, 2019
8 perum apologize pannaangala sir

— Harsh Reality (@BabeHarsh) October 11, 2019
Hey loose mental enga avanga unkita vanthu manam varunthuna video podu pappom comedy pannitu irukama unnoda Twitter account ah close pannitu kelambi odi poidu mental family

— Sudha 😎KavinArmy Always😍 (@sudhasentil) October 11, 2019
தம்பி நல்லா காமெடி பண்ற போல. நடத்து

— TomCruise 007 (@Armykavin1) October 11, 2019
Dont reply those chitfund gang messages….Karma is boomerang…Running with money might be in their Family blood…

— Roman Empire (@positivevibessa) October 11, 2019
[wp_ad_camp_1]
Earlier Madhumitha's husband accused Vijay Tv for using his footage in the finale episode of Bigg Boss show. "In Bigg Boss finale, none of our family members took part as we were not invited. Now a news is spreading that I have participated in the finals and I got shocked while hearing about it. This is completely wrong and I request a clarification from their side. Thanks" Moses said in the video. BIGG BOSS FINAL ISSUE : Madhumitha Moses Demands Explanation From Vijay TV For Misusing Him !! WATCH VIDEO !!
Comment your views on the tweet of Moses !!