Blue Sattai Maaran Reacted To "Manjal Veeran"!!
Written by keerthiga Published on Jun 29, 2023 | 20:10 PM IST | 415
Follow Us
Comments: 0
Blue Sattai Maaran, the renowned film critic and YouTube personality, recently shared his reaction to the first look poster of TTF Vasan's highly anticipated film debut, "Manjal Veeran." This debut has been long-awaited by Vasan's massive fan base, which he garnered through his popular YouTube channel featuring thrilling bike riding videos. However, Vasan hasn't been a stranger to controversy, as he has faced legal troubles due to his controversial content. Now, as he ventures into the realm of cinema, let's delve into the details of his upcoming film and the buzz it has generated.
TTF Vasan, the famous YouTuber and bike rider, has set foot in the world of Tamil cinema with his much-awaited film, "Manjal Veeran." The first look poster, released on Vasan's birthday, has left fans and netizens in awe and anticipation. Directed by Selam and produced by The Budget Film Company, this debut venture is poised to make waves in the industry.
also read: TTF Vasan's First Look Released!! Internet Just Can't Keep Calm
The intriguing first look poster features TTF Vasan, donning a mace in hand, wheeling a bike at a staggering speed of 299 kmph. The sheer velocity showcased in the poster has become a topic of discussion among netizens, who are both amazed and amused by this feat. The portrayal of such high speed adds an element of thrill and excitement to the film's narrative even before its release.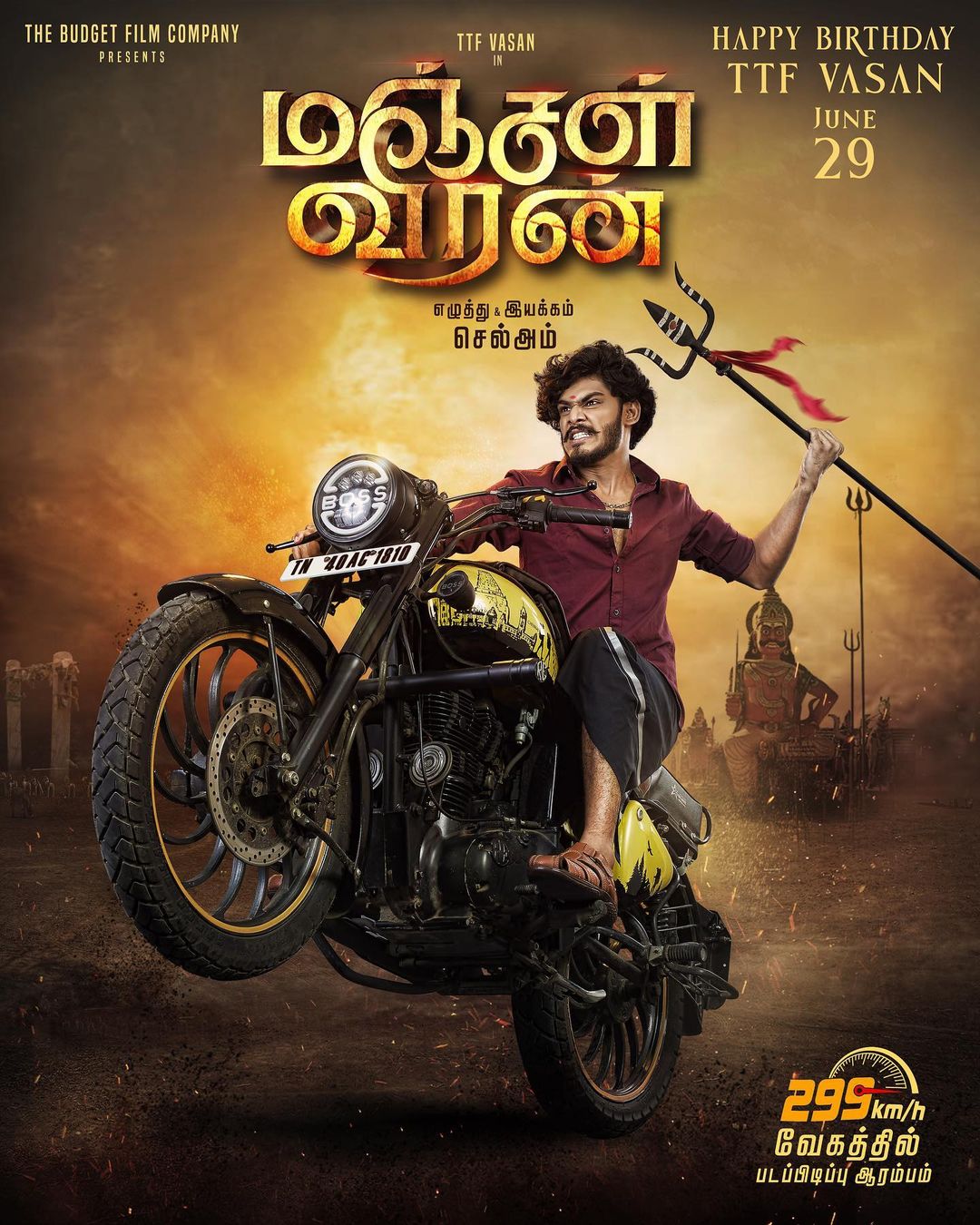 However, some online users couldn't help but draw comparisons to a classic Rajinikanth film, "Annatha," where the superstar is seen riding a bike with a sickle in hand. The similarities between the two posters, particularly the weapon-wielding protagonists on bikes, have led to playful banter and comments suggesting that the poster of "Manjal Veeran" seems like a whimsical creation by Patti Tinkering, referring to the popular online editing trend.
also read: Rashmi Gautam Commented On Girls Removing DP To Be Safe !!
TTF Vasan's journey from being a controversial YouTuber to a silver screen hero has been met with mixed reactions. While his immense popularity among the 2K Kids and bike enthusiasts has undoubtedly contributed to the buzz surrounding his film debut, his past controversies have raised eyebrows and sparked debates. Nonetheless, it is undeniable that Vasan's foray into cinema has generated significant curiosity and interest among his fans.
With "Manjal Veeran," TTF Vasan aims to translate his larger-than-life online persona onto the big screen. The title itself holds a sense of intrigue, leaving fans wondering about the significance of the term "Manjal Veeran" and its connection to the film's narrative. As details regarding the plot and supporting cast are yet to be revealed, the anticipation continues to build.
also read: Shruti Haasan's Emotional Video After Missing Her Flight!!
In this context, the reaction of Blue Sattai Maaran, a renowned film critic known for his honest and insightful reviews, holds great significance. With his extensive knowledge of cinema, his opinion on TTF Vasan's film debut is eagerly awaited by fans and film enthusiasts alike. Sattai Maaran's ability to analyze and critique films with a discerning eye makes his perspective invaluable in assessing the potential success and impact of "Manjal Veeran."
Here is the Tweet Below:
Famous youtuber/Bike rider TTF Vasan makes his film debut.. titled Manjal Veeran. pic.twitter.com/05ns9UcRGY

— Blue Sattai Maran (@tamiltalkies) June 29, 2023
Here is the Reactions Below:
As TTF Vasan, the popular YouTuber and bike rider, makes his much-anticipated debut in Tamil cinema with "Manjal Veeran," fans and netizens are buzzing with excitement. The first look poster, featuring Vasan wheeling a bike at an astonishing speed of 299 kmph, has ignited curiosity and anticipation among the audience. With the film's release drawing near, the reaction of Blue Sattai Maaran, the esteemed film critic, adds an extra layer of intrigue. As fans eagerly await the release of "Manjal Veeran," they look forward to witnessing TTF Vasan's transition from YouTube stardom to the silver screen and discovering the cinematic prowess he brings to his debut film.