Blue Satta Maaran Compared "Beast" With This Hollywood Film!!
Written by Dhiwaharan Published on Apr 02, 2022 | 23:10 PM IST | 76
Follow Us
Comments: 0
The most awaited trailer of actor Vijay's "Beast" released in YouTube on Saturday evening 6 PM. Fans of the actor can't keep calm after witnessing the first ever glimpse on what the entire film is going to be about. Apart the celebration from the fans of actor Vijay, few compared the film with some of the earlier released films such as Hollywood film Die hard, Tamil film Gurkha etc. Meanwhile, movie reviewer Maaran uploaded a plot of a Hollywood film which is about a shopping mall invasion after the trailer of Beast released.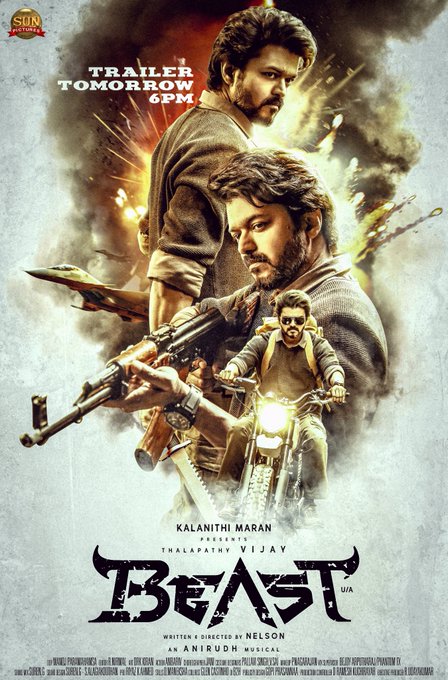 The trailer starts with the voice over of veteran filmmaker Selvaraghavan who played a character in the film. He starts narrating the story of the film and also introduces Vijay's character to the audience. The film is about terrorists hijacking a shopping mall and actor Vijay who is described as "one of the best and most notorious spies India ever had" getting trapped in it with public.
The 3 minute long trailer shows "Veera Raghavan", played by Vijay fighting with the terrorists and delivering punch dialogues about how he dislikes the ugly politics of government. Pooja Hegde, Yogi Babu, Shaji are some of the supporting actors who could be seen appearing in the trailer along with Vijay.
Watch the trailer below :
Many celebrities including Vignesh Shivan, Lokesh Kanagaraj, Venkat Prabhu wishes the team for a big success. Fans of actor Vijay has been trending hashtag for the reach of the trailer which already garnered 5 million views in YouTube.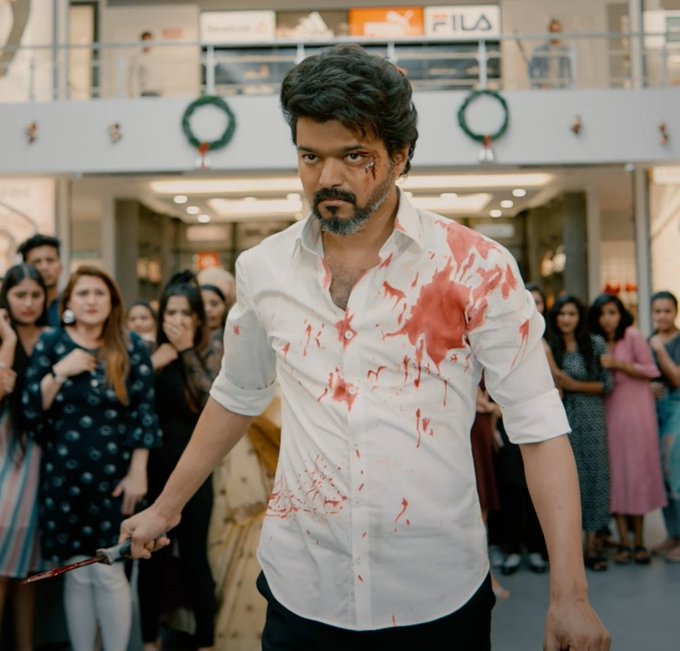 Comparisons between Die Hard, Ghurkaans, web series money heist and Beast are being made in the internet platforms. Popular movie reviewer Blue Satta Maaran who recently caught in controversy after making personal comments against actor Ajith kumar, came up with a tweet in his timeline, dropping a movie plot, denoting that it is similar to "Beast".
Uploading a poster of 2009 released Paul Bart : Mall Cop, Maaran wrote "Paul is an aspiring Police. Works as a security guard at the West Orange Pavilion Mall. An organized gang of thugs disguised as Santa's Village employees begin a heist inside the mall. Paul destroys their mission and gets job offer from NJ State Police" as his tweet's caption.
Check out his tweet below :
Paul is an aspiring Police. Works as a security guard at the West Orange Pavilion Mall. An organized gang of thugs disguised as Santa's Village employees begin a heist inside the mall.

Paul destroys their mission and gets job offer from NJ State Police. pic.twitter.com/198KrYLAvY

— Blue Sattai Maran (@tamiltalkies) April 2, 2022
On seeing the fans, many Vijay fans questioned Maaran why he is starting to target Vijay now as he was degrading the fans of actor Ajith kumar. Check out some of their reactions below :
Ok vijay fans be careful next neenga dhan🙂

— TAMIL AKᵐᵃᶠⁱᵃ😈 (@ThalaTamil0807) April 2, 2022
Invasion thriller oru genre ya….mutta koomutta mari olaru ….die hard, air force one, hostage ipdi solte polam…

— Gautham Thalapathy (@Gautham41) April 2, 2022
Valimai appo Ki Ki Ki mode la irundha Anils lan Inga vaanga 🐿

AK Fans don't support Blue Satta, let Anils reap what they sown https://t.co/J3idaRHm3P

— AK😎 (@AjithStudio) April 2, 2022
Beast First impression:

It looks like a copy of Mall Cop with a slight difference. In Mall Cop, hero is a comedian. In beast, he is a serious action hero so added those masala's like fighter planes, machine gun to boost him.

Let's see.

— தமிழ் நாடோடி (@Tamil_Nadodi) April 2, 2022
Nxt enae engae pakkamae 😂 pic.twitter.com/XwOzrQ3gM8

— ADDY (@ADDY79054340) April 2, 2022
இப்ப விஜய் பேன்ஸ் என்ன பண்றானுங்கனு பாப்போம் 🚶🏻‍♂️🚶🏻‍♂️🤦🏼‍♂️🤦🏼‍♂️ https://t.co/4jvhcMkHnV

— (ரெமோ) (@Remo006) April 2, 2022
Here's the trailer of Mall Cop :