BJP Revealed The Identities Of Girls Who Raised Voice Against Them !! Got Thrashed
CM / Updated: 2022-02-17
07:43 IST
By Dhiwaharan
On Tuesday, the party BJP revealed the identities and other details of girl students who approached the Karnataka High court against the ban on Hijab in class rooms. After receiving severe criticism as the addresses and other details of the minors were shared in public, the tweet was later taken down by Twitter itself for violating its rules.
In its tweet, BJP said that five of the students who were involved in the hijab row were minors. "Don't congress leaders Rahul, Priyanka and Sonia have any guilt for using minors to say relevant in politics ? How low they will stoop to win in elections ? Is this what ladki hoon lad sakti hoon means ?" the tweet of BJP Karnataka read in which Priyanka Vadra was tagged.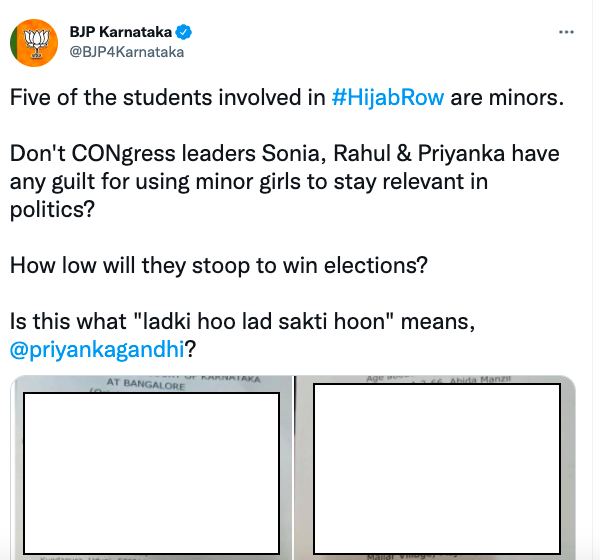 Along with the addresses, photos of the six petitioners were also shared. Reports suggests that the state's BJP president retweeted the post and shared his opinion about it in Kannada. "Four of the students who filed an interim petition are minors. What does it mean that they are disputing the hijab issue with the election of the five states ? Doesn't it mean the students are dancing to someone else's tunes ?"
As soon as the tweet was shared, it drew flak from the users of the online platforms. "Shameless @BJP4Karnataka tweets the addresses of the minor girls in order to attack the opposition. Do you'll realise how insensitive, sick and pathetic this is? I request @DgpKarnataka and @TwitterIndia to take action and take down the tweet. Also seek @GoI_MeitY intervention" Priyanka Chatruvedi said in her tweet.
Another twitter user said "By posting the personal details of the girls the BJP has raised an open call for violence against the girls. The State apparatus and their own r-w network were not enough. It is a call for anyone sympathetic to BJP's stance to show it"
Check out some of the reactions below :
Shameless @BJP4Karnataka tweets the addresses of the minor girls in order to attack the opposition. Do you'll realise how insensitive, sick and pathetic this is? I request @DgpKarnataka and @TwitterIndia to take action and take down the tweet. Also seek @GoI_MeitY intervention.

— Priyanka Chaturvedi🇮🇳 (@priyankac19) February 15, 2022
Five of the students involved in #HijabRow are minors.

Doesn't the Karnataka BJP have any guilt for sharing their personal details, including address, to stay relevant in politics?

How low will they stoop to win elections?

Is this what "beti bachao, beti padhao" means? pic.twitter.com/tqUTueeM42

— Rituparna Chatterjee (@MasalaBai) February 15, 2022
Sharing the details of minor girls in public so that the BJP hyenas on ground can now hunt them. You can't reason with these cannibals. They are beyond repair. pic.twitter.com/TyLpgkfiSI

— The Saudade Guy (@thesaudadeguy) February 15, 2022
By posting the personal details of the girls the BJP has raised an open call for violence against the girls. The State apparatus and their own r-w network were not enough. It is a call for anyone sympathetic to BJP's stance to show it.

— tanisha (@Tanisha9400) February 15, 2022
BJP Karnataka wants to liberate hijab wearing girls by doxxing them. Please report. pic.twitter.com/rEJ6n76Dyw

— Captain Arsenal: Civil War (@backtotrolling) February 15, 2022