#BJPInsultsThiruvalluvar Trending On Internet !! Here's Why !!
Written by Dhiwaharan Published on Nov 04, 2019 | 21:51 PM IST | 142
Follow Us
Comments: 0
Prime minister Narendra Modi, while releasing the Thai translation of Tamil classic Thirukkural, written by legendary poet Thiruvalluvar, used a Thirukkural in his speech. Though he did it to make the language Tamil and Thirukkural proud, hashtag BJP Insults Thiruvalluvar is trending in twitter.
[wp_ad_camp_1]
The reason behind the hashtag is nothing but the Tamilnadu based official twitter account of BJP party, tried to "saffronize" the legendary poet by tweeting a post. The saffron themed post had Thiruvalluvar in orange robes and holy ash smeared in his forehead and arms. We can also see the poet wearing a "Rudhraksha" in his neck.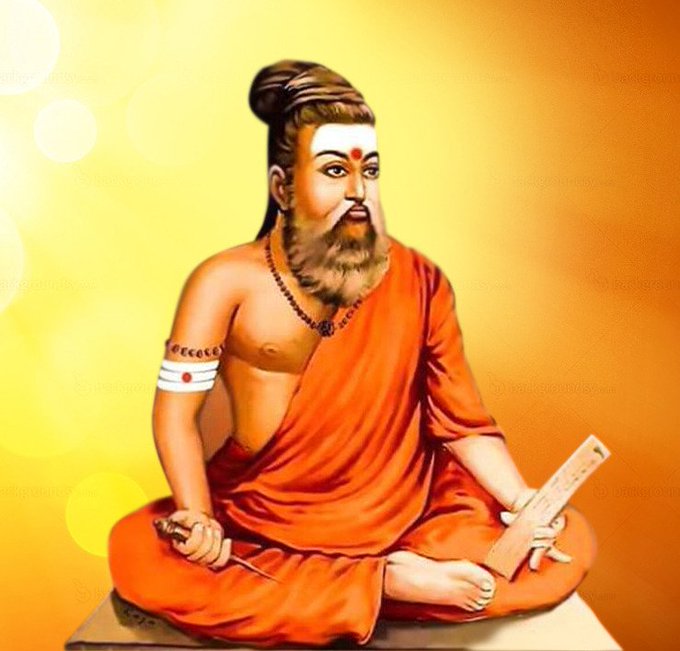 The tweet of the BJP party contained a popular Thirukkural of Thiruvalluvar which says that there is no use of education when one abuses the god and its followers. However, the content was ignored by the social media users who got irked by the way Thiruvalluvar was portrayed in the post.
Here's the tweet of BJP Tamilnadu :
கற்றதனால் ஆய பயனென்கொல் வாலறிவன்
நற்றாள் தொழாஅர் எனின்

கடவுளை தூற்றி, இறைநம்பிக்கை கொண்டவர்களை பழிப்பவர்களுக்கு, அவர்கள் கற்ற கல்வியினால் என்ன பயன்?

அன்றே வள்ளுவர் சொன்னதை இன்று தி.கவும், திமுகவை நம்பி வாழும் கம்யூனிஸ்டுட்களும், அவர்கள் சார்ந்த ஊடகங்களும் அறிந்து தெளிய வேண்டும் pic.twitter.com/xBeXs9aXHa

— BJP Tamilnadu (@BJP4TamilNadu) November 2, 2019
[wp_ad_camp_1]
Most people of the state believes that the poet Thiruvalluvar wore white robes without any holy ash or a sign that denotes he belongs to a particular religion.
Check out some of the reactions under the hashtag #BJP insults Tamilnadu :
Now thiruvalluvar to BJP #BJPInsultsThiruvalluvar pic.twitter.com/UQU2daJy40

— SK🧐 (@kanagumca87) November 3, 2019
#BJPInsultsThiruvalluvar leave us da dei..take your Sanskrit and hindi to next level #RespectThiruvalluvar pic.twitter.com/itbmzgHkre

— Ashim cena (@Bmohamedhashim2) November 4, 2019
#BJPInsultsThiruvalluvar
Next they will say that Thiruvalluvar was a Sanskrit poet who came from Himalaya to pen down thirukkural.

These guys just dislike any form of history for Tamils.

— Dr.Prabhak (@prabhakcool) November 3, 2019
Thozhar thiruvalluvar now 😂😂😂 #Thiruvalluvar #BJPInsultsThiruvalluvar #Thirukkural pic.twitter.com/RsUDzTbJCI

— மெட்ராஸ்காரன் 💙❤◼ (@advocatearuldev) November 3, 2019
Bhagwa goons can wear whatever color Chaddi they want, but why are they painting the legends like Gandhi, Ambedkar and Thiruvalluvar in saffron!!!! #BJPInsultsThiruvalluvar pic.twitter.com/bJjGtcowBf

— An Indian (@Congress_Army) November 3, 2019
What திருவள்ளுவர் thinks about his new look: "Otha coloura ithu…!" #BJPInsultsThiruvalluvar pic.twitter.com/RA12Y3hNlu

— Bubbles. (@D_r_o_w_n_i_n_g) November 3, 2019
[wp_ad_camp_1]
ஒருத்தனுக்கு வள்ளுவர் காவி சட்டை போடணும், ஒருத்தனுக்கு வள்ளுவர் கருப்பு சட்டை போடணும்.

இவனுங்க ரெண்டு பேருக்கும் வள்ளுவர் சொன்னதை கடைபிடிக்கனும்கிறது கனவிலும் இல்லை.

ஏண்டா திருக்குறளை எழுத்துனோம்னு மேல உக்காந்து பீல் பண்ணிட்டு இருபாப்ல இப்போ !!

— Prashanth Rangaswamy (@itisprashanth) November 4, 2019
Thiruvalluvar, commonly known as Valluvar, was a celebrated Tamil poet and philosopher. He is best known as the author of Thirukkuṛaḷ, a collection of 1330 couplets on ethics, political and economical matters, and love. The text is considered an exceptional and widely cherished work of the Tamil literature.
Comment your views on this hashtag trending !!