BJPians Spewed Hatred At G.V Prakash For Prioritizing Language Over Country !!
Country
G.V Prakash
Language
2 years ago
By Dhiwaharan
Music composer cum actor G.V Prakash has been facing the heat from the supporters of BJP party after saying that he prioritizes language over country in a recent press meet. G.V Prakash, Arun raja Kamaraja and RD Rajasekar are collaborating for a project that will celebrate 75 years of Independence and aso 150 years anniversary of Kappalottiya Tamizhan, V. O Chidhambaran Pillai. The trio are going to make a tribute song titled "Perungkaatre" in which G.V Prakash is going to perform and compose music.
[wp_ad_camp_1]
The song is going to be released in 12 languages namely Tamil, Telugu, Malayalam, Kannada, Hindi, Oriya, Marathi, Bengali, Bhojpuri, Punjabi, Gujarati and Konkani. With G.V Prakash composing music for all the 12 languages, Rajasekar is going to direct the video and RD Rajasekar is expected to handle the camera. Popular lyric writer Arunraja Kamaraja is going to write the lyric and many other top lyric writers were roped in to write lyrics for the song.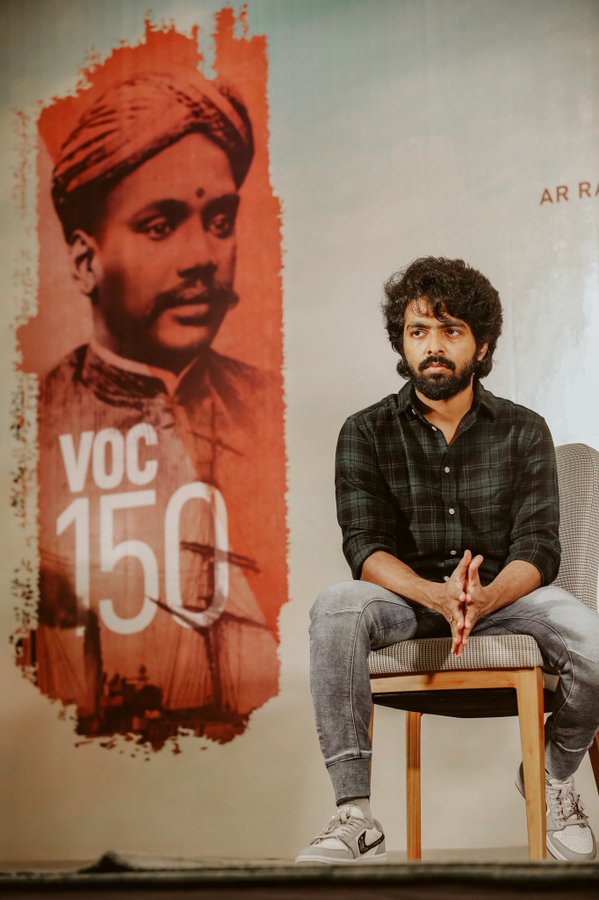 In the interaction with the press, G.V Prakash said that he is elated to be a part of this pan Indian project. "When we got the independence in the year 1947, Tamil song "Devaram" was composed at the Flagging event. I thank Rajasekar sir and RD Rajasekar sir for giving me the opportunity to compose music for the song that celebrates 75th anniversary of our Independence. We are making this "Perumkaatre" song to celebrate all our freedom fighters" G. V Prakash said in the press meet.
[wp_ad_camp_1]
"We are shooting for this song across the country. I am composing music and performing for the song as well. I will give my full effort for the song to come out well" Prakash said in the press meet. While answering to one of the questions of a press reporter, G.V Prakash said that he would prefer Language more than his country. "I would give first preference to my language. It is my mother. Of course, I love my country. I would prioritize my language and would give importance to my country next." the music composer said in his statement.
Watch the video below :
தேசத்தின் மீது பற்று இருக்கு ஆனா… மொழி தான் எனக்கு முக்கியம் – ஜி.வி.பிரகாஷ்#ActorGVPrakash | #Musician | #TamilLanguage pic.twitter.com/3N1ce5iOFg

— Polimer News (@polimernews) July 30, 2021
This statement from the musician irked the supporters of BJP party who would generally prefer country over anything. Many pointed out that G.V was talking in English, even while boasting his Tamil language. Check out some of their comments below :
மொழி மொழின்னு சொல்றாங்க ஆனா பாருங்க முழுமையா தமிழ்ல பேசமாட்றாங்க

முக்கால்வாசி ஆங்கிலத்துல பதில் சொல்லிட்டு மொழிதான் எனக்கு முக்கியம்னு சொல்றானுங்க இவனுங்க பைத்தியமா இல்ல இதெல்லாம் பாக்குற நாம பைத்தியமான்னு தெரியல

— V.G.Marimuthu (@VGMarimuthu1) July 30, 2021
இவன் வேற ஊடைல உருட்டுகிட்டு. தூத்துக்குடி துப்பாக்கி சூடுக்கு பெருசா பேசுனான், ஆனா அடுத்த நாளே செம னு ஒரு படத்த ரிலீஸ் பண்ணுனா ன். விளம்பர பிரியன்

— சிவா தம்பிரான் ©W@🇮🇳 (@am_cwa) July 30, 2021
எனக்கு தேசத்தை விட தமிழ் மொழிதான் முக்கியம்: GV பிரகாஷ்

சரி நீ நடிச்ச நல்லதா நாலு தமிழ் படத்தோட பெயர் சொல்லு?

டார்லிங்
த்ரிஷா இல்லன்னா நயன்தாரா
பென்சில்
Bruce lee
🤑🤑

— Meganathan (@Meganat95227060) July 31, 2021
GV Prakash

G(ஆங்கிலம்) V(ஆங்கிலம்) பிரகாஷ் ( ஷ் சமஸ்கிருதம் )
வந்துட்டாரு தூக்கிகிட்டு. போடா கூ

— மதசார்பற்ற பாஜக (@visuvas) July 30, 2021
நாடுன்னு ஒன்னு இருந்தா தான் மொழின்னு ஒன்னு இருக்கும்…..

— KADAVUL REVIEW (@KADAVUL87558962) July 30, 2021
மொதல்ல ஒரு நல்ல தமிழ் படத்துல நடி

— Gokula Krishnan Bhojan 🇮🇳 (@Iamgokula) July 30, 2021
[wp_ad_camp_1]
நாயே…. தூ!! மொழி, ஜாதி, மதம், இனம் என எல்லாவற்றையும் விட பெரியது என் தேசம்!! உன்ன மாதிரி தருதலைக்கு அது எங்க தெரிய போகுது ?? எச்ச பய

— Umesh Kesavan 🇮🇳 🚩 (@magicumesh) July 31, 2021
தமிழ் தமிழ் nnu சொல்லி இங்கிலீஷ் ல பேசிக்கிட்டு இருக்கான்.

— Sanyasi (@iam_not_a_saint) July 31, 2021
Meanwhile, G.V Prakash came up with a tweet in his official twitter handle. Uploading a picture of himself, G.V wrote "The one who has a heart that doesn't gets depressed has potential to do anything in this world" as his caption.
Here's his tweet :
தளராத இதயம் உள்ளவனுக்கு இவ்வுலகில் முடியாதது எதுவும் இல்லை pic.twitter.com/36Y7atv4P3

— G.V.Prakash Kumar (@gvprakash) July 31, 2021