Kishore K Swamy, a popular BJP supported uploaded a tweet mocking the recently released "Kandaa Vara sollunga" song from "Karnan" and got thrashed by the users of the micro blogging social media site. He who said that the song is a third rated one, disrespected singer Kidakkuzhi Mariyammal and called the entire song as a sentimental bull shit for the instuments used it. As soon as his tweet surfaced, along with the fans of actor Dhanush, twitter users thrashed him in the comment section of his tweet.
[wp_ad_camp_1]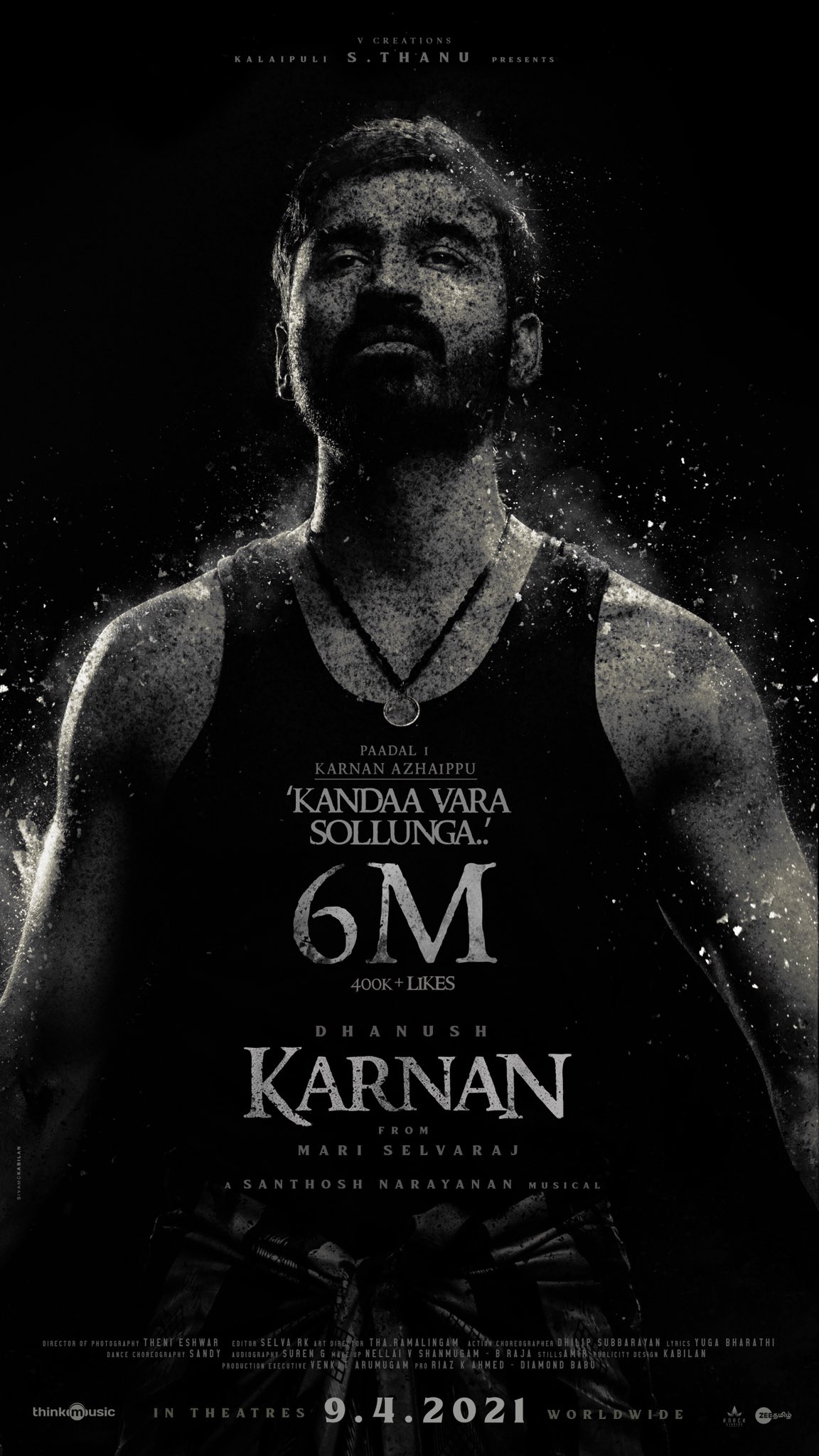 Makers of Dhanush's upcoming film "Karnan" released the first single of the film in youtube. The lyrical video of the song which starts like "Kandaa Vara Sollunga" is trending at number one in the video streaming platform. The song was composed by Santhosh Narayanan with Kidakkuzhi Muniyammal singing the song. The song garnered 3 million views in youtube so far and became a chartbuster with many celebrities and fans lauding the intensity of it.
The song's lyrics which were written by Mari Selvaraj, talks about the abilities of the protagonist in battle field and about his many other qualities including kindness, generosity etc. The song's intensity increases with every visual of the lyric video which shows a man drawing the face of the protagonist by just using a torch.
Along with Kidakkuzhi Mariyammal, Santhosh Narayanan also sung the song. He could be seen leading a band of folk musicians and the musical instruments were used as properties as well. Director Maari Selvaraj also makes his presence in the lyric video.
[wp_ad_camp_1]
Karthik Naren, Selvaraghavan, Harish Kalyan, Karthik Subbaraj, Teejay are some of the notable personalities who appreciated the song through their tweets. Meanwhile, Kishore K Swamy, in his tweet, wrote "கண்டா வரச் சொல்லுங்க என்று ஒரு மூன்றாம் தரப் பாட்டு , அதை ஒரு கிழவி பாடுது என்பதாலேயே பில்டப் . பத்தா குறைக்கு இந்த பறை எக்ஸ்டெரா புல்ஷிட் இருந்தால் சென்டிமென்டல் நான்சென்ஸ்" to mock the song.
Check out his tweet below :
கண்டா வரச் சொல்லுங்க என்று ஒரு மூன்றாம் தரப் பாட்டு , அதை ஒரு கிழவி பாடுது என்பதாலேயே பில்டப் . பத்தா குறைக்கு இந்த பறை எக்ஸ்டெரா புல்ஷிட் இருந்தால் சென்டிமென்டல் நான்சென்ஸ்

— kishore k swamy (@sansbarrier) February 19, 2021
This tweet from his became a subject to severe trolling and a number of social media users abused him for his inappropriate criticism as well. Check out some of the reactions below :
கண்டா வரச்சொன்னதுக்கு கண்டார ஓலி நீ ஏன்டா டென்சன் ஆகுற கூதி

— Guru official ™ (@GuruLeaks) February 19, 2021
அப்பாடி…! ஊரே கொண்டாடினாலும் உங்க கூட்டம் கதர்றத பாத்தா தான் டா ஒரு சந்தோஷமே வருது.. கதறுடா சூம்பிப்போன ஊம்பி..

— தோழர் ஆதி™ 😎🔥 (@RjAadhi2point0) February 19, 2021
"கண்டா வரச் சொல்லுங்க"ன்னா…

இந்த "காண்டம் விற்குறவனுக்கு" ஏன் கோபம் வருது ?….

— சூநக்கி சங்கி (@r4CWekcgYkY0bjS) February 19, 2021
உங்க கூட்டம் காண்டு ஆகனும்னு தான்டா முட்டாளே அந்த பாட்டு காண்டானியா இன்னும் நிறைய இருக்குடா குடிகார ஜண்டா

— saravanan (@saravanan11455) February 20, 2021
த்தா.. நீ காண்டு ஆனல…. அது போதும்..

உனக்கு எரிச்சலா இருந்தா அதுதான் எங்களுக்கு சந்தோஷம் 😎

மூடிக்கிட்டு போய் உட்காரு

— சோழ தேச பொறியாளன்!!! (@VVimalbritto) February 20, 2021
[wp_ad_camp_1]
உனக்கு கடுப்பாகுதா.. அப்போ நல்ல பாட்டுதான் மேன்!!!

— மார்க் வாஹ் (@arivunanayan) February 19, 2021
ஆமா…
இவரு குடிச்சுட்டு ஆடுறதும், பாடுறதும் தான் முதல் தரம்…

— பா. கிரிநாத் (@Girinathbala) February 19, 2021