Abhishek Raaja became the second contestant of Bigg Boss season 5 to get eliminated from the show. He who got evicted after getting less number of votes among the fans, got the offer from his co-contestants such as Pavni Reddy and others to receive special coins from them in order to avoid eviction. However, Abishek refused to receive them saying that he can't continue his game after knowing public's verdict. The movie reviewer left the house after having a long chat with Kamal Haasan by leaving his co-contestants in utter shock.
[wp_ad_camp_1]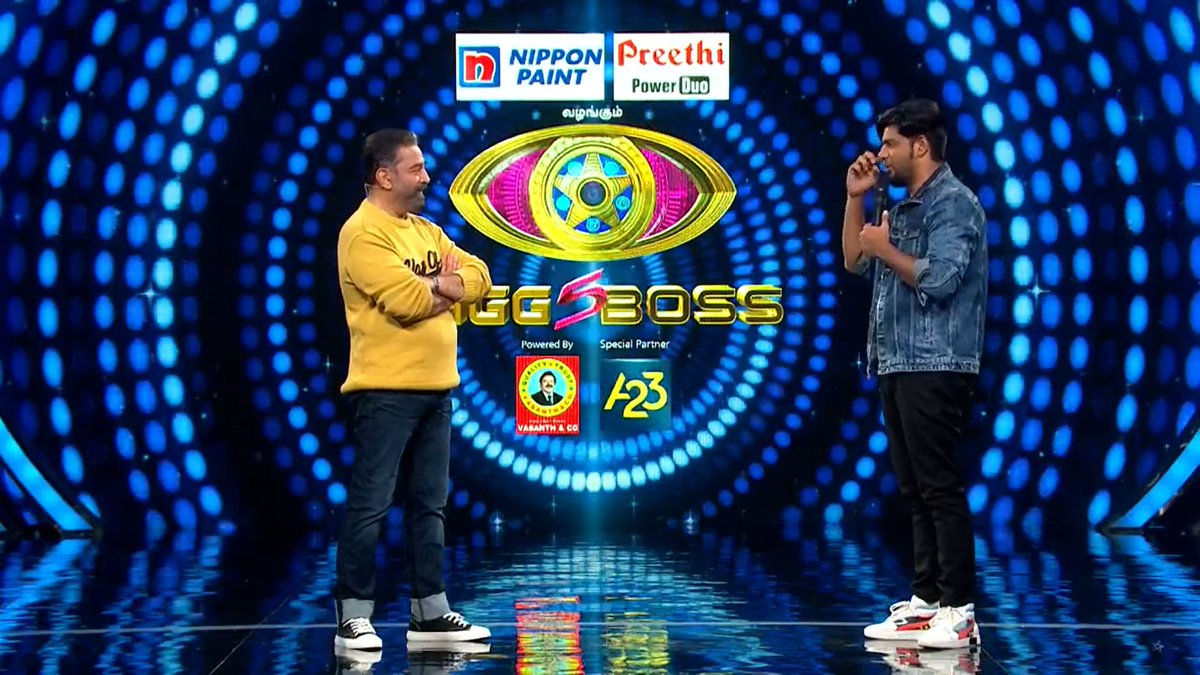 When he met Kamal Haasan on stage, Abhishek said that he expected to get a spot in the top 5. Kamal Haasan said that Abhishek has a good analytical sense and his judgment about others is good. Abishek watched his journey video after which Kamal advised Abhishek seems to an angry young man. He suggested him to be "afraid" of his own anger and control it rather.
As soon as he got evicted, a number of fans expressed their frustration over the analyst getting evicted so soon who was busy providing content for the viewers of Bigg Boss. They felt other contestants such as Abhinay, Iykki Berry, Chinna Ponnu re not much active and never involved in doing something impulsive as much as Abishek.
"You people didn't value him. Eventhough i hate him he was much better than some people in the house and it's best if he goes out. Some contestants used him as a scapegoat to become popular" a social media user said after abishek's eviction whereas another one said "Abhishek truly was not as bad as the 1st runner of BB Tamil season 4"
Check out some of such reactions below :
[wp_ad_camp_1]
Not some people saying now that #Abishek is gone there will he no content. You people didn't value him. Eventhough i hate him he was much better than some people in the house and it's best if he goes out. Some contestants used him as a scapegoat to become popular.#BiggBossTamil5

— Lone_warrior (@friendlyghostTL) October 24, 2021
Ok #abishek is eliminated

Paaka dhane porom what content those mixture gonna provide nu

Tamil audience voted for unseen #chinnaponnu 👎👎👎👎👎#BiggBossTamil5

— Geerthana 🕊 (@bb5cwc3) October 23, 2021
#BiggBossTamil5
People last week: Vtv will evict CP to save #Abishek for content. Biased. 👎
People this week: Vijay TV wantedly evicted #Abishek instead of mixtures like CP. Biased. 👎@vijaytelevision be like 👇👇 pic.twitter.com/Z8yskBwzl4

— Dharshini (@itzme_dharshni) October 24, 2021
#BiggBossTamil5 even though #abishek was cringe, he was giving a lot of content

— Tv Show Review (@TvShowReview1) October 24, 2021
#BiggBossTamil #Abishek
AB: Chinna ponnu erukangalae Avanga content kudukarathu illa Avanga
BB : Avangalum save nee than eliminated epo ena panuva
AB : HAHA antha coin antha coin erukae atha vachu ena save panipan
BB : Antha coin Nan solrapa than use pananum ipo ena pannuva 😂 pic.twitter.com/4OZ6miKJ0O

— வ.கார்த்திக் (@twitkarthick) October 24, 2021
#BiggBossTamil5 End of Week 3:
Abishek Raaja's journey in the house comes to an end… "CinemaPayyan" is out now!

Good to see atleast 3-4 housemates genuinely wanted him in but BB had different plans… 😛

Inime content ku enna panna poraangalo…!? 🙈 pic.twitter.com/CnPCXcfqlr

— Shreyas Srinivasan (@ShreyasS_) October 25, 2021
Akshara is the big mixture .At least madhu is giving content sing pani. But our medem only make up.varunta coin kenjifying #BiggBossTamil5 #Akshara #BiggBoss

— Varshini 🦋🌻 (@Varshin58843916) October 24, 2021
[wp_ad_camp_1]
Yes he never disrespect anyone ! Hyper guy Avlo than . Oru nalla strategic player . Personal grudge vachutu show partha ippadi than 🤦🏻‍♀️🤦🏻‍♀️

— Divya (@divyadiyer) October 24, 2021
He gained my respect when he said he have to respect audience's verdict.. everyone has their flaws but you don't deserve this hatred #Abhishek #BiggBossTamil5

— 𝐻𝑎𝑟𝑢𝒉𝑖 (@nenu__roe) October 24, 2021
Cinema paiyan ilama content ila pola😂😂😂

— Harish christober (@christober37) October 25, 2021