BIGG BOSS Vaishnavi Exposed The Girl Fan Who Asked Her For "SEX" !! She Posted The Screenshot !!
CM / Updated: 2018-10-24
14:52 IST
By Dhiwaharan
Vaishnavi Prasath is an Indian Journalist and radio jockey. She is the granddaughter of Saavi's Sa. Viswanathan, who is a senior journalist and the founder of the magazine Saavi. Vaishnavi is currently a Radio Disk Jockey (Radio DJ) in Chennai FM 104.8 FM. She has formerly worked in Secret Society, Lifetime and Lensational. The 29 aged woman  was the contestant of India's big reality show Bigg Boss Tamil Season 2.
Vaishnavi got one special opportunity, which other nominated inmates didn't get prior to her. After exiting the house, she was given a chance to stay in the secret room for a few  days. Later, she was given a second chance to re-enter the house.
[wp_ad_camp_1]
She is the first contestant to be locked inside the secret room for one week. Vaishnavi is expected to stay in the house for a few days, closely observing the behaviour of the inmates and specifically having an eye on the words mouthed by them.
Following the nomination process held in the last week, she was eliminated from the show.
While being inside the house Vaishnavi expressed her wish of becoming a heroine in Tamil cinema. She also said that she would only do the characters which has depth.
[wp_ad_camp_1]
Earlier in a note of supporting the #Metoo movement in India Vaishnavi revealed the sexual harassment she gone through throughout her life. "At the age of 17 or 18 I came out from a cafe at 8 o clock in the night playing with my dog, three middle-aged men forced me and sexually harassed me at knife point. I was scared at that point of time. A familiar dog started biting them and they ran away" said Vaishnavi in the interview.
Now the Bigg Boss contestant who is super active in twitter exposed a girl fan's inbox conversation with her who asked for "Sex". The girl from Tambaram introduces herself as "Anu" and the screenshot also suggests the girl compliments Vaishnavi as "Beautiful".
[wp_ad_camp_1]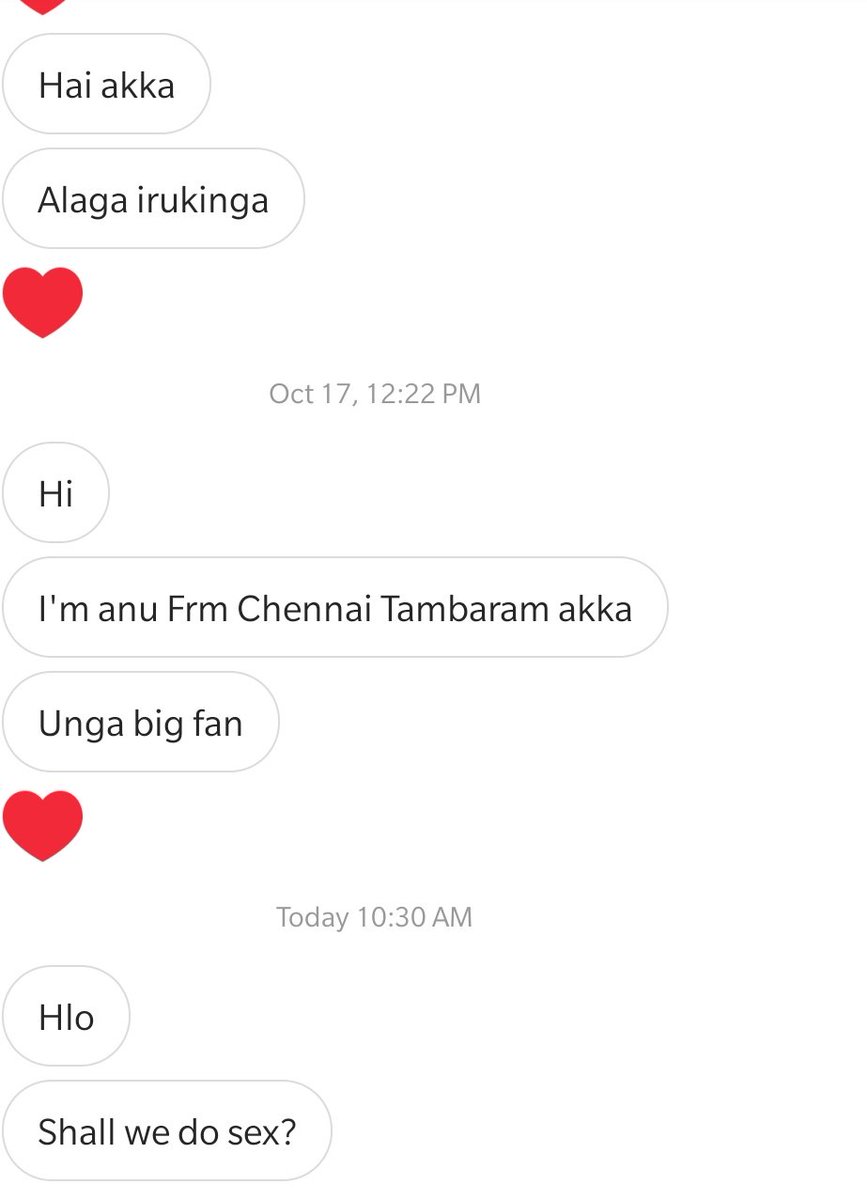 On posting the screenshot, Vaishnavi writes with the caption "I'm all for Section 377 being decriminalised but this escalated rather quickly."
Check out her screenshot post here :
I'm all for Section 377 being decriminalised but this escalated rather quickly. pic.twitter.com/yKteGcj2vm

— Vaishnavi Prasad (@Vaishnavioffl) October 23, 2018
Check out some of the comments for the post here :
akka kooda 'sex' aa? enga thathaa appave sonnaru – akka akka nu sokka va kazhataravanga thaan indha olagathula jaasthi nu.

— Minor (@minorkunju) October 23, 2018
Athu fake id murugesa!!!!!!!

— கூண்டு கிளி [ Cage Parrot – kii kii ] (@I_am_PVK) October 23, 2018
பயபுள்ளைங்க Fake id ல வந்துருக்கானுங்க

— பன்னீர்செல்வம்.அ.ல. (@panneerselvamAL) October 24, 2018
கொஞ்சம் கூட ரசனை இல்லை போல அவளுக்கு

— Arun (@Arun21354550) October 23, 2018
Athu fake account ah kuda irukalam😂😂

— kalaiselvan (@kalaisel) October 23, 2018
What do you think on this post of the BIGG BOSS contestant ?? Comment below !!