Former Bigg Boss star and current BJP politician Gayathri Raguramm who is well known for her stint in Kollywood film industry, came up with a tweet in her official twitter handle, criticizing a poster that was made by the fans of actor Suriya, representing the ongoing controversy that the actor is facing. They portrayed the actor walking forward, ignoring dogs that barking at him. Sharing the poster, Gayathri said that Gogs would bark only at thieves and would bark at strangers or at evil power. She said that Lord Bhairava would act only as a support to the people.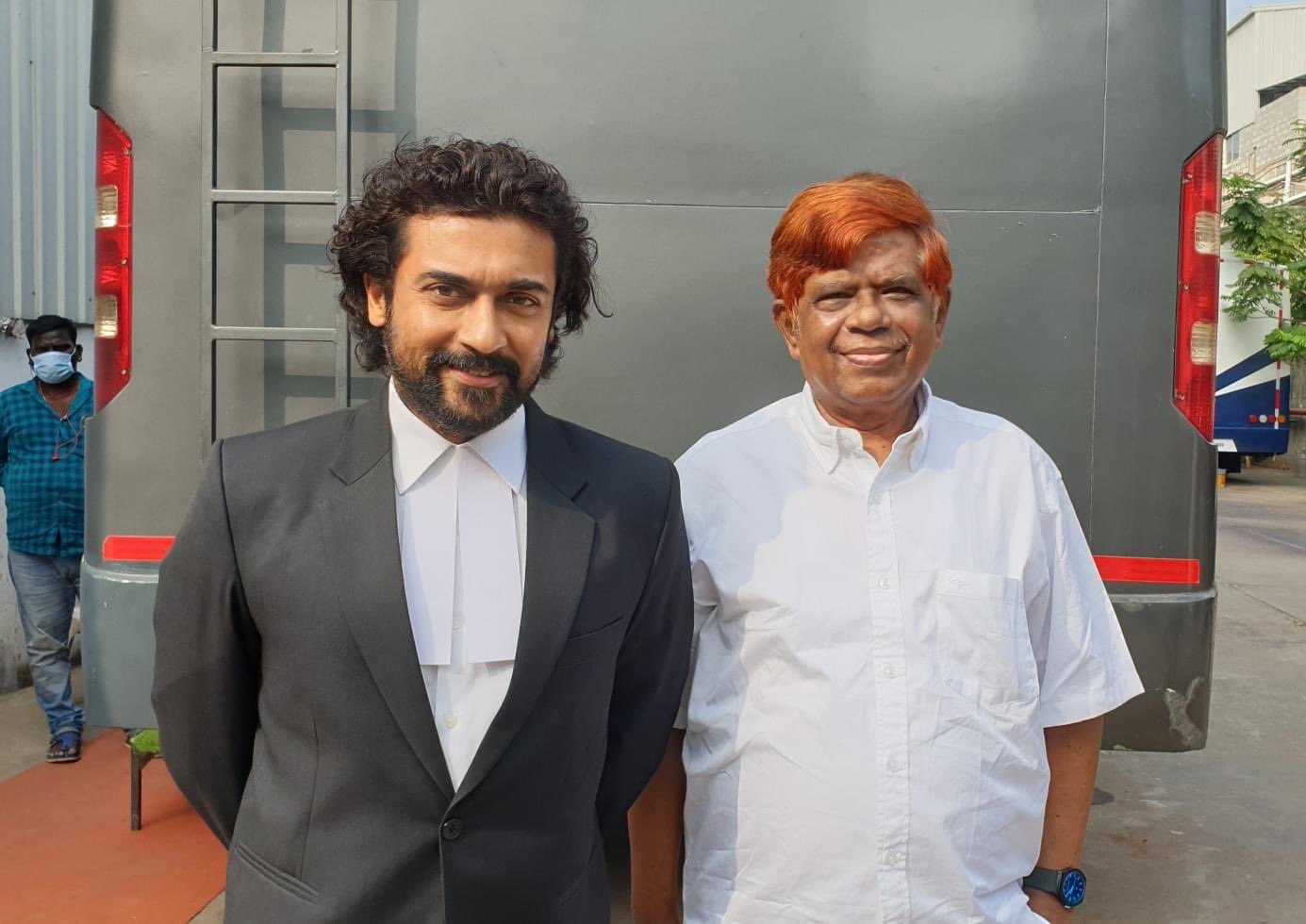 Ever since getting released, Suriya's "Jai bhim" is facing both accolades and controversies from public and political party leaders. CM MK Stalin, MNM leader Kamal Haasan, VCK leader Thirumavalavan watched the movie and lauded Suriya for choosing such a subject and successfully delivering it to the people. Suriya also replied to the leaders through his official twitter handles.
Tamil nadu BJP leader Annamalai watched the film and expressed his support as well. However, Gayathri Raguram has been criticizing actor Suriya for various reasons. Earlier, when the actor announced that he is going to deposit Rs. 15 lakh in a bank account of real life "Sengeni" Parvathi Ammal, Gayathri said that he is doing it for namesake and mentioned that Raghava lawrence's help was real. Read: "The Real Help Was Actor Lawrence" – Actress After Seeing Suriya Depositing Rs.10 Lakh For Parvathi Ammal
"Dogs would bark at thieves or would alert public of strangers or would bark at evil powers. Lord Bhairava would act only as a support of people. Suriya fans made this poster by mistake" Gayathri Raguramm said by writing "நாய்கள் திருடன் பார்த்து குரைக்கும் அல்லது தெரியாதவர்களை எச்சரிக்க குரைக்கும் அல்லது தீய சக்தியை பார்த்து குரைக்கும்.. பைரவர் கடவுள் மக்களுக்கு பாதுகாவலர் மற்றும் மக்களுக்கு துணை.. சூர்யா ரசிகர்கள் இந்த போஸ்டரை தெரியாமல் தவறுதலாக உருவாக்கினார்கள்" in her tweet.
Here's her tweet :
சூர்யா ரசிகர்கள் இந்த போஸ்டரை தெரியாமல் தவறுதலாக உருவாக்கினார்கள்.

— Gayathri Raguramm 🇮🇳🚩 (@BJP_Gayathri_R) November 18, 2021
Check out some of the reactions Gayathri's tweet received :
உங்கள் கதறலுக்கு காரணம் இது தானே மனு தர்மம் pic.twitter.com/1jXuvuKwRt

— M BALA (@MBALA72630567) November 18, 2021
திரௌபதி மற்றும் ருத்ரதாண்டவம் படங்கள் வரும் போது நீங்கள் என்ன செய்து கொண்டு இருந்தீர்கள்.அப்பொழுது தலித் சமுதாயம் இழிவு படுத்தும் போது நீங்க என்ன கிழிச்சிட்டு இருந்திங்க?தலித் வோட்டு கு மட்டும் நாக்கை தொங்க போட்டு வருவீங்க ல?ஈனம், மானம், சூடு, சொரணை கெட்ட ஜென்மங்கள்.

— Lena (@vanan_lena) November 18, 2021
அது சாதா நாய்…இந்த படத்துல நாயோட பல்லை பாருங்க.. எல்லாம் வெறி பிடிச்ச சங்கி நாய்க..அக்கா

— 🦏 காண்டாமிருகர் 🦏 (@RhinoExtinct) November 18, 2021
சாதா நாய்கள் திருடனைப் பார்த்துக் குரைக்கும்! சங்கி நாய்கள் சூரியனையும், சூர்யாவையும் பார்த்துக் குரைக்க்கின்றன, சமூகநீதி, சமத்துவம், போன்ற ஆயுதங்களை (கல்லை ) கொண்டு அடித்தால் அலறி ஓடிவிடும்

— ஆசைத்தம்பி 🖤❤ (@DuraiAsaithambi) November 18, 2021
நாயை தெய்வத்தோடு சேர்த்து இந்துக்களின் நம்பிக்கையை கேவலப்படுத்தியதால் தாங்கள் உடனடியாக மன்னிப்பு கேட்க வேண்டும்

— Jegan (@Jegan76082529) November 18, 2021
Apart from Gayathri of BJP, political party "Pattali Makkal Katchi" led by S. Ramadoss has been giving trouble to actor Suriya over his recently released "Jai Bhim". After Anbumani Ramadoss shot 9 questions at Suriya, Vanniyar Sangam issued a legal notice to the actor and other personalities who are associated with the project, seeking an unconditional apology and removal of certain scenes that allegedly defame the Vanniyar community. In reply, almost all the celebrities from Kollywood film industry came in supporting "jai Bhim" by trending "We Stand With Suriya" in the micro blogging social media site. Read : Suriya Replied To The "We Stand With Suriya" Hashtag !!