BIGG BOSS FINAL ISSUE : Madhumitha Moses Demands Explanation From Vijay TV For Misusing Him !! WATCH VIDEO !!
Written by Dhiwaharan Published on Oct 09, 2019 | 12:13 PM IST | 49
Follow Us
Comments: 0
Bigg Boss fame Madhumitha's husband came up with a shocking allegation against the management for using his footage in the finale episode. Bigg Boss season 3's grand finale which was hosted by Kamal Haasan was streamed in Television on Sunday from 6 Pm. Mugen, youngest contestant of the show won the title surprisingly. Wishes are pouring from across the world for Mugen as he won the title of Bigg Boss season 3. He broke the stereotype and became the first contestant to win the title after winning ticket to finale task. In previous season, Snehan and Janani failed to hold the trophy after winning ticket to finale.
[wp_ad_camp_1]
Kamal Haasan said Mugen won the title by a big margin of 2 crore votes. Sandy who became the runner up lost to Mugen as he managed to gain only 5 crore votes, where as Mugen earned 7 crore votes of Bigg Boss audience. He said that a total of 20 crores of votes registered for the finals alone.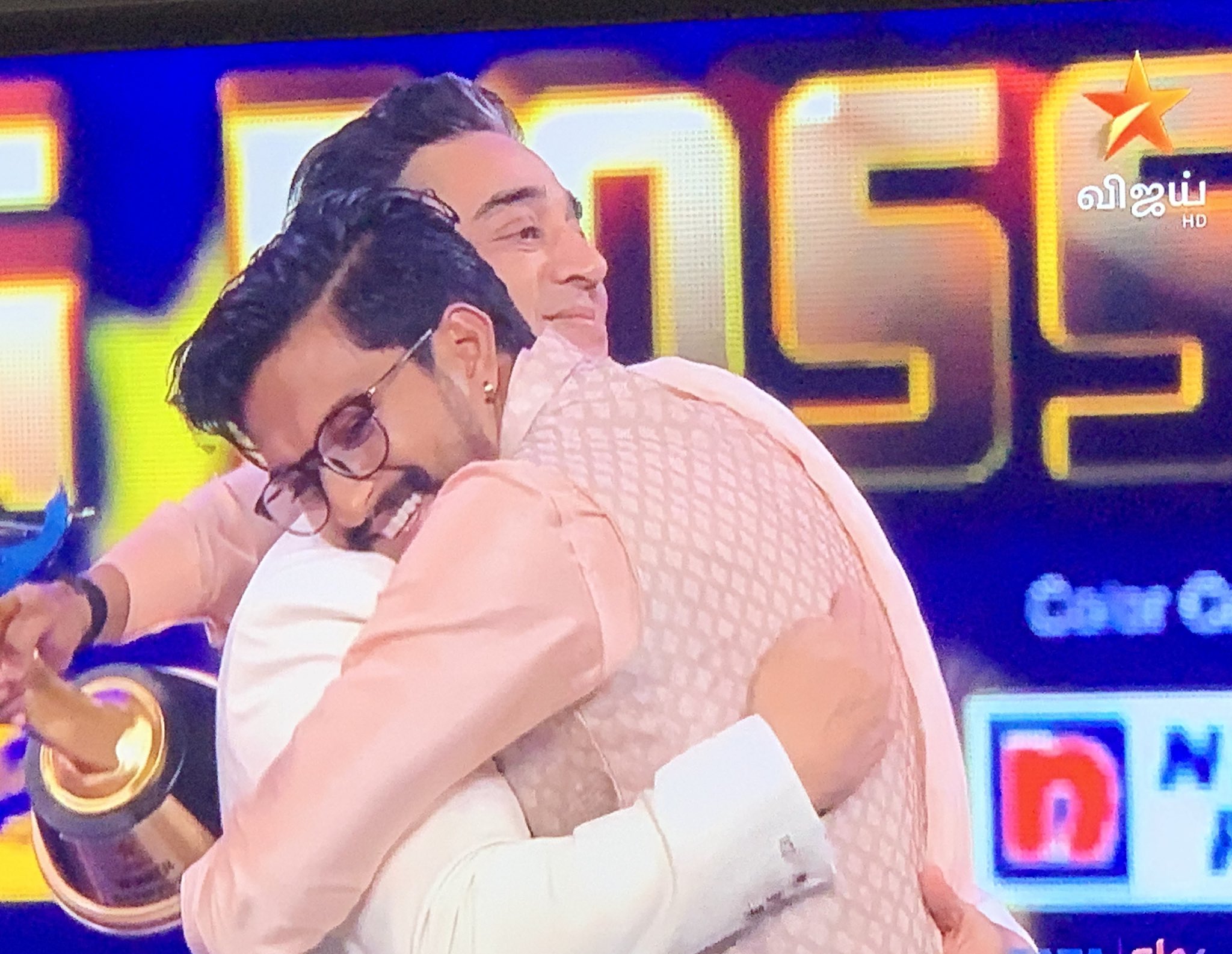 Unlike other Bigg Boss weekend episodes, the grand finale started streaming from 6 in the evening. Many contestants including Sakshi, Yashika, Kasthuri and Vanitha performed dance in the final stage. In the show which was telecasted, we could see Madhumitha's husband Moses enjoying the finale performances. A particular shot showed him smiling on seeing Yashika's stage performance.
Earlier, Moses came up with a tweet saying that he didn't attend the finale. Now he uploaded a video and asked the Bigg Boss management to provide clarification. "In Bigg Boss finale, none of our family members took part as we were not invited. Now a news is spreading that I have participated in the finals and I got shocked while hearing about it. This is completely wrong and I request a clarification from their side. Thanks" Moses said in the video.
Watch it below :
@madhumithamoses #BigBossTamil3 Finals ஏன் நான் கலந்து கொண்டதாக காட்டினார்கள்? @vijaytelevision #Madhumitha pic.twitter.com/zWkItzD5BT

— madhumitha moses (@madhumithamoses) October 8, 2019
[wp_ad_camp_1]
Through one of a twitter user's tweet, we could see that the footage which was played during finale episode was originally shot in the very first episode of the third season. The grand finale telecasted for a long time as there were many individual performances took place.
Watch the video of Madhumitha's husband's footage in Bigg Boss finals episode :
@madhumithamoses Omg😡😡😡😡 நா போகல… எப்படி இது நடந்தது????? @vijaytelevision#Madhumitha #BigBossTamil3 #BiggBoss13 pic.twitter.com/hVybyC6YXh

— madhumitha moses (@madhumithamoses) October 7, 2019
Madhumitha's husband Moses is voicing out for her since the issue of Madhumitha took place. For the uninitiated, Madhumitha was terminated by Bigg Boss for breaking rules. While terminating her, Bigg Boss said that during an argument between Madhumitha and the housemates after a task, the OK OK actress hurted herself to prove a point she stated. She was immediately terminated with initial treatment.
Check out the few reactions for his video :
Final shoot late night eduthu irupaanga anna. Adhuku general audience poiruka chance illa. So munnadi vandha crowd clippings add panni irupaanga. Whatever, idhu thappu dan.@vijaytelevision idhellam kevalam oai..

— விஜி (@BBFollower_viji) October 8, 2019
[wp_ad_camp_1]
If the case filed by Vijaytv is still going on then this footage showing u in finals is a false proof to liquidate your point of defense telling the Court that you are in good terms with Vijaytv.

— Madhumitha Army (@BabeHarsh) October 8, 2019
@Vijaytelevision has committed an huge blunder..It is the black mark in the channel career…They might have earned 100 Crores with #BiggBossTamil3 But they lost their name and Fame.. @MadhumithaMoses those ppl who have not invited you got an slipper shot by posting your video…

— Roman Empire (@positivevibessa) October 8, 2019
Comment your views !!