Bigg Boss Couple Became Pregnant Again!!
Written by gokul krishnan Published on Jul 15, 2023 | 20:14 PM IST | 308
Follow Us
Comments: 0
In a delightful announcement on social media, popular television couple Pearle Maaney and Srinish Aravind have shared the joyous news of expecting their second child. The news comes just a day after rumors started circulating about the couple's anticipation of another baby. The beloved Malayalam TV host and actress, Pearle Maaney, recently took to Instagram to share a series of heartwarming photos, showcasing her blossoming baby bump. In the pictures, Pearle is beautifully adorned in a kasavu saree with a matching blouse, while her husband Srinish and their daughter, baby Nila, lovingly shower kisses on her growing belly.
Pearle Maaney and Srinish Aravind's love story began during their time as contestants on the popular reality show, Bigg Boss Malayalam. The couple's chemistry and bond blossomed throughout the show, capturing the hearts of viewers across the nation. After their stint on Bigg Boss, Pearle and Srinish tied the knot in a beautiful ceremony, solidifying their commitment to each other.
also read: Minister PTR Replied To Actress Vinodhini In Twitter!!
In 2019, Pearle Maaney and Srinish Aravind embarked on the beautiful journey of parenthood for the first time, welcoming their adorable daughter, Nila. The news of Pearle's pregnancy was received with immense joy and excitement by their fans and well-wishers. The couple embraced their new roles as parents with grace and dedication, cherishing every moment with their little bundle of joy.
With the news of Pearle's second pregnancy, the couple has once again spread joy and happiness among their fans. The social media post announcing the pregnancy was met with an outpouring of love and warm wishes from followers who have been eagerly following their journey. Pearle and Srinish have consistently expressed their gratitude for the support and love they have received throughout their relationship.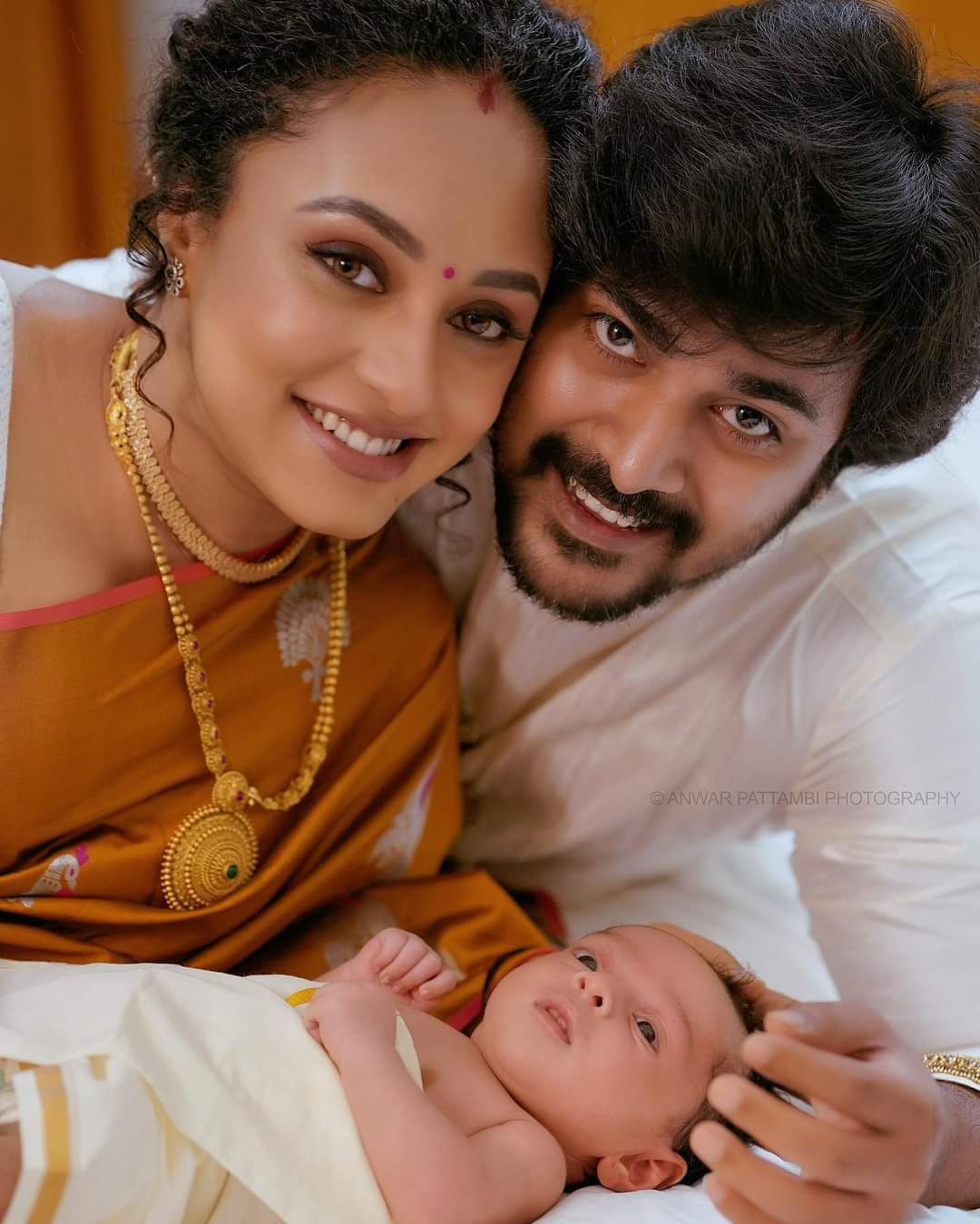 The photos shared by Pearle Maaney on Instagram beautifully capture the essence of love, togetherness, and anticipation. The kasavu saree, a traditional attire of Kerala, adds an element of cultural significance to the photographs. Pearle's radiant smile and Srinish's affectionate gestures reflect their deep love and excitement as they prepare to welcome another member into their growing family.
also read: Rajinikanth's Heroine Forced To Do Prostitution ?? Unexpected Report
Pearle and Srinish's decision to share their pregnancy journey with the public is a testament to their openness and connection with their fans. By allowing their followers to be a part of their joyous moments, they have created a strong bond with their audience, who have been an integral part of their journey. The couple's transparency and genuine affection have garnered a loyal fanbase that continues to shower them with love and support.
The announcement of Pearle Maaney's second pregnancy serves as an inspiration for many couples who may be embarking on their own journeys to parenthood. Pearle and Srinish's story showcases the beauty of love, commitment, and family, reminding everyone that each new addition brings immeasurable joy and love to a household.
As Pearle Maaney and Srinish Aravind enter this new chapter in their lives, they have undoubtedly embraced the joys and challenges of parenthood with open hearts. The couple's love and dedication to each other and their growing family will undoubtedly guide them through this exciting journey once again. Fans eagerly await the arrival of their second child and continue to shower Pearle, Srinish, and baby Nila with love and blessings.
also read: Pavni's Heart Melting Message To Amir On This Special Day!!
Here is the post below:
View this post on Instagram
Here is the screenshot below:
Pearle Maaney and Srinish Aravind's announcement of their second pregnancy has filled their fans' hearts with joy and excitement. The couple's decision to share their journey publicly has created a strong bond with their followers, who eagerly await the arrival of their newest family member. As they embark on this beautiful journey of parenthood once again, Pearle and Srinish continue to inspire others with their love, dedication, and commitment to each other and their growing family.