Bigg Boss season 3's grand finale which was hosted by Kamal Haasan was streamed in Television on Sunday from 6 Pm. Mugen, youngest contestant of the show won the title surprisingly. Wishes are pouring from across the world for Mugen as he won the title of Bigg Boss season 3. He broke the stereotype and became the first contestant to win the title after winning ticket to finale task. In previous season, Snehan and Janani failed to hold the trophy after winning ticket to finale.
[wp_ad_camp_1]
Kamal Haasan said Mugen won the title by a big margin of 2 crore votes. Sandy who became the runner up lost to Mugen as he managed to gain only 5 crore votes, where as Mugen earned 7 crore votes of Bigg Boss audience. He said that a total of 20 crores of votes registered for the finals alone.
Unlike other Bigg Boss weekend episodes, the grand finale started streaming from 6 in the evening. Many contestants including Sakshi, Yashika, Kasthuri and Vanitha performed dance in the final stage. In the show which was telecasted, we could see Madhumitha's husband Moses enjoying the finale performances. A particular shot shows his smiling on seeing Yashika's stage performance.
Now to our shock, in a way of reacting to it, Moses posts a tweet in his twitter account. He seems to be very shocked and claims that he never went to the finale. He tagged the television channel and questioned about it which received no response yet.
"Omg😡😡😡😡 நா போகல… எப்படி இது நடந்தது???? @vijaytelevision" he wrote in his tweet by posting the video glimpse. Check out his tweet below :
@madhumithamoses Omg😡😡😡😡 நா போகல… எப்படி இது நடந்தது????? @vijaytelevision#Madhumitha #BigBossTamil3 #BiggBoss13 pic.twitter.com/hVybyC6YXh

— madhumitha moses (@madhumithamoses) October 7, 2019
[wp_ad_camp_1]
Through one of a twitter user's tweet, we could see that the footage which was played during finale episode was originally shot in the very first episode of the third season. The grand finale telecasted for a long time as there were many individual performances took place.
Check out the screenshots and the post uploaded by the online user below :
Here you gooo the cheap act by Vijay TV @vijiscdl #Madhumitha plan panni velila anupuninga,finals kupda thairiyam illa,echa Vela mattum Nalla paarunga….Do you think people are fools here watching this😣😣😖😖😠😠 @ikamalhaasan #BiggBossTamil3 @iamrajesh_raj2 @madhumithamoses pic.twitter.com/6ZeklAEBqs

— Indusha03 (@indusha03) October 7, 2019
Check out few reactions for this shocking discovery :
idea semmaya irukku

— madhumitha moses (@madhumithamoses) October 7, 2019
மேலும் மேலும் மறைக்கிறேங்கிற பேர்ல, மேலும் மேலும் மாட்டிக்கிட்டே இருக்காங்களே இந்த அப்பரசண்டிகள்!!!
இவர்களை என்ன செய்யலாம்🤔

— 😍 apollo 😇 (@apollotamil) October 7, 2019
illai

— madhumitha moses (@madhumithamoses) October 7, 2019
enakum neraya per sonnanga

— madhumitha moses (@madhumithamoses) October 7, 2019
Chi very cheap @vijaytelevision …couldnt digest the part u have done. Guts irunda madhu cut panna video podagada pakkalam.

— Divya (@Divimk) October 7, 2019
Madhumitha's husband Moses is voicing out for her since the incident took place. For the uninitiated, Madhumitha was terminated by Bigg Boss for breaking rules. While terminating her, Bigg Boss said that during an argument between Madhumitha and the housemates after a task, the OK OK actress hurted herself to prove a point she stated. She was immediately terminated with initial treatment.
[wp_ad_camp_1]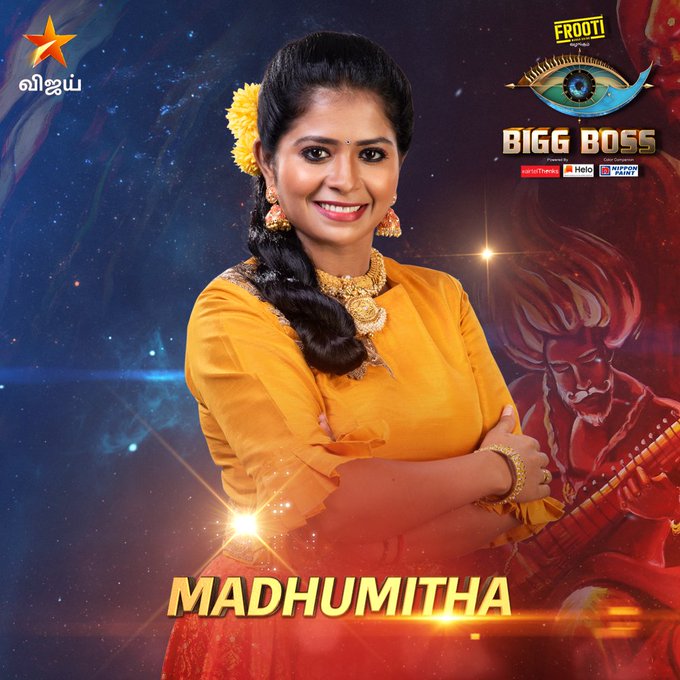 Following that, Madhumitha , a month before, filed a complaint against the show in Police station. In her complaint Madhumitha has stated that her co-contestants tortured her for 56 long days and said that it led to mental depression. She also said that they forcefully sent her out of the show on the 56th day.
What do you think on Vijay Tv reusing an old footage of Moses ? Comment your views !!