Bigg Boss Azeem Disrespected Kamal Haasan After Winning The Title??
Written by Dhiwaharan Published on Feb 11, 2023 | 00:41 AM IST | 153
Follow Us
Comments: 0
Bigg Boss show got completed a couple of weeks ago and Azeem was announced as the winner of the show due to the highest number of votes he received competing with Vikraman, a journalist cum politician. Ever since the announcement of Bigg Boss season 6 was made, various kind of reactions are flooding internet platforms. Azeem announced that Rs. 25 lakh of his winning money is going to educate the children who lost their parents due to COVID 19.
also read : Top Indian Cricketer's Wife Got Upset Over Azeem's Victory In Bigg Boss!!
The Bigg Boss winner is also meeting his fans friends and giving interviews to media channels nowadays. While his speeches are being admired by his fans, it also creates controversies. One such statement made by the Bigg Boss participant has landed him in trouble.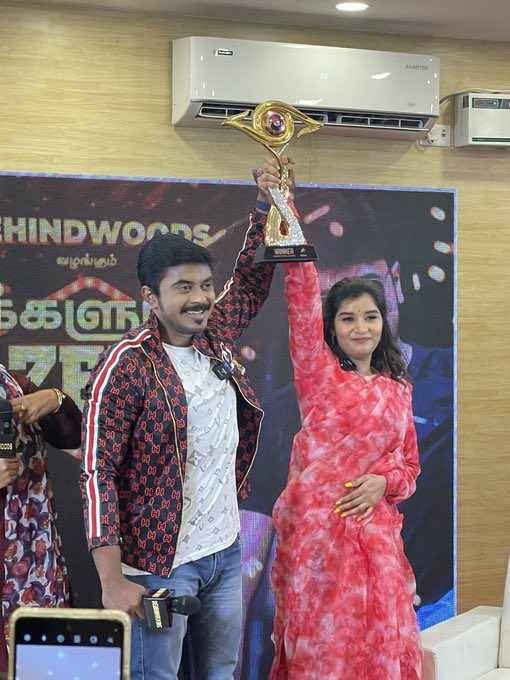 In a video which is doing rounds in social media platforms, Azeem is seen saying that he has several hours to spend time wth his son outside and there's no necessity for the kid to learn anything from the attitude he displayed in the Bigg Boss show.
On seeing a meme which said "My son is my everything", Azeem said " Yes, it's true. Many asked me "you are losing cool in this way, your son could that from you", I have so many hours to spend time with my son. There's no need for my son to grow by watching that show"
Watch the video below :
Again…!!!😟😔😔

Avlo "nenju urappu" irundha, idha nee show la irukum bodhe sollirukanum.. Veliya vandhu scene potutu irukan..!!
😡😡#AbuserAzeem#ClownAzeem pic.twitter.com/36bXeYi7vb

— Priyadarshini (@Priya_272) February 10, 2023
It is notable that Bigg Boss host Kamal Haasan questioned Azeem about his son more often and even warned the TV actor of his son getting influenced by his behaviour in the show. Now, after seeing Azeem talking this way, many asked whether Azeem is disrespecting Kamal Haasan.
கமல்ஹாசனை வாடா போடா என்று பேசினாரா அஜீம்..

ஏனென்றால் இதை சொன்னதே கமல்தான்.#biggbosstamil #BiggBossTamil6 #vikraman #aramvellum #AbuserAzeem #Totalwinnervikaraman #AramVellum #kamalhaasan pic.twitter.com/TrjDznEIwB

— Noorul ibn Jahaber Ali (@nooruljourno) February 11, 2023
"Hello #Azeem , are you replying this to @ikamalhaasan sir? Illa nu solladheenga. Bcoz he was only advised you about this. Veliya neenga ipadi illa , nalla character nu sonneenga. Ivlo worst ah Vada poda nu agangaram ah pesura" a fan commented whereas another one said "Please get back his title.. least respect to the legend Kamal sir! Shocking… he is like no body in front of him… how dare he is talking like this.. 😡"
Check out some of the reactions below :
Ever since the announcement on Azeem winning the Bigg Boss title surfaced, various kind of hashtags regarding the same are trending in the micro blogging social media site. Hashtags such as "Boycott Vijay TV", "Abuser Azeem" were trending in twitter as well. Many users who got upset over Azeem winning the title, has been expressing their displeasure through the hashtag.
Mohammed Azeem who got condemned by Kamal Haasan throughout the season due to his behaviour towards other contestants, has been announced as the winner of Bigg Boss season 6. Majority number of viewers are not happy with his victory which is evident through the comments that are surfacing against Vijay Television in the internet platforms.
Also Read : "I Have Never Seen A Person Like Azeem" – Popular Anchor
Vikraman strongly expressed his belief over Bigg Boss result having no connection with the mindset of audience. He said that Azeem should say what really happened. In his interview with Vijay TV, the journalist cum politician said "Pity of him, He did something for publicity". Indirectly replying to him, Azeem said "Don't consider the words of people who couldn't tolerate their failure. The criticisms that are being made against us are just words but not stones. Let's make it stepping stones and reach our target. We are going to do lot of good things"