Bhuvaneshwar Kumar's Wife Lost Her Cool After Seeing Her Husband Getting All The Blame !!
Bhuvaneshwar kumar
cricket
India
Wife
CM / Updated: 2022-09-22
20:38 IST
By Dhiwaharan
On seeing her husband being blamed for the loss of India against Australia in the first T20 match, the cricketer's wife Nupur Nagar came up with a story in her official Instagram handle, in a way of responding to the trolls and criticisms of fans who blame her husband alone for the loss of India. Nupur said that people are so worthless and are spreading hatred and envy. She advised them to spend time on making themselves better as nobody is affected by their words.
View this post on Instagram
In the first T20 International match that took place between India and Australia, the host scored a mammoth total of 208 runs in the 20 overs with the help of Hardik Pandya, KL Rahul and Surya Kumar Yadav's brilliant batting performances. However, the visitors chased down the score easily with 4 balls to spare.
Saying this again use Bhuvi for only one over in last 5 overs.

— Irfan Pathan (@IrfanPathan) September 20, 2022
The bowling performance of the Rohit Sharma led team was so poor as all the bowlers except Axar Patel conceded more than 10 runs per over. Bhuvaneshwar Kumar conceded most runs in the 4 overs he bowled as his economy was 13 runs per over with Umesh Yadav, Chahal and Harshal Patel had similar figures as economy.
It is notable that India lost three out of last four T 20 matches and the common culprit in all the three matches were Bhuvaneshwar Kumar bowling an expensive 19th over. The 32 year old leaked 19 runs in the 19th over against Pakistan in the Asia cup tournament when they needed 26 runs to win.
Umpires when Bhuvi bowls the 17th and 19th over pic.twitter.com/A4xb3JL4oS

— Titu (@TituTweets_) September 20, 2022
Bhuvi comes to bowl the 19th over

Indian fans : pic.twitter.com/7fY0fpk4HC

— SwatKat💃 (@swatic12) September 21, 2022
Bhuvi when Rohit asks him to bowl 19th over. pic.twitter.com/IjTn8DLTUg

— Silly Point (@FarziCricketer) September 20, 2022
BHUVI IN DEATHS!!!! IS THIS OUR BEST CAPTAIN & COACH DUO? SERIOUSLY. ARE WE GOING TO DEFEND LIKE THIS? TEAM MANAGEMENT HAS LEARNED NOTHING FROM ASIA CUP?
WOW!!!!!#RohitSharma𓃵

— Dadda (चंदन) (@ferrarinotfiat) September 20, 2022
It's not about leaking runs in t20 every good bowler is under pressure, but it's the way Bhuvi has been leaking runs. Wides, low full toss, no pace, you don't expect this from India's leading bowler, when there are so many sitting in bench?

— Captain India (@kcsnb) September 21, 2022
Opponents when they see Bhuvi bowling 19th over :#INDvsAUS pic.twitter.com/ZJiE5iep94

— Gk (@ggk____) September 20, 2022
Bhuvi will surely supress dinda academy and will open his own runs leaking academy #INDvsAUS pic.twitter.com/B6GYb15cx5

— SM (@dickjorsey) September 20, 2022
In the very next match, team Sri lanka scored 14 runs off Bhuvi's over when they needed 21 runs to win in the last overs. Due to the back to back defeats, India failed to qualify for the finals of Asia cup. However, Bhuvi produced his career best figure against Afghanistan in the final match of Asia cup. In that match, standing captain KL Rahul uused him within the first 10 overs. Conceding just 4 runs in the 4 overs he bowled, Kumar picked 5 wickets in the match.
Now, against Australia, Rohit Sharma again handed over the ball to Bhuvaneshwar Kumar while the opponents needed just 18 runs in the final two overs. Bhuvi ended his over by conceding 16 runs and ended India's hopes of defending 208 runs in the 20 overs. As a result of the failures, fans started blaming the cricketer as the sole reason for the loses.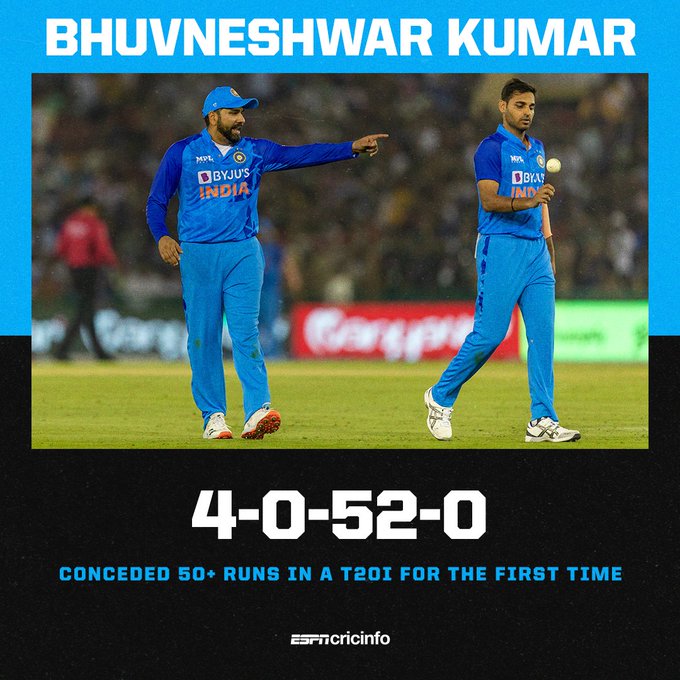 Nupur nagar, wife of the cricketer couldn't tolerate the below the belt comments as she came up with a story in her Instagram handle to shut down the fans once and for all. "Nowadays people are so worthless, that they have nothing better to do and have so much time to spread hate and envy.. My advise to all those is- nobody is affected by your words or care about your existence" Nupur Sanon said through her story.
"So spend that time in making yourself better, though there is very less scope for that!!" she further added.
Here's the screen shot of her story :