"Best Performance Award Goes To Yashika & Aishwarya !!" Says This Former BB Contestant !! Labels As "MUDHALAI KANNEER" !!
CM / Updated: 2018-08-26
22:30 IST
By Dhiwaharan
As expected Mahat eliminated this week from the Bigg Boss 2 Tamil as he got the lowest number of votes from the audience. Mumtaz, Sendrayan, Balaji, Mahat were the nominated contestants for this week of Bigg Boss where it is reportedly said that Mumtaz received the vast number of votes.
[wp_ad_camp_1]
For the first in Tamil bigg boss history Mahat was eliminated with a red card indicating his anger manner. While he was being eliminated from the house every contestants had their last words with him where Balaji said that he had a big danger inside the house from which he was saved now by being evicted.
[wp_ad_camp_1]
Mahat Raghavendra has been consistently being violent during the tasks and had caused injuries to a few contestants that include Danny. Moreover, his verbal abuses had crossed all the limits for which Kamal Haasan ripped him apart on Saturday's episode.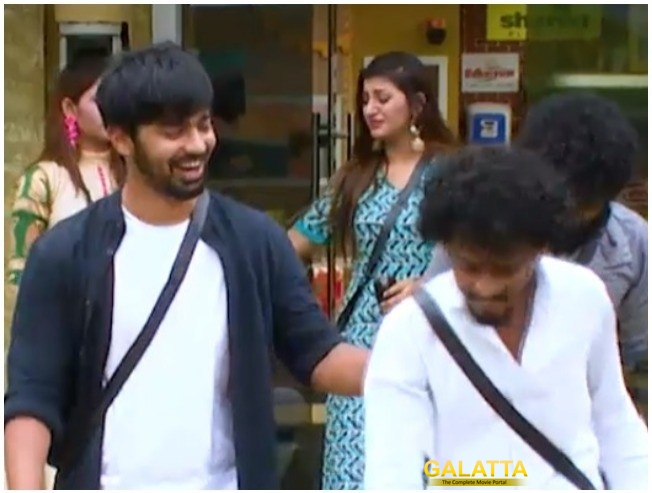 Like Mahat, Mumtaz has irked the viewers to some extent, but the actress has managed to win a section of people's love with her sincerity. Unlike others, she is not a cunning candidate.
Yashika and Aishwarya both hugged him with tears rolling down her tears. After Mahat left they both went inside the smoking room and Yashika broke into tears. She cried for a long time and Aishwarya tried to console her. Mumtaz tried to knock the door and her hesitation stopped her.
Daniel also knocked the door to which they denied to open it and asked who is it and said "will come few minutes later". It made Danny complain it to Mumtaz and Balaji.
[wp_ad_camp_1]
Meanwhile actress Harathi one of the contestant of previous edition bashed the behaviour of Yashika and Aishwarya in her twitter account. Earlier she stood for Mumtaz when everyone including Kamal criticized her last week. Now seeing Mahat's elimination episode she still hates the trio.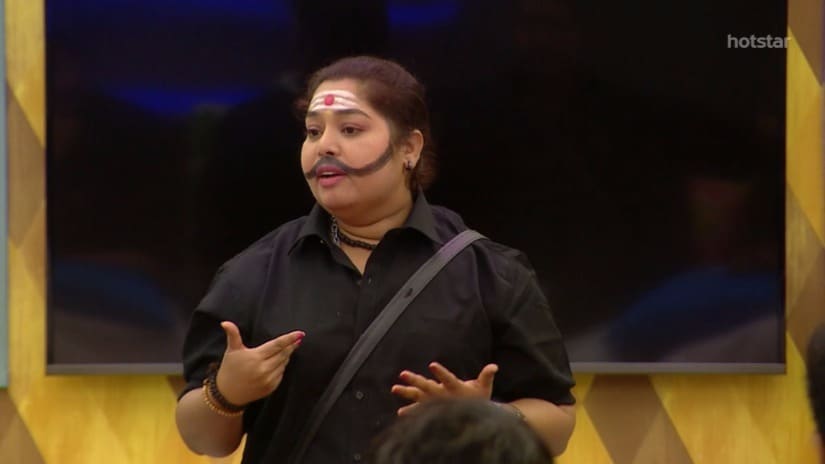 She wrote "best performance award goes to #yashika & #AishwaryaDutta mudhalai kaneer… don'tworry girls next week double elimination panna solrom jodiya poidunga
#murattumahath #mandasoodumahath try #prachai not eliminate you…
best performance award goes to #yashika & #AishwaryaDutta mudhalai kaneer… don'tworry girls next week double elimination panna solrom jodiya poidunga😁😂😂 #murattumahath #mandasoodumahath try #prachai not eliminate you…

— Actress Harathi (@harathi_hahaha) August 26, 2018
Following that she also wrote another tweet in which she felt that both the girls ruined Mahat's reputation. She wrote "Both girls spoiled one hero life… But all for good #mahath will be very careful with girls hereafter… Hope #prachi understands him & #mahath have wonderful life ahead… Hope u learnt good lesson for life
#edupaarkaipullai #mahath"
Both girls spoiled one hero life… But all for good #mahath will be very careful with girls hereafter… Hope #prachi understands him & #mahath have wonderful life ahead… Hope u learnt good lesson for life😊 #edupaarkaipullai #mahath

— Actress Harathi (@harathi_hahaha) August 26, 2018
Here's  the comments poured to her tweet :
Romba miss panna avan koodve poga sollunga… Moonja pathale Irritate aguthu…
Harathi neenga one week ulla ponga… Poi Vachu seinga

— Gopinath SEKAR (@gopisweetz) August 26, 2018
Manasula irunthatha apdiye sollitinga

— Kanmani (@Kanmani06808400) August 26, 2018
crocodile tears will definitely suits for Mumtaj.. after seeing she has support, eat an attitude she showed.. Mumtaj is criminal

— Geetha Sekhar (@geetha_sekhar) August 26, 2018
Neengalum, gayathiriyum, pannatha tha avanga pannitangala, 😂 poma apdi oorama kaduppethikkittu

— Suresh Krishnan (@SureshRia) August 26, 2018
Neengalum anda show la irundu dana vandeenga ulla evlo tension irukum terinje orutar ah ipdi kindal panreengale arivu illiya

— Karthikeyan (@callmekarthik04) August 26, 2018
Even they spoiled Shariq life also. Both Mahath and Shariq wud have been in finals if they were not with these two girls. #BiggBossTamil #BiggBossTamil2 #BiggBoss2Tamil

— Hema (@HemaThiru) August 26, 2018
Last but not least…. Athigama aaspadura ambalaiyum avana ethividura pombalayum nalla vazhunthatha sarithiramey illa… 😜😜😜

— Santhosh (@Santhoshgo) August 26, 2018
Ponunge yepppudi irekka kudatunu examples intha 2pere #Yashika n #AishwaryaDutta

— ღღ £á£íŢhÁ KúMäRღღ ツ (@lalitha_Kumar1) August 26, 2018
No mam avan Real the iruthan. This biggboss mumtaz and mahath both are deserve the title. Other contestants are fake

— Manoj Kumar (@_Manojkumarr) August 26, 2018
Elimination pannakutath…👌👌👌aishu Yashika rentu payraium vachuuuu saiyanum😂😂😂

— Jaheer sha str (@jaheersha007) August 26, 2018
Semma jiii 👏 mahath avare avar thalaila manna pottuttaar…
😂 🤣 😂 🤣 😂 🤣 😂 🤣 😂
Prachi already eleminate panniyachu.. Ini wild card entry la thaan propose panna mudiyum…

— Dilz (@dilip_dilz) August 26, 2018
இந்த இரண்டால் தான் மகத் வெளியே போனான்

— Vijila (@viji_offl) August 26, 2018
Thaa thukitu vantanungalla .. Nethu varaikum yashika oru ******* innaiku naalu sotu kanneer vitta udane don't play with her feelings aam 😂😂😂 deii ungalku yaashika far far far better

— Yuvaraj Stark (@SathyaShrek) August 26, 2018
Adhu prachai ila prachi…

— Anuravi (@Anuav8270) August 26, 2018
Yes mudhalai awards go to #Aishwarya & #Yashika.
indha week pura vote kaga indha drama nadakkum.

— Saadhi Sey (@SaadhiSey) August 26, 2018