Bengaluru : CCTV Video Shows Goons Blocking A Car !! ARRESTED
Written by gokul krishnan Published on Jul 14, 2023 | 11:44 AM IST | 67
Follow Us
Comments: 0
Bengaluru has witnessed a surge in incidents involving two-wheeler riders intentionally blocking cars and intimidating their occupants. These incidents have often been motivated by extortion or trivial disputes. However, the Bengaluru City Police have demonstrated their commitment to public safety by promptly arresting three individuals involved in such an incident. The quick response highlights the authorities' determination to combat hooliganism and ensure the safety of citizens on the city's roads.
The incident came to light when a Twitter user named RON, with the handle @ronmania2009, posted a dashcam video capturing the menacing act. In the footage, two individuals on separate two-wheelers can be seen deliberately obstructing a car, forcing it to come to a halt. Suddenly, a third two-wheeler rider approaches from the opposite direction and intentionally collides with the car. Throughout the encounter, one of the miscreants can be heard questioning the driver in Kannada, asking why he was honking and if the road was a highway. The driver apologizes and quickly reverses his vehicle before executing a U-turn to leave the area.
also read: Vishnu Vishal Replied To A Fan Who Criticized Him Over Soori Issue!!
RON's tweet shed light on the incident, and he tagged various Bengaluru-based accounts, including @east_bengaluru, @BlrCityPolice, @blrcitytraffic, and @DCPTrEastBCP, seeking action. Responding promptly, the city police acknowledged the incident and confirmed that an FIR (First Information Report) had been filed at the Varthur Police Station based on the victim's complaint. The police assured the public that they would not tolerate such unruly behavior or hooliganism and emphasized that severe consequences awaited those engaged in such activities.
The Bengaluru City Police further stated that they held a zero-tolerance policy towards such deceptive elements in society. They encouraged citizens to immediately report incidents by dialing #Namma112 for swift intervention. In a reassuring update, the police confirmed that the accused individuals involved in the incident captured in the viral video had been apprehended. This quick arrest serves as a powerful deterrent and sends a clear message that law enforcement will act decisively to protect the safety and well-being of the city's residents.
also read: Thalapathy Vijay's Wife Sangeetha Went To "Maveeran" FDFS !! Video Out
The incident raises concerns about the safety of motorists and the need for enhanced security measures on Bengaluru's roads. While the police have taken swift action in this case, it also highlights the importance of citizen participation in reporting such incidents promptly. Social media platforms can play a vital role in drawing attention to incidents and putting pressure on law enforcement agencies to act swiftly. It is crucial for citizens to remain vigilant, record incidents when possible, and report them to the authorities promptly.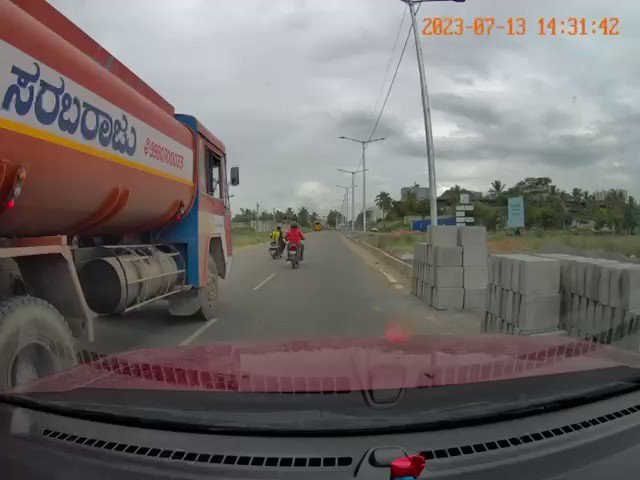 The Bengaluru City Police's proactive response to the incident underlines their commitment to community policing. By embracing technology and actively engaging with citizens on social media platforms, law enforcement agencies can foster a sense of trust and transparency. This approach encourages citizens to come forward and report incidents, aiding the police in their efforts to maintain law and order.
also read: 5 Tamil Heroines Who Excelled In Negative Characters !!
To further enhance road safety, it is essential to educate the public about responsible driving and the importance of adhering to traffic rules. Conducting awareness campaigns, workshops, and seminars can help instill a culture of responsible driving, leading to a reduction in such incidents. Additionally, initiatives like dedicated helpline numbers, such as #Namma112, provide citizens with a direct line of communication to report emergencies or seek assistance swiftly.
Zero tolerance towards such deceptive elements. Please note, the accused have been arrested!

In the future, please dial #Namma112 for immediate and swift intervention.#WeServeWeProtect https://t.co/unxmI2MPjB pic.twitter.com/wk3nmjX7c7

— ಬೆಂಗಳೂರು ನಗರ ಪೊಲೀಸ್‌ BengaluruCityPolice (@BlrCityPolice) July 14, 2023
The incident involving two-wheeler riders intentionally obstructing a car and threatening its occupants in Bengaluru prompted swift action from the city police. Through social media exposure and citizen engagement, the incident was brought to the attention of the authorities, leading to the prompt arrest of the culprits involved. The Bengaluru City Police's proactive response, coupled with their commitment to community policing, ensures that such incidents are met with severe consequences. By working together, the police and citizens can make Bengaluru's roads safer for everyone, fostering a sense of security and trust within the community.