Benedict Anto Case : Court Grants Bail !! Netizens Agitated
Written by Dhiwaharan Published on Apr 27, 2023 | 23:15 PM IST | 225
Follow Us
Comments: 0
Benedict Anto, a priest from the Syro Malankara Catholic Church, was recently granted conditional bail by a court in Nagercoil after being arrested for alleged sexual misconduct. The priest was accused of being a sexual predator who would send obscene messages and engage in inappropriate physical contact with women. He reportedly threatened to release intimate videos of these women if they spoke out against him.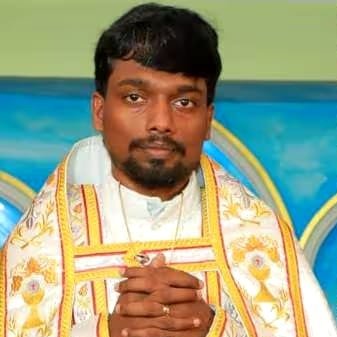 The allegations against Anto came to light after videos of him engaging in intimate acts with women were circulated on social media. One woman, Mini Ajitha, filed a complaint with the police, stating that Anto had filed a false case against her son, Austin Gino. Gino had confronted Anto for harassing his female friend, who was a medical student.
also read : Four More Girls From Chennai & Bangalore Filed Case Against Church Father Benedict Anto !!
The case has caused outrage and sparked discussions about the prevalence of sexual abuse within religious institutions. The Syro Malankara Catholic Church has promised to investigate the allegations against Anto and take appropriate action.
On March 20th, news broke out saying that a priest by the name of Benedict Ando had been arrested by special forces police in Nagercoil, Kanyakumari. It was revealed that he had been threatening college students and young women with the release of nude images. Benedict Ando had been working as a priest in a church in the Bilangalai area.
Over the past few months, a series of videos had been released on social media showing Benedict Ando engaging in obscenities with women. These videos, along with photos and WhatsApp chats, were uploaded under the name "priest's leelas" and had quickly gone viral. Amongst the most concerning details to emerge from these videos were reports that the women involved were being sexually harassed and threatened with the release of nude images.
also read : BIGG BOSS Vaishnavi Shared Screenshots Of The Weird Messages She Received In Instagram !!
Despite the investigations and the growing number of complaints against him, Benedict Ando went into hiding. However, the special forces police managed to track him down to a farmhouse in Nagercoil, where he was arrested while they searched various other locations.
Four more girls from Chennai and Bangalore filed a case against Benedict Anto at Kanyakumari Police station. The case has caused a great deal of concern among the women who were in contact with the priest. They are worried that they may be investigated based on the documents seized from the accused. The priest himself has expressed concern for his safety while in prison and has requested that he be transferred to another facility.
In her complaint, the complainant said that Benedict continued to harass despite her attempts to avoid him completely. Officials of Cyber Crime department took the accused into the custody and inquired him for a day. During the interrogation, Benedict said that the woman was visiting the church for prayer frequently and they started chatting through whatsApp, messenger and phone call. The accused, reportedly said that he stopped talking to her after she forced him to marry her. He also ended many such relationships due to the same reason, according to the report of Thanthi TV.
Here's some of the reactions that surfaced for the court's decision :
Worst daaa deiii , social mediaல trend ஆனவுடனே கடமைக்கு ஒரு கேசை போட்டு அரஸ்ட் பண்ணி இப்போ ஜாமீன் கிடைச்சிருச்சு https://t.co/nomEzlSwr1

— சவுக்கு வெறியன் (@songsofsolo) April 26, 2023
பாதிக்கப்பட்ட பாதிரியார் க்கு அரசு சார்பில் ₹25 லட்சம் நிதியுதவி அளிக்கப்படும் https://t.co/ECbwnGmlA1 pic.twitter.com/hAkaH3KZlh

— Dr. R Suriya Bharathi  (AB+) 2.0 (@SuriyabharathiR) April 25, 2023
இன்னும் எத்தன‌ குடியை கெடுக்கப்போரானோ https://t.co/MmyB21TzIY

— Suresh Kshatriyan (@TweetsofSA) April 25, 2023
கேச வேற எங்கேயும் மாத்த விடாம, மாவட்டத்துக்குள்ளேயே வச்சி, மாவட்ட நீதிமன்றம் ஜாமீனும் கொடுத்த்தாச்சி. The so called institutionalized Christianity will save & protects him till the end. Otherwise many faces will comes out from the Cassock. https://t.co/f8HNlDYxGW

— SaS (@subin_sukumar) April 25, 2023
இவனெல்லாம் உடனே சாமின்ல விட்டுடுங்க அரசை விமர்சிச்சு மீம்ஸ் போட்டோவனெல்லாம் தூக்கி உள்ள வச்சு ஜாமீன் கொடுக்காமல் வைங்க என்ன சட்டமோ https://t.co/Xy8FPs0PhX

— 𝐆.𝐌𝐮𝐭𝐡𝐮𝐦𝐮𝐫𝐮𝐠𝐚𝐧 (@MmuruganAIADMK) April 25, 2023
இவனெல்லாம் வெளில வந்து??என்னாத்துக்கு? 🤬 https://t.co/jagZGbHRPP

— Sonia Arunkumar (@rajakumaari) April 25, 2023
The Indian Penal Code provides strong legal protections for women who have been victimized in this way, and it is the responsibility of law enforcement agencies and the judiciary to ensure that justice is served. It is also important for communities to come together to raise awareness and promote a culture of respect and equality, where such behavior is not tolerated and victims feel empowered to speak out.
also read : Young Girl Arrested For Throwing Acid At Her Ex-Boyfriend !!
It is important to note that sexual abuse and harassment are serious crimes that can have long-lasting effects on the victims. It is crucial that institutions take proactive steps to prevent such abuses and hold perpetrators accountable for their actions.