BCCI Ignored Sanju Samson Because He Belong To South India ?? "Justice For Sanju" Trending
Justice
Sanju Samson
Team India
1 year ago
By Dhiwaharan
After BCCI announced the squad for the upcoming New zealand series, fans started trending "Justice for Sanju Samson" in the micro blogging social media site, demanding the team management to back him like they are backing Bhuvaneshwar Kumar. Pointing out his performance in the recent IPL tournament, a number of fans went on to accuse BCCI of denying Sanju a chance just because he belong to South region of the country.
[wp_ad_camp_1]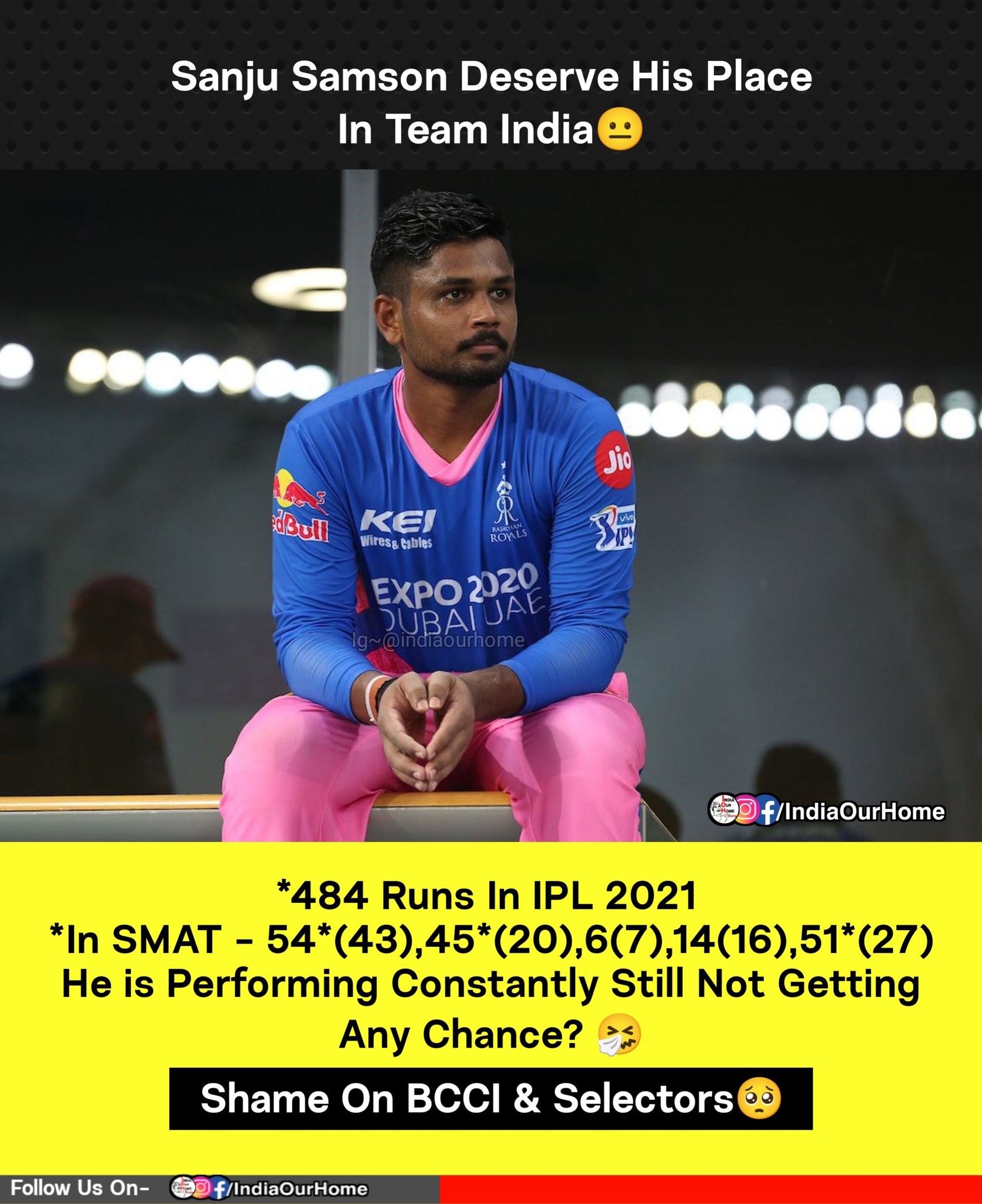 After losing the T20 world cup tournament in a pathetic manner, team India announced it's squad for the upcoming tournament against New Zealand. The team which is going to be led by Rohit Sharma, has KL Rahul as vice captain. Ruturaj Gaikwad, Shreyas Iyer, Surya Kumar Yadav, Rishabh Pant, Ishan Kishan, Venkatesh Iyer, Yuzvendra Chahal, Ravichandran Ashwin, Axar Patel, Avesh Khan, Bhuvaneshwar Kumar, Deepak Chahar, Harshal Patel and Mohammed Siraj are the players who got named in the squad.
.@ImRo45 all set to lead #TeamIndia's T20I squad against New Zealand. 👍 👍

How excited are you for the home series? #INDvNZ pic.twitter.com/wGCe0gBbL2

— BCCI (@BCCI) November 9, 2021
[wp_ad_camp_1]
Sanju Samson who is expected to make a permanent place in the Indian team, missed to make a place in the recently announced squad. He is currently leading Rajasthan Royals and is expected to transferred to another team for a huge price in the mega auction. In the 14th edition of the IPL tournament, Rajasthan failed to perform as a team but Sanju had a decent tournament. He scored 484 runs in 14 games, averaging an impressive 40.33.
On seeing his name missing in the squad, a number of online users got upset and started trending "Justice for Sanju Samson". "Bhuvi selected because he North Indian. Sanju rejected because he South Indian" a follower wrote in his tweet whereas another one said "The Way You have backed Rishabh, why BCCI Is unable to back Samson?"
Check out some of the reactions under the hashtag below :
#JusticeForSanjuSamson Bhuvi selected because he North Indian. Sanju rejected because he South Indian pic.twitter.com/YT7BzPv36t

— Suyash (@Suyash96027508) November 9, 2021
Rohit sharma till 2013

He was also useless like sanju but dhoni backed him
Now he should also back sanju in t20Is but he is biased towards mumbai players #JusticeForSanjuSamson pic.twitter.com/6Mw56gRa4W

— FL1CK🇦🇺🇦🇺🇦🇺 (@55of37) November 9, 2021
The Way You have backed Rishabh, why BCCI Is unable to back Samson? 🤧🤧😐#JusticeForSanjuSamson #SanjuSamson @IamSanjuSamson pic.twitter.com/6GQ752penK

— India Our Home (@IndiaOurHome1) November 9, 2021
So as usual Sanju is dropped🙂 Man literally had his best IPL season🥲
Sanju started playing IPL at the age of 18 also won the emerging player award. He is now 26!
If groomed earlier he could hv been our no4.
Don't want him to be a wasted talent🥺#JusticeForSanjuSamson pic.twitter.com/eRi3Vuvsll

— RO45 ☀️ (@Maanvi_264) November 9, 2021
Dear @IamSanjuSamson please move to Srilanka and play for them,you will be welcomed with both hands,we will cheer for you.Only legends like Sangakara know your value. @BCCI @chetans1987 #JusticeForSanjuSamson pic.twitter.com/drzgHDbzuK

— Kim Jong un Army (@RightGaps) November 9, 2021
[wp_ad_camp_1]
When Sanju was young bcci didn't picked him saying he was too young
After that they didn't picked him by saying he is inconsistent
Now he is performing consistently in both IPL and Syed mushtaq ali
Now why they didn't select Sanju samson
Any reason?#Justiceforsanjusamson

— Temba bavuma (@realpraveen66) November 9, 2021
Sanju Samson has 3 100 in the IPL and also he is performing consistently but what happened to the selectors, why is he getting ignored ? #JusticeForSanjuSamson pic.twitter.com/CaV2vdILvr

— Just Butter (@JustButter07) November 9, 2021
I don't know why bcci isn't backing or picking sanju samson he has performed consitantly in ipl and smat they say that he is inconsistent but what about now? Why he is being ignored #justiceforsanjusamson pic.twitter.com/unAUAhKZtW

— ~𝐇𝐲𝐝𝐫𝐚™🌟 (@RoyalHydra119) November 9, 2021
Just for instance: Shivam Dube got more backing than Sanju Samson#JusticeforSanjuSamson

— Hara Sreekar (@Royal_HaRRa) November 9, 2021
even after giving good performances in IPL & SMAT,selectors and captain didn't picked sanju samson#JusticeForSanjuSamson pic.twitter.com/4hYNVQhJzq

— Ansh 18 (@070___________) November 9, 2021
One of the most underrated and unlucky cricketer is Sanju Samson 💔 He isn't getting chances even after performing consistently in IPL and SMAT #JusticeForSanjuSamson pic.twitter.com/7lDjORBIDT

— Just Butter (@JustButter07) November 9, 2021