Bala's Varmaa Released On OTT !! You Just Can't Miss These Reactions
Written by Dhiwaharan Published on Oct 06, 2020 | 05:30 AM IST | 102
Follow Us
Comments: 0
Director Bala's version of "Arjun Reddy" released on October 6 in a OTT platform called as "Simply South". As soon as the film released, people who watched it started providing their opinions. Directed by Bala, the film had Vikram's son Dhruv in the lead role. Mega Chowdhry and Raiza played the female leads whereas the camera and editing were done by M. Sukumar and Sathish Suriya respectively.
[wp_ad_camp_1]
Dhruv Vikram, son of maverick actor Vikram was supposed to make his acting debut with director Bala's Varmaa, remake of Telugu blockbuster "Arjun Reddy". After seeing the final out of Bala's Varma, the production house and actor Vikram disappointed big time and decided to re-shoot the whole film.
The film which was re shot with new cast and crew, was released on November 21 of 2019 and had a mediocre theatrical run. After seeing "Varmaa", a shocking press release from the production house surfaced. The update said that they are not at all happy with the final out of the film and planning to re-shoot the film with different director.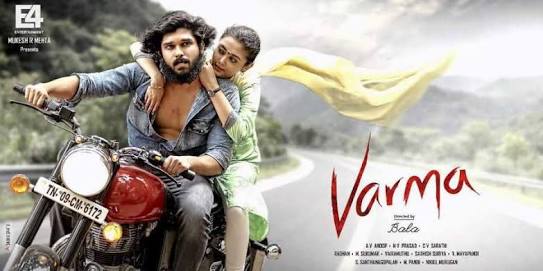 Replying to the statement of the production house, Bala released a press note saying "I'm forced to release this explanation due to the false statement from the producer of 'Varmaa' In order to safeguard creative freedom, it was my own decision to relieve myself from the project. Please find the agreement initiated by me and the producer on Jan 22, 2019, along with this.Considering Dhruv Vikram's future, I would like to end this here."
Now, after several months, the film managed to get an online release. This is the first time in Tamil film history where audience got the opportunity to witness the same film two times with two different directors. However, the Bala's version of Arjun Reddy is receiving extremely bad reviews from the audience who thinks that the film could have been in the can forever.
[wp_ad_camp_1]
Check out some of the reactions below :
Vikram took many wrong decisions in the last 10 years but scrapping Varmaa was not one of them pic.twitter.com/7KhTB6z1OV

— Insplag (@CcInfilmin) October 6, 2020
Vikram saved his son's career by dropping varma! Bala is a good director But he is not good for remake.#Varmaa

— S A N D Y (@Santhos16107276) October 6, 2020
#Varmaa

Adhithya Varma was way better than this.. #DhruvVikram acting was Different and Raw 🔥 But Making 😪😪

Bala Mamaaa 🙏🙏#Valimai pic.twitter.com/MCFf7A6dkG

— thala_sudharshan (@ThalaSudharshan) October 6, 2020
This girl 😍 >>>> Heroine

Bala mama's #Varma pic.twitter.com/3F5LMR7MJO

— MSR (@itz_chillax) October 6, 2020
[wp_ad_camp_1]
Arjun reddy ye oru sodhanai, ithu enna da Arjun reddy ke vandha sodhanai🤦

— TeaLeaves (@_Shivaranjani_) October 6, 2020
Bala மாம்ஸ் oda seigai வேற level 😰😭😭மொத்தம் ma furntiure odachutaru 😷#varma varamay irunthurukalam 😕🙃@CineversalS @ChildCh99697101 pic.twitter.com/FW5nTVrvcc

— Abu❤💙 (@thisaffi) October 6, 2020
Wrestlemania 😂😂😂 #bala mama version #Varmaa #Dhruv #VarmaaOnSimplySouth pic.twitter.com/H711YIUbhk

— Suresh-EAV (@SureshEav) October 6, 2020
பாட்டி கேரக்டரே இல்லாதனால அப்பன போட்டு தள்டாப்ல பாலா மாமா ;-)ஜஸ்ட் பாலா திங்க்ஸ் pic.twitter.com/0BGnM8NhEo

— RCB சேட்டு (@SettuOfficial) October 6, 2020
What the actual.. Dei Bala mama 😭😭😭 https://t.co/8ok8bdeVXA

— Achu (@Bultaulta) October 6, 2020
#Varma #Varmaa Forget likable hero, even the supporting characters and their equations with the hero(something that the 'Arjun Reddy' had in abundance) did not exist in the film.A lot of so-called 'bold' scenes turned out to be crass. The dialogs were poor and the acting was OTT.

— Social Media Distancer (@ikaipullai) October 5, 2020
Dhruv and Vikram are currently busy working together for a film being directed by Karthik Subbaraj whereas Bala is producing a film by having R.K Suresh in the lead role.
Comment your views if you have watched "Varmaa" !!