Articles
#Balaji Murugadoss Trending Nationwide !!
Hashtag "Balaji Murugadoss" is trending nationwide with people reacting to the incident that took place in the Bigg Boss house last night. The 25 year old contestant involved in a heated argument with his housemate Archana for waking him up while sleeping. This led other contestants such as Rio,Vel Murugan, Suresh Chakravarthy to question Balaji Murugadoss. The latter's way of responding to them instigated a debate in social media with a set of people supporting and others opposing it. A promo released by Vijay TV regarding the issue made people to discuss more on Balaji Murugadoss's behaviour which caused number one trending in the micro blogging social media site.
[wp_ad_camp_1]
Balaji Murugadoss, a bodybuilder cum model who participated in the ongoing Bigg Boss show hosted by Kamal Haasan, gained attention of the followers after he disclosed about his childhood days during a task provided by Bigg Boss named as "Kadanthu Vantha Paadhai". He said that he had a struggling childhood as his alcoholic parents behaved abusive to him. This revelation of him made the audience and his co-contestants emotional.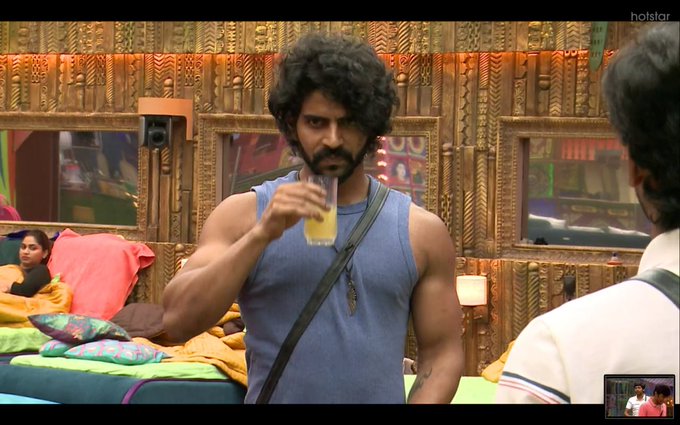 He who identifies himself as an outspoken and straightforward guy, never hesitated to express his opinions regarding the issues that are taking place in the house. On Tuesday's episode, Bala who is in cleaning team, felt tired and went to sleep during the day time. Archana, captain of this week, wanted him to clean the house and sent other contestants such as Vel murugan and Aajeedh to wake him up.
Bala said that he can't come to work and asked Vel murugan to clean the house with the help of other contestants who are awake. On seeing this, Archana who saw Balaji is awake, asked Rio "He wouldn't work but will watch people from there ?"
Balaji heard Archana and got up from his bed fuming. "Do captain have horns ?" he asked while waking up and said "I will keep punishing people by demanding them to work with "Ammi kal" (a stone like equipment used to make chutney with bare hands) once I become captain"
Watch the video here :
#BalajiMurugaDoss #BiggBossTamil4 #BiggBossTamil Epic bulb to Rio from Balaji! pic.twitter.com/1e2auZF0P1

— MonkSpeaks (@SpeaksMonk) October 27, 2020
Further he asked who wanted him to work. When Vel murugan said that he wanted a hand in sweeping the house, Balaji said "I will call you to work when you are sick, you should come and roll". Rio intervened and said "No one wants to wake you up while sleeping. If you would have informed us prior going to sleep, we never would have disturbed you"
However, The "Ammi kal" statement of the young lad made Archana angry. When she complained about it in the house, Rio questioned Balaji and condemned him only to deal with his "devil may care attitude". "If you think it is wrong, be it" Balaji replied to Rio to which he didn't reply.
[wp_ad_camp_1]
The first promo of today showed the continuation of the argument and to our shock, Balaji is seen shedding tears.
#Day24 #Promo1 of #BiggBossTamil #பிக்பாஸ் – தினமும் இரவு 9:30 மணிக்கு நம்ம விஜய் டிவில.. #BBTamilSeason4 #BiggBossTamil4 #VijayTelevision pic.twitter.com/xZax59oI0I

— Vijay Television (@vijaytelevision) October 28, 2020
This promo made people to react in various ways which caused the trending tag "Balaji Murugadoss". Check out some of the reactions under the hashtag below :
#BalajiMurugaDoss Trending in India at 1st place wow ❤️🔥🤩#BiggBossTamil4 pic.twitter.com/zmJQbt8zUW

— Karma_believer (@Daisy_Titu) October 28, 2020
#BiggBossTamil4 #BalajiMurugaDoss he is just damn rude! Typical guy who goes to sleep to avoid doing chores.seriyana laser vayee.pls dont say gethu and all.he is arrogant and damn irritating character. without his looks he is a complete zero 👎🙄🙄🙄attitude problem 🤦🏼‍♀️

— priya sekaran (@priyasena) October 27, 2020
This scene 🔥🔥🔥💯#BalajiMurugaDoss pic.twitter.com/VghLQq5NaD

— RAhul💛 (@RahulOreigns) October 28, 2020
Balaji is not doing his cleaning job
Instead of doing job he is insulting all BiggBoss members

Careless, bad behaviour, no respect to member

Such things leads Balaji to people negative frame, so Balaji Can go Out from Bigg Boss house#BBT4 #BiggBoss4Tamil #BalajiMurugaDoss pic.twitter.com/akHIGVfrda

— Ragavan 🇮🇳 (@Firstperson_01) October 27, 2020
This is clearly a ego clash!

I'm siding with #BalajiMurugaDoss .
Coz
1. #Archana poked him & showed her frustrating on him
2. #Rio twisted what Bala said and used female card here which I feel is a cheap move! Bala summa kandu la sonnada Rio elaborate panranga! #BiggBossTamil4

— H͟A͟R͟U͟H͟I͟ (@nenu__roe) October 27, 2020
[wp_ad_camp_1]
Just watched today's promo. Ohhhh #BalajiMurugaDoss is crying? Hey, stop your drama. We audience are not stupid. Just because you put up a drama and cry, doesn't mean we will sympathise and empathise with you. #BiggBossTamil #BiggBossTamil4 #biggbosstamil

— Angela Vengela (@AngelaVengela17) October 28, 2020
#Rio trying to get some reaction from #BalajiMurugaDoss.

But him being himself not being bothered about the ratass gang ending every conv with "ama apdi dhan sonen", "seri vachu konga" 😂

Rio face expression after all the failed attempts 😂😂😂#BiggBossTamil4

— APARNA (@kaparna96) October 27, 2020
Comment your views on the behaviour of Balaji !!