Balaji Haasan became viral overnight due to his accurate prediction on World Cup tournament. "This is a difficult question. We are just predicting and the rest lies with fate. The 2019 World Cup is taking place in England and the semi-finalists could be India, Australia, New Zealand and England. India and New Zealand or India and England could play against each other. However, someone new will win, like New Zealand. There is a high chance of New Zealand winning the world cup and Kane Williamson could be crowned as the Man of the series". he said in the video that made him viral.
[wp_ad_camp_1]
The video amused many cricket fans and celebrities as 95% of what he predicted happened, even actor Madhavan shared the video. The only thing that changed was the result of the world cup which is still in controversy due to some bad decisions made by the match umpires.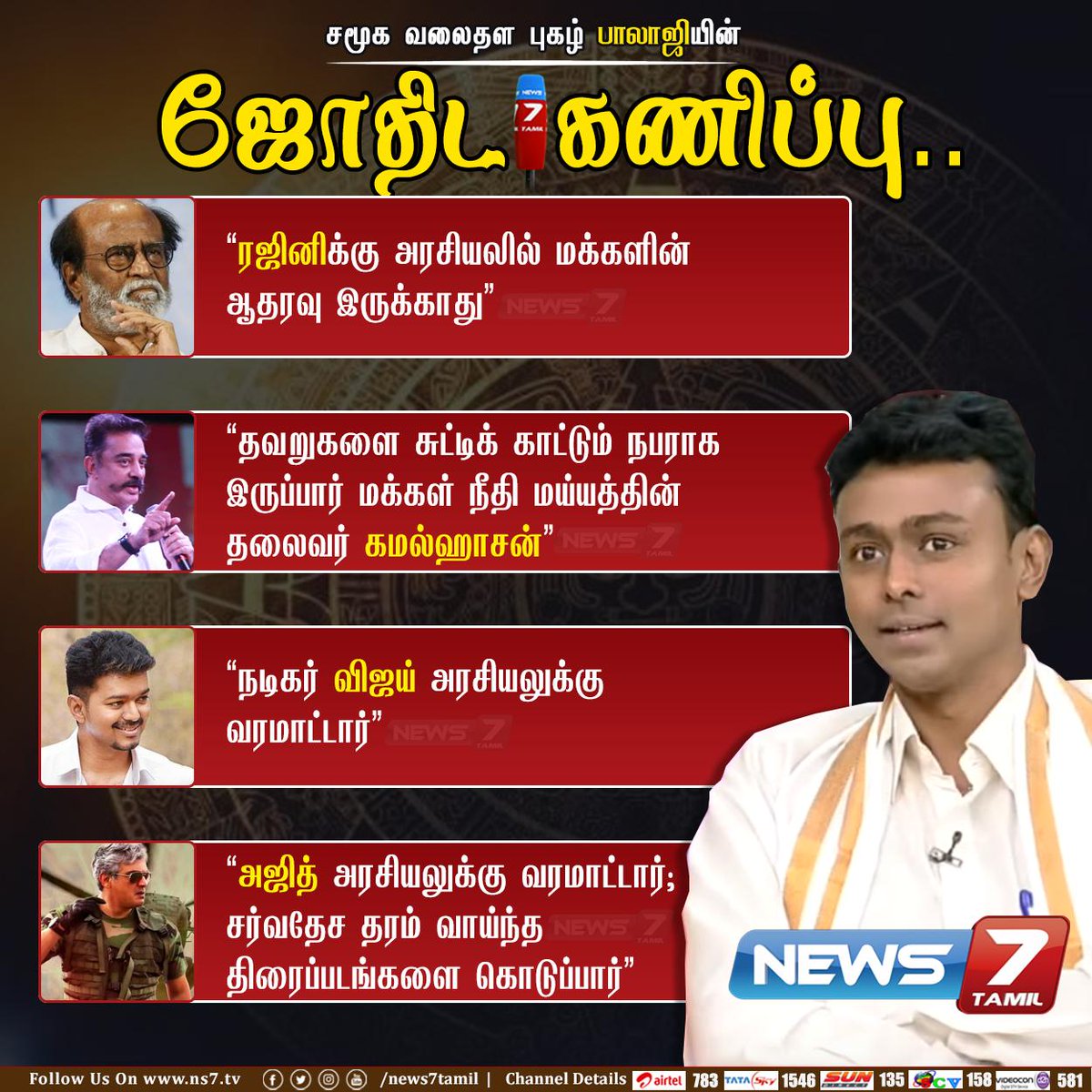 Now in this recent interview to Sun Tv, the astrologer shared many things including Dhoni's political entry. The man who belongs to Salem says that he completed mechanical engineering in a private college. He started to learn astrology to one of his professor in his college days.
Starting from ADMK party's future in Tamil nadu politics to water crisis in Chennai, Balaji predicted the most important things. While talking about Tamilnadu's development, Balaji says that Veloor will get an unexpected growth in coming 20 to 25 years. "It could even get an airport" says Balaji in the interview.
Unlike his previous interviews, Balaji avoided revealing names. When he was asked about the reason, Balaji says that faced serious issues due to one of his previous interview where he used an Political party leader's name. "I just said that he will face health issues in coming years.This caused me a serious issue, so I started avoiding using names." said Balaji Haasan.
Watch his interview here :
Source : Sun Network  
[wp_ad_camp_1]
Balaji previously has said in an interview that Superstar Rajinikanth will face an health issue in near future. Going by that interview, it is clear that the problems he faced are due to his predictions on Rajinikanth.
WATCH THE INTERVIEW OF BALAJI HAASAN ABOUT RAJINIKANTH :
Further he predicted about Dhoni's retirement and said that he would announce his retirement on November,December or before T20 world cup. He even said that Dhoni will join BJP after his cricketing career as Amit Shah's horoscope is similar Dhoni's. The astrologer avoided talking about actor/ Politician Vijayakanth's future.
About Vijay's political career, Balaji said that he would concentrate on his fans club in near future. He also said that BJP would place its foot in Tamilnadu within 10 years or more.
[wp_ad_camp_1]
"It is all about my prediction. Everything that I predicted before has happened and I expect these to happen in these predictions as well" said Balaji when he was asked what if his prediction goes wrong.
What do you think on these predictions of Balaji Haasan ?? Comment your views below !!