Azeem Used His Health As An Excuse & Betrayed His Co-contestants??
Written by Dhiwaharan Published on Dec 01, 2022 | 11:56 AM IST | 123
Follow Us
Comments: 0
Azeem became the subject to twitter trending again after using his health as an issue to play the task in favour of him. He who fainted on the live streaming of Tuesday episode, was excused by his housemates to sleep inside. Using the opportunity, Azeem stole the flowers and even pretended like he didn't do it so to the alien team.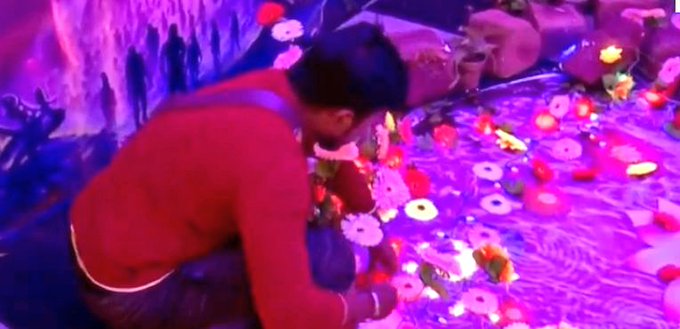 While sitting aside Kathir, Azeem who tried to get up and walk, fell on the floor, to everyone's shock. Kathir and ADK lifted him from the floor and tried to get him up. In few moments, all the contestants surrounded the television actor and tried ways to bring him back to normal. With the help of Manikantan, Ram, Vikraman and Kathir took him near the medical room and asked Bigg Boss to open the room.
Oh my gosh this is too bad
This man suffers a lot💔#biggbosstamil #Azeem #biggboss6 pic.twitter.com/b9oaMtbtuZ

— thamee_thammu (@thamee_thammu) November 30, 2022
Moments later, he returned to the house and Vikraman informed to Janany and Dhanalakshmi that he suffered from high BP to an extent of 190. Before going to the rest room, Azeem thanked his contestants for helping him.
During the night, Alien team and tribal team made an agreement between them about not stealing anyone's belonging and went to sleep as they were tired. However, Azeem who was allowed to sleep inside the bedroom due to his illness, used the opportunity to steal the flowers.
Watch the video below :
For the One Who Are Awake

A Short Story !

Thalaivan Azeem 😎 Sambavam#BiggBossTamil6 #azeem pic.twitter.com/bxkVwP8LNw

— Itachi 🖤 (@uchihabb6) November 30, 2022
He stole all the flowers in three installments and went back to sleep. In the morning, after everyone got up, Azeem was questioned by Manikanta over whether he took the flowers. Azeem denied stealing the flowers rather questioned the aliens whether all the flowers were gone.
Here's the video of it :
Aliens trust Azeem so much that they are asking the thief for advice regarding the case.#BiggBossTamil6pic.twitter.com/G86M3vhvfh

— Bigg Boss Videos & Updates (@BBFollower7) December 1, 2022
Check out some of the reactions Azeem's series of activity received :
#BiggBossTamil6
The doctor who checked and announced Azeem has high BP 190 😏 pic.twitter.com/SCJp2c1ufZ

— Udhayakumar (@udhaya_kumaar) December 1, 2022
If #Sherina was wrong #Azeem is also wrong.
Due to health, bedroom la thunga sonnanga. U can't take that as advantage.

If u wanna play u should have stayed outside & sneaked in👎
That's gentleman play.
This is ❌️#biggbosstamil6 #shivin #vikraman #ayesha #rachitha #ADK #dhana pic.twitter.com/K18bpzcryy

— BlackWidow🦋 (@BlackWid20) November 30, 2022
#sherina panadha kevalama pesina makkal indha #azeem ku fire vidreenga! Adha vuda periya etcha thanam #azeem panadhu! Fake fainting, amudhu kaal le vilundhan to escape from a red-card,night kevalama thirudran ulaye iruntu!🤡#BiggBossTamil6 #biggbosstamil #bb6 #biggboss6tamil

— Divya (@DivyaShree_Dm) December 1, 2022
#Vikraman Saying High BP 190#Azeem #BiggBoss #BiggBossTamil#BiggBossTamil6 pic.twitter.com/0ZUlI7hax6

— BIGG BOX TROLL (@drkuttysiva) November 30, 2022
Amutha and mani believing Azeem and polambing about flowers to him. Avanum epdi naduchu maintain panran #BiggBossTamil6

— ‌‌ஃ (@museandmusings) December 1, 2022
What #azeem Stategy Can't able to understand. 😳. Where is the Flower Now.?#BiggBossTamil    #BiggBossTamil6 #BiggBoss pic.twitter.com/0viPAabGbd

— தேவிகா துளசி (@Devika_tulasi) December 1, 2022
#BiggBossTamil6
Evlo problem laiy azeem vaaya mudittu summa erukkum bothe theriya venaam Avan thaan ethavathu panni eruppan nu

— Shivin _ Brain with beauty (@Sangeet91928178) December 1, 2022
dei azeem andha poova kuduthu tholada…

romba irritatinga iruku🤦‍♀️#BiggBossTamil6

— ᴅʜɪʏᴀ💫🌠 (@dhiya_twtz) December 1, 2022
Deii azeem enna daa ivlo performance panra🚶‍♀️🚶‍♀️#BiggBossTamil6

— SWE🚶‍♀️🚶‍♀️ (@swethaa_15) December 1, 2022
What #Azeem is doing is echathanam. People supporting him now also are Echais. #BiggBossTamil6

— Sri Devi KKA (@Sridevi_Jegan) December 1, 2022
Sherina was roasted for using her health issue in game,wat azeem did now is no different from sherina. Will azeem be roasted by KH for his cheap Play nd for spoiling de task?@vijaytelevision @ikamalhaasan

— shree (@sarashanmugam08) December 1, 2022