After expressing his disappointment during the innings break for adding Yuzvendra Chahal as a concussion player, Justin Langer, Australian head coach getting brutally trolled by Indian fans. Though a picture of himself shaking hands with Chahal surfaced in Internet post match, the posts targeting him were kept surfacing. Even Former Indian opener Wasim Jaffer posted a meme to troll the former Australian player.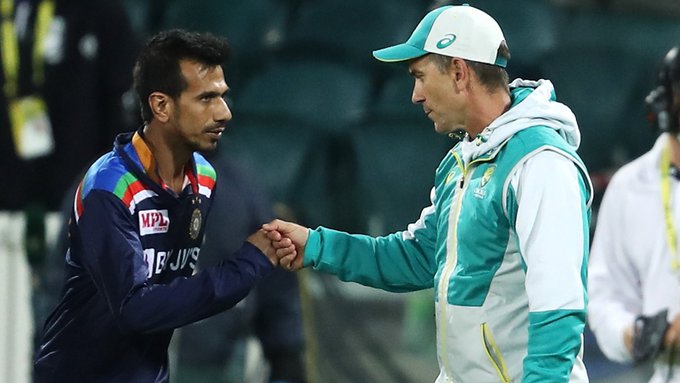 India successfully won the first T20 international match against Australia by 11 runs difference. As soon as the team registered their win, controversy started surfacing about India's decision of bringing Yuzvendra Chahal as the replacement for Ravindra Jadeja who got hit by the ball on his head while batting. Australian head coach Justin Langer visibly frustrated over the incident. Apart from getting hit on the head, Jadeja had also picked hamstring injury during his knock of 44 runs of 23 balls.
This decision of team India didn't go well with the Australian camp as Australian coach Justin Langer had an animated conversation with the match referee David Boon. He shook his head heavily expressing his disappointment over the matter, video of which went viral across the social media platforms.
Watch the video below :
#INDvsAUS #concussion
Jaddu's concussion comes as blessing in disguise for India. Chahal will bowl. Aussie coach Langer shows his obvious angst. pic.twitter.com/xOWT3tb5AN

— Parveen Kumar Dogra (@kparveen) December 4, 2020
Adding fuel to his frustration, Chahal picked 3 important wickets with an economy of just 6 runs and clinched the Man of the match award as well. Jadeja's contribution helped team India to reach the decent total of 161 runs whereas his replacement Chahal's contribution in bowling played a crucial role.
Now, post the match, enormous posts trolling the Australian head coach are flooding the social media. Indian fans who believe that team India made the replacement within the rules of ICC, trolling him. Here's the meme Wasim Jaffer posted :
#AUSvIND pic.twitter.com/K9z3T9nBp9

— Wasim Jaffer (@WasimJaffer14) December 4, 2020
A twitter user posted a meme mocking Australia's sand paper issue as well. Check out some of them below :
December 4, 2020
Chahal 😂 pic.twitter.com/csTYji71be

— THUG 1 (@thug1one) December 4, 2020
If you need a picture to get Justin Langer angry, send this to him 😁#AUSvIND.

Sir Jadeja and Lord Chahal. pic.twitter.com/NOAFcLwXIQ

— 🤑 R O C K 🤑 (@_rockalcoholic) December 4, 2020
Jadeja scores 43(23) and gets replaced by Chahal by concussion rule and he gets finch and smith wicket
Justin langer : pic.twitter.com/QBbLr3SuNJ

— Madhan|kl stan acc (@aprayojaka_) December 4, 2020
justin langer is now just in anger

— Neeche Se Topper (@NeecheSeTopper) December 4, 2020
Never retract, never explain, never apologize. Just get things done and let them howl.😂😂😂😂

Ravi Shastri Ultra Legend😎
Gotta feel for Justin Langer 🤕#AUSvIND
Our Coach vs YourCoach pic.twitter.com/BUmYC8Iw6j

— P A Ls ♡ (@CricketGirl_45) December 4, 2020
Who informed Jadeja that Sanjay Manjrekar is in the Commentary Box when he was batting?"
—— Justin Langer pic.twitter.com/5zJR4QCMuc

— HITman Fans 🇮🇳🇮🇳 (@AmareshHugarrr) December 4, 2020
Justin Langer & David Boon's never ending argument !

You know a match is screwed when everyone knows its referee's name !#AUSvIND pic.twitter.com/WCTJ3rvG5j

— Shivasis Mohanty (@ImShivasis) December 4, 2020
Justin Langer tonight :
*dei Jaddu* pic.twitter.com/I36cbG1gRq

— Prasad (@iamNPrasad) December 4, 2020
Chahal in front of Justin Langer after winning Man of The Match 😎#AUSvIND pic.twitter.com/cBEIJRDNau

— 🎙️ (@crictallkk) December 4, 2020
Justin Langer watching Chahal's Bowling. #INDvsAUS pic.twitter.com/2AHHEWgSMJ

— Aadarsh Dixit💞 (@aadarshdixit2) December 4, 2020
Justin langer to ICC 😂#SarkaruVaariPaata pic.twitter.com/vYzlcsNwjz

— Santosh Anna FC picha lite (@Fcsantosh) December 4, 2020
Justin Langer in dug out right now#AUSvIND pic.twitter.com/5KMTuYcYXU

— Rishav (@sayminame_1) December 4, 2020
Meanwhile Justin Langer right now! 💥 #AUSvIND pic.twitter.com/Kk4ee2xH8X

— T.S.Suresh (@editorsuresh) December 4, 2020
#indvsausT20
1st T20I: Justin Langer fumes as India replace injured Jadeja with 'concussion substitute' Chahal
Meanwhile inside indian team: pic.twitter.com/htYuDZizDi

— Aarti (@abechalnayrr) December 4, 2020
Scam 2020 : The Concussion story.
*Virat Kohli and other teammates walking in* #AUSvsIND #T20I pic.twitter.com/CuTtjEGXmV

— Abhishek (@thelamershit) December 4, 2020
Comment your views on these reactions !!