Australian Channel Questioned Indian Team About The Caste System After They Took "Knee" Against Racism !!
CM / Updated: 2021-11-05
11:11 IST
By Dhiwaharan
When team India took "knee" against racism in their T20 world cup match against Pakistan, the pictures and videos of it grabbed headlines globally. Now, a video of a news reader of Australian news channel questioning whether team India took knee against the caste system that takes place in India, is trending across the Internet platforms. It is notable that players like Jadeja who likes to flaunt about his "Rajput" legacy, got severely criticized by team India's own fans when the team took "knee" during the start of the match. The news anchor could be seen saying that the country should fix it's own caste system before making such big international statements.
[wp_ad_camp_1]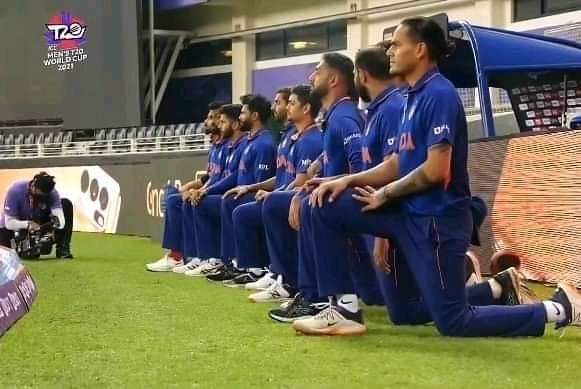 A number of Internet users who belong to country India also trolled team India for "taking a knee" addressing the "Black lives matters" issue before the start of the match that took place between India and Pakistan. When the Indian players took the knee in solidarity with the BLM movement, Players of Pakistan stood with their hands in hearts.
The demise of George Floyd in United states made people to raise voice against racism. Enormous number of people protested against the discrimination despite of the spread of Coronavirus. George Floyd, a black man was died after four police officers handcuffed him and pinned him to the ground with their knees. A video of the arrest surfaced online where he can be seen pleading the officers to let him breathe. George was pinned down by the neck by a Minneapolis police officer and died. He laid there, fighting for his life, struggling to breathe while other officers were standing the merely watching.
[wp_ad_camp_1]
This incident created huge outrage across the world where people started raising voice supporting black people. An hashtag saying "Black lives matter" trended in Internet to prevent racism in future. Most recently, keeping the fact on India and Pakistan match will be watched by maximum number of cricket fans across the world in consideration, the Kohli-led team took a knee to support "BLM" matter.
News reader of Sky news said "Indian cricket team took the knee against racism before its game with Pakistan. This is from a team which representing the country that should first fix its own caste system before making big international statements. The Hindu caste system that has Brahmin at the very top and Untouchables down at the very very bottom. Has Indian team ever taken the knee to protest against that ?" while reading his news.
[wp_ad_camp_1]
Sharing the video, Tamil filmmaker Naveen Mohammed said that there is a justice in the speech of the Australian Television man.
Watch the video below :
ஆஸ்திரேலிய டீவிகாரன் பேச்சுலயும் ஒரு நியாயம் இருக்கத்தான் செய்யுது.
pic.twitter.com/A7pHb2uV8S

— Naveen Mohamedali (@NaveenFilmmaker) November 3, 2021
Check out some of the reactions his tweet received :
Indian players taking knee…Meanwhile their names : Kohli,Sharma,Yadav,Pant,Pandya
Rather than taking knee,they can remove surnames🤷🤷🤷 Hypocrites🤡🤡🤡 #indiancricket https://t.co/RcDoD73xjT

— AJITH RAM (@imajithram) November 4, 2021
World famous caste system of India … https://t.co/18M8CdWYqT

— CSK (@Csk31890091) November 4, 2021
நல்லா செருப்பால் அடிச்ச மாதிரி கேள்வி கேட்டு இருக்காரு இந்த தாத்தா https://t.co/WpYFe4XAS6

— Bruno Ennares (@Dravida49808885) November 3, 2021
ஆஸ்ரேலியாகாரன் செருப்பை எல்லாத்துலயும் முக்கி அடிச்சிட்டான் https://t.co/UKUneLflAD

— SALEM SURESH (@suressaswath100) November 4, 2021
Also Read : Team India Getting Trolled For Taking A Knee On "Black Lives Matter" Issue !!