"Attitude Towards Aandavar??" Netizens Thrashed Ayesha Left & Right
Written by Dhiwaharan Published on Oct 31, 2022 | 02:16 AM IST | 104
Follow Us
Comments: 0
Ayesha's attitude towards Ulaganayagan Kamal Haasan in the weekend episode triggered majority number of the show's viewers. They called her out for not respecting the rules of Bigg boss by speaking in other language, showing faces to Kamal Haasan and for asking the actor cum politician not to portray her in a wrong way. She is being severely trolled and criticized for her rude behaviour towards a legendary artist Kamal Haasan who has been hosting the show for the past 5 years.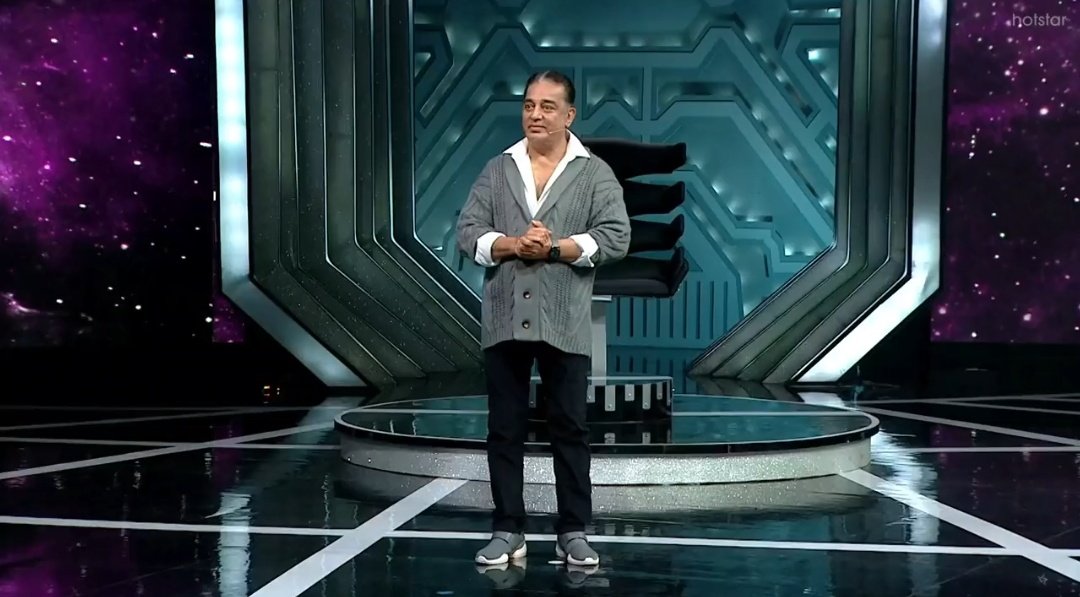 In the issue over Dhanalakshmi pushing Sherina away during "bommai" task, the "Vikram" actor streamed a "Kurumpadam" and proved that she could not be held accountable for the injury of Sherin. Kamal Haasan said that such injuries are normal in a physical tasks and criticized Sherina for playing the game as per her wish and physical condition.
After playing the "Kurumpadam", Kamal Haasan asked Ayesha whether she got a clear idea about what happened during the task between Dhanalakshmi and Sherina to which the serial actress replied saying that she is still in confusion. The host got surprised and the Kurumpadam was played multiple times after that.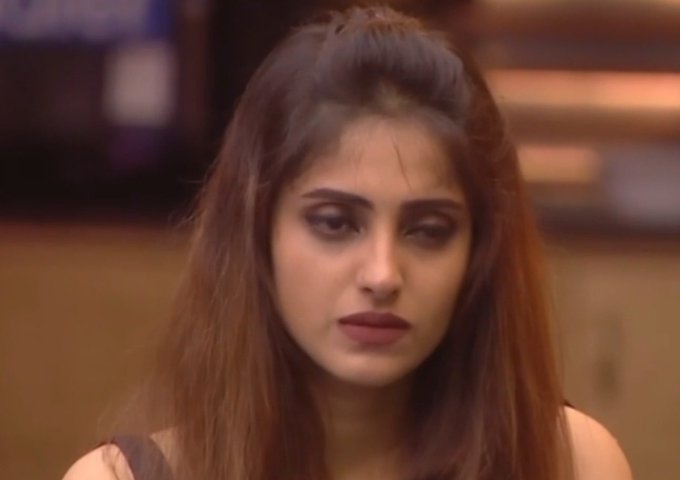 After Kamal Haasan asked Ayesha to be watchful after explaining the way she said that she is still in confusion even after watching the video, she wondered why Kamal Haasan made her stand and accused her while speaking to her co-contestants.
In the next episode, Kamal Haasan asked whether she has something to tell him, the conversation led Kamal Haasan to explain how she played the game and ruined it for Rachitha after deciding to quit it. In reply, Ayesha said "I never did that, don't portray me in a wrong way" to Kamal Haasan to which the actor replied back with a sarcastic laugh saying"I can portray only me, I can never portray you. I don't know how to make a portrait"
Kamal Haasan went on to troll her saying "Does anyone else want to cry here?" Here's the video :
#Ayesha accuses Kamal Sir of portraying her in a wrong manner 😳@ikamalhaasan Sir laugh says it all.. If Salman was here it would have been different scene., #Aysha you are lucky

Thappu Panita…, Kandipa Sekrama Out dhan.. #BiggBossTamil #Biggbosstamil6 pic.twitter.com/smqatsOpyB

— ᴅᴀᴠɪᴅ ᴀᴅᴀᴍ CVF ᵗʰᵃⁿᵍᵃˡᵃᵃⁿ (@David_AdamCVF) October 30, 2022
Ayesha's attitude towards Kamal Haasan made many viewers of the show uncomfortable as a result of which they started calling her out. A number users were seen saying that she is the next eviction if she ever comes in nomination and few even wondered the way Ayesha behaved after what happened.
Check out some of the reactions below :
Kamal sir aye question panra orey contestant! Thanga Thalaivi Ayesha 😂😂😂 Dude, this ponnu yaar! Sir's "vera yaarachum aluganuma" was lit 🤩 Just throw her out makkaley! #Ayesha #BiggBoss #BiggBossTamil6

— Ahmed (@ahmedmeeranoffl) October 30, 2022
I honestly can't believe #Ayesha didn't even apologizeto KH for her rude allegations till end of the episode.. 🙃#BiggBossTamil6 pic.twitter.com/css9fMHhYg

— குருநாதா👁️ (@gurunathaa4) October 30, 2022
Ayesha showing Attitude towards Aandavar!😡

Ivlo thaan unga Maturity ya 🤦‍♂️#BiggBossTamil6 pic.twitter.com/efYOxwVkoM

— Christopher Kanagaraj (@Chrissuccess) October 30, 2022
#Ayesha Worst Attitude 😠
Next Week thaandurathu kastam pola.. #BiggBoss #BiggBossTamil #BiggBossTamil6 #BBTamil pic.twitter.com/NuGMtLrGbc

— VCD (@VCDtweets) October 30, 2022
Bro even those who were thrashed weekend after weekend by KH like Vanitha, Mumtaz or even Priyanka never disrespected him like that. Ayesha made a terrible move there. #BiggBossTamil6

— NOYB (@PeruVekkala1) October 30, 2022
#Ayesha – I've never seen anyone disrespect #KamalHassan like this ever.. this attitude will be your downfall.. will never support you even if you play well in this season. You are dead to me! #BiggBossTamil #BiggBossTamil6

— mohi (@mohi3193) October 30, 2022
#Aysha you cannot show attitude to #KamalHaasan𓃵 sir, take criticism constructively..he is the same person who appreciated and praised you last week! You made mistake, accept and move on! 🙄
The way she took blindfold from #Dhana.. 😒#BiggBossTamil #BiggBossTamil6

— Haru (@nenu__roe) October 30, 2022
I like #Ayesha. I used to support her. I voted her whole week. But when she disrespects and showing attitude to greatest legend my Aandavar #KamalHassan sir, i will never ever support her in future. #BiggBossTamil #BiggBossseason6 #BiggBossTamil6 pic.twitter.com/f4EeNJJmQF

— Badhri (@itisba3) October 30, 2022
#Ayesha accuses Kamal Sir of portraying her in a wrong manner 😳@ikamalhaasan Sir laugh says it all.. If Salman was here it would have been different scene., #Aysha you are lucky

Thappu Panita…, Kandipa Sekrama Out dhan.. #BiggBossTamil #Biggbosstamil6 pic.twitter.com/smqatsOpyB

— ᴅᴀᴠɪᴅ ᴀᴅᴀᴍ CVF ᵗʰᵃⁿᵍᵃˡᵃᵃⁿ (@David_AdamCVF) October 30, 2022
Ayesha worst Attitude to Kamal sir..

Dear @vijaytelevision

உலக நாயகனின் மதிப்பு தெரியாதவர்களின் காணொளியை எதுக்கு எடிட் செய்யப்படாமல் ஒளிபரப்பு செய்கிறீர்கள்!!!@ikamalhaasan Sir you don't Need this Disrespecting show!!! Please Sir🙏 pic.twitter.com/puRI0WwDve

— Prashanth Haasan (@Prashu94Haasan) October 30, 2022
Totally shocked 😳 by #Ayesha. Didn't expect so much disrespect to #KamalHassan. The way #KamalHassan handeld the situation is 🔝⭐ And then saying to #Ayesha to sit down. Hahaha 😂 legend!#BiggBossTamil https://t.co/KPsBYSMfFM

— 🅰️rmani 🅱️🅾️ss (@BernardoArmanii) October 30, 2022
She don't want to see Kamal Sir Face #Ayesha 🤦🤦🤦 #BiggBoss #BiggBossTamil#BiggBossTamil6 pic.twitter.com/x69PSX6I4D

— BIGG BOX TROLL (@drkuttysiva) October 31, 2022
#Ayesha you got caught red handed maa… Don't act like you didn't plan this and don't disrespect someone just because he pointed out your plan.. Kamal sir saw the episode and then asked you about it! Don't try to make a fool out of him😂😂😂 #BiggBossTamil #BiggBoss pic.twitter.com/gJ4OgqKahT

— D (@deva_kpl) October 30, 2022
#Ayesha worst uh maa ne🙄Kamal sir taye arrogant a pesura seriously?😲Avlo thiriama unaku🤡I think u r not fit for BB anymore💯👎just throw her out!!😤#BiggBossTamil6 pic.twitter.com/f2vjrLQKvf

— 𝘼𝙧𝙪𝙣🐼 (@opinier27) October 30, 2022
#Ayesha accuses Kamal Sir of portraying her in a wrong manner 😳 Kamal sir is so soft & good person sir just laughed and left the topic. See Salman khan angry moment ayesha escape it's not Salman, it's our Kamal sir.#biggbosstamil6 #BiggBossTamil #BiggBoss6Tamil pic.twitter.com/iJ1u96XibS

— TV GO (@TV_GO_) October 30, 2022
#Ayesha attitude speaking way to Kamal sir 😳🤬👎
Andavar reply style vera yarachum aluganuma🤣🔥#Ayesha onnu solra as a BB fan andavar thiruppi adichu ni thanga matta pathukka 👍#KamalHassan #BiggBossTamil #BiggBossTamil6
pic.twitter.com/BZd56lCRZj

— பேப்பர் ஐடி🎭 (@CommonM12) October 30, 2022