Atlee Indirectly Announced About His Next Project !! Reactions Pouring !!
Written by Dhiwaharan Published on Dec 14, 2019 | 00:48 AM IST | 79
Follow Us
Comments: 0
For posting a tweet as an response to a fan, director Atlee is receiving various kind of response from the fans of Tamil cinema. The celebrity who enjoys nearly 30 million followers has always been under scanner as he became one of the leading filmmaker by directing actor Vijay for three consecutive films.
[wp_ad_camp_1]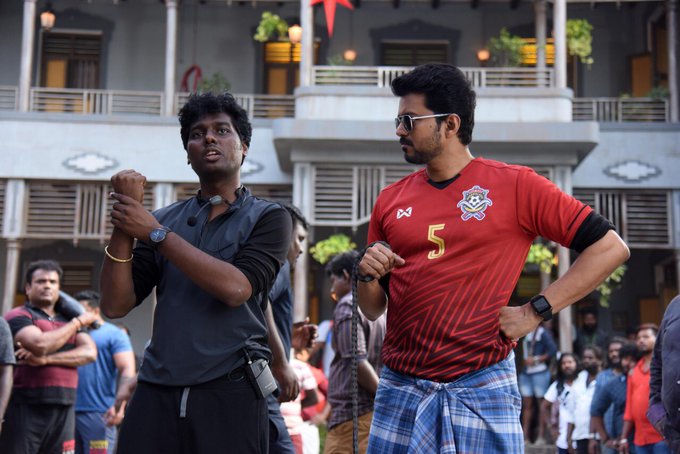 The filmmaker who debuted with Raja Rani, has directed actor Vijay in Theri, Mersal and Bigil. Being an ardent fan of actor Vijay, he portrayed Vijay in three different get ups in Bigil in which one of them featured the actor in his late 50s. Named as "Rayappan" the character exhibited the actor in a never seen before image which surprised the audience, especially his fans.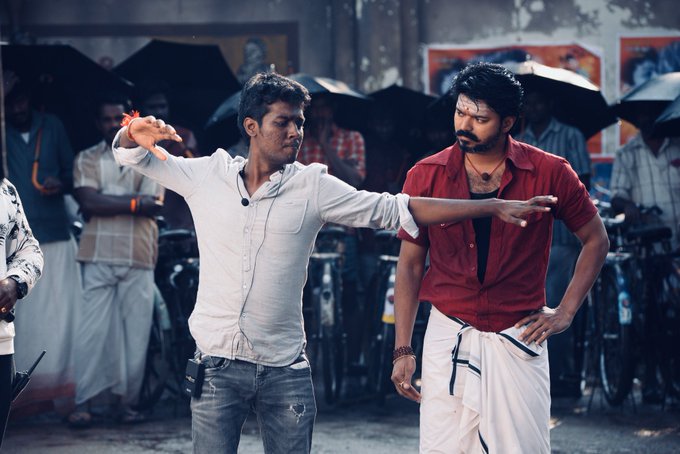 Unfortunately, apart from the looks and Vijay's screen presence, the character missed to make an impact among the general audience. The short span of the character's presence made many to forget Rayappan during the end of the three long hours film.
Recently the film marked the 50 days of theatrical run and was officially launched in online streaming platforms. This made the fans to talk about the film again. Meanwhile one of a fan in twitter, made a meme in a way of requesting the filmmaker about a film having the Rayappan character alone. In his meme he mentioned that it would easily become the best gangster movie ever. To his request Atlee accepted the request by writing the first dialogue Rayappan in Bigil movie.
[wp_ad_camp_1]
Check out his reply here :
Nanba Senjitapochuuuuuuuuuuuuuuuuuu

— atlee (@Atlee_dir) December 13, 2019
Though it made the fans of actor Vijay happy, many common fans expressed their disagreement on Atlee directing another movie with actor Vijay. Check out some of their reactions here :
எனக்கு எப்டி இருக்கும் தெரியுமா ண்ணே, இத கிழிச்சு இறிஞ்சிட்டு, எனக்கு புடிக்கல னு கத்தணும் போல இருக்கும்

கத்தி க்கு அப்றம் கலெக்‌ஷன் மட்டும் தாண்ணே இருக்கு. திரும்பி பாத்தா நீங்க மட்டும் தான் இருக்கீங்க

இப்போ கூட எங்க கை, உங்க கை குள்ள தாண்ணே இருக்கு, போய்ட்டு A8 க்கு வாங்கண்ணே https://t.co/TosjKNbD1H pic.twitter.com/uUqw3pu5wS

— நெட்வொர்க் நாடோடி 2.0 (@gypsy_online2) December 14, 2019
அவன் மறுபடியும் எங்கன்னனுக்கு நாந்தான்டா செய்வேனு ஆரம்பிச்சுட்டானே pic.twitter.com/aQTDymWEwv https://t.co/l7x34eWUu5

— Sounder (@bullett_offl) December 14, 2019
நாம ஏதோ உண்மைலயே ஒரு பாட்ஷா ரேஞ்சுல ஒரு கேரக்டர உருவாக்கிட்டோம்.. வெறித்தனமா ஒரு படம் பண்ணிட்டோம்னு அவனயே நம்பவைக்கறானுக இவனுக..அதுவும் இந்த டைலாக ஏதோ மிகப்பெரிய மாஸ் டைலாகா எழுதிட்டோம்னு நெனைக்கறான் போல..கொடுமை டா யப்பா 🙄😩 https://t.co/yxcYKmmrH1

— HBD ரப்ஸ் 😎🔥 (@RJAadhi) December 14, 2019
தோழர் அட்லீ https://t.co/y6Xn91FXfL pic.twitter.com/eHYNXY40ys

— Thor (@Thoravenger_) December 14, 2019
Movies to watch:
Nayagan
Godfather
Kaala
Irishman https://t.co/zu3yAGKcWM

— பென் ஜான்சன் / Ben (@iambenjohn) December 14, 2019
[wp_ad_camp_1]
https://t.co/pn0FQDjy6n pic.twitter.com/I3Wv7yqIXm

— விமல் (@wemalraj) December 14, 2019
Godfatherரே பயப்படனும்.. https://t.co/7KcfqSFFvL pic.twitter.com/ZX53Kxo8DP

— King of Pirates (@PrimateDLuffy) December 14, 2019
பாசக்கார பய.. விட்டுட்டு சாப்டவே மாட்டான் https://t.co/kuaS4eJisk pic.twitter.com/QaJNRpcI4G

— குழந்தை அருண் New (@aruntwitzzz) December 14, 2019
https://t.co/0BL0oadKYE pic.twitter.com/YII7owUKbx

— Broken 💔 (@itz_Sri_Here) December 14, 2019
https://t.co/VqfAAKFtpr pic.twitter.com/IRxho9gcWo

— * (@martinakilan) December 14, 2019
En Ithu varaiku odachathu pathatha.. Furniture mela kaiya vecha https://t.co/0O74JkC6uQ pic.twitter.com/f1jCzmQs0h

— GDR (@iam_gdhev) December 14, 2019
It is notable, Recently Atlee posted a picture of Vijay from Bigil audio launch which said "Ennoda Anne . . Ennoda Thalapathy" Check out that post here :
❤️❤️❤️ pic.twitter.com/ifB1HoyGAR

— atlee (@Atlee_dir) December 10, 2019
What do you think on Atlee making one more film with actor Vijay ?? Comment your views below !!