Asuran VS Narappa Escalated Into Kollywood VS Tollywood !!
By Dhiwaharan
Day after fans of Tamil actor Dhanush and Telugu actor Venkatesh involved in verbal spat in Twitter over who did the best for the story written by Vettri Maaran based on "Vekkai" novel, the fight escalated into another level as fans of both the film industries started fighting with each other by trending hashtags in the micro blogging social media site. Hashtag "Kollywood Dominating India" and "Tollywood Dominating India" are trending in the site with reactions from fans trying to prove their respective film industry as the best one.
[wp_ad_camp_1]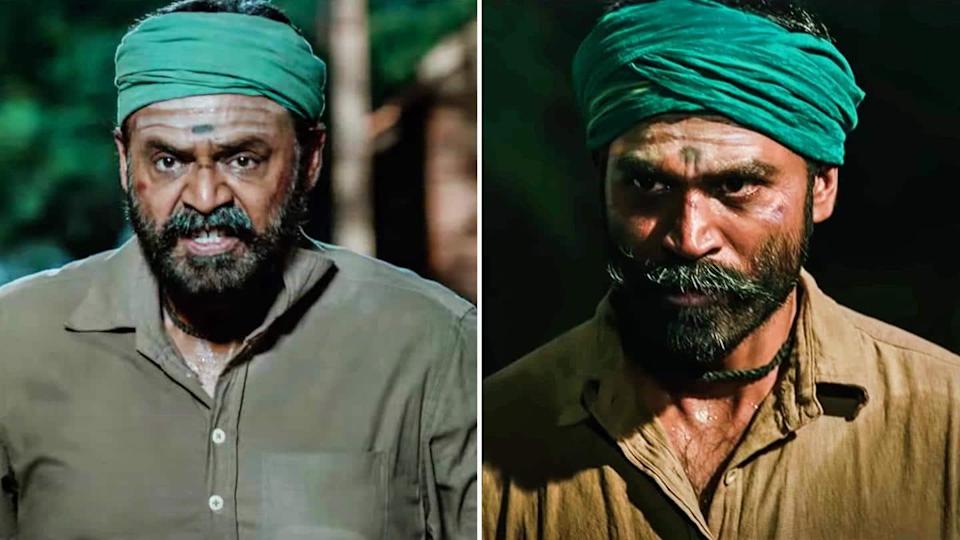 It all started when "Narappa" Telugu remake of Dhanush's "Asuran" released on Amazon Prime online streaming platform. "Asuran" was initially made in Tamil as "Asuran" starring Dhanush and Manju Warrier in lead role. After the film became a huge success with a box office collection of Rs. 100 crores, the film went for a Telugu remake.
Titled as "Narappa", Venkatesh and Priyamani justified Dhanush and Manju Warrier respectively. Reviews started pouring from all over the Internet as the film got released with huge anticipations among the fans. Despite of mostly favourable reviews that the film garnered, fans of actor Dhanush and Venkatesh started involving in online verbal spat between themselves to prove who did the best.
Now, the fight got escalated as fans of both the film industries started trending hashtags against each other. Under the hashtag "Kollywood Dominating India", fans have been sharing the achievements of Tamil film celebrities whereas fans of Telugu film industry sharing tweets supporting the actors of Telugu cinema through "Tollywood Dominating India" hashtag.
Check out some of the reactions under the two hashtags below :
[wp_ad_camp_1]
India" biggest Hit with 1000c+ gross all over country is under twood

high chances of getting another couple of 1000c movies in next couple of years #TollywoodDominatingIndia

— Gautham Reddy (@Sama_Gautham_) July 21, 2021
Pride❤️#KWoodDominatingINDIA pic.twitter.com/E2onnJCFLN

— SundaR KamaL (@Kamaladdict7) July 21, 2021
It's Our Tollywood 😎💪🏻

Screening Our Film In London Street's 🤫

Ur Industry Hero's Will Be Dreaming About This 🤭 pic.twitter.com/kVffGLFCda#TollywoodDominatingIndia pic.twitter.com/ZxzHYlvEfb

— 💥 JAYARAM NTR 💥🕉️🚩🇮🇳 (@NTR_Army9999) July 21, 2021
RUSSIA Discussing #KamalHaasan

What more do you need to say #KWoodDominatingINDIA ?

pic.twitter.com/bjjpgFiWdh

— 𝒎𝒂𝒔𝒔 𝗠𝗔𝗛𝗔𝗥𝗔𝗝𝗔 ᴹᴺᴹ (@Mass_Maharaja) July 21, 2021
Biggest Kollywood directors Murugadoss and shankar came to Tollywood Mahesh & RC
Biggest Sandalwood director neel coming to Tollywood for Prabhas & NTR
Biggest Bollywood producers Karan johar and T-Series and hit directors coming to prabhas for dates#TollywoodDominatingIndia

— Ash (@Ashwasmaran) July 21, 2021
Making Tamil Cinema to International level @rajinikanth @ikamalhaasan @dhanushkraja @arrahman Kollywood pride 😍#KWoodDominatingIndia pic.twitter.com/hUGgu5Xdit

— Dhanush Rithik (@dhanush_rithik) July 21, 2021
Top 5 WW Grossers in South#Baahubali2#2point0#Baahubali#Saaho

3 Out Of TOP 4 under #Prabhas #TollywoodDominatingIndia #TwoodDominatingSouth pic.twitter.com/Sjgt5Dox4j

— Pavan Prabhas (@PavanSAAHO45) July 21, 2021
Kollywood Upcomings🔥🤩🤩#KWoodDominatingIndia pic.twitter.com/T7XlTs0NAV

— 𝐆𝐎𝐊𝐔𝐋 ᴛʜᴀʟᴀᴘᴀᴛʜʏ (@its_GokulVfc) July 21, 2021
When The Topic Is About Looks@TheDeverakonda >>>> Entire Kollywood 💥#TollywoodDominatingIndia pic.twitter.com/njZcBqOXl2

— • 𝙋 𝘼 𝙑 𝘼 𝙉 // 👑ツ™ (@PavanrAAcer) July 21, 2021
Soori fanbase >>> whole Tollywood fanbase 😎🤫#KWoodDominatingIndia pic.twitter.com/d0UjOybovL

— C R I N G E D B O Yᵂᵉᵃʳ ᴬ ᴹᵃˢᵏ 😷 (@Cringedboy__) July 21, 2021
Prabhas is ruling Indian cinema
MB PK AA Ntr RC will join the club
Complete domination by Tollywood#TollywoodDominatingIndia pic.twitter.com/zXH84FKs1w

— Prince Shiva Vk (@PrinceShivaVk3) July 21, 2021
Now Say My name 😎💥#KWoodDominatingIndia pic.twitter.com/0LfcGEQWbJ

— ℳ𝓇 . சசி விக்ரம் ❜ 🏌️ ツ (@Chiyaangod) July 21, 2021
Time to unite
Time to show love
Time to spread love#TollywoodDominatingIndia#TwoodDominatingIndia pic.twitter.com/aOa5NZKt0R

— Rebelution Official (@PrabhasFanWorld) July 21, 2021
Unity of Kollywood fans😎🔥#KWoodDominatingIndia pic.twitter.com/K5secihsdG

— Karthi ᴮᴱᴬˢᵀ (@iamkarthi_kp) July 21, 2021
Kollywood Top Director… Cover Pic since Last 6 Years…..
Pillla na Madda Galu ra meru… 🤙#TwoodDominatingSouth#sarkaruvaaripataa / #Tollywood #TollywoodDominatingIndia pic.twitter.com/7PrjtYf3vh

— SSMB 28 (@SSMB2869862066) July 21, 2021
The Name Is #KamalHaasan 😍🔥#KWoodDominatingIndia pic.twitter.com/4reVEMxw1d

— HEY RAM💫 (@K_A_M_A_L_1997) July 21, 2021
Tollywood superstar Vs Kollywood superstar #TollywoodDominatingIndia pic.twitter.com/qhF7P6Twsf

— KajalFanRavi (@KajalFanRavi) July 21, 2021
PRIDE OF SOUTH INDIA – DHANUSH ❤Award from Your senior actor Mr Twood Guys 🤣🤣🤣#KWoodDominatingIndia

pic.twitter.com/m2iLQTa3FI

— Dhanush Rithik (@dhanush_rithik) July 21, 2021
[wp_ad_camp_1]
Show me a hero from Kollywood who can look handsome like our heros?! 😌#TollywoodDominatingIndia pic.twitter.com/r7xQwvrs6G

— KajalFanRavi (@KajalFanRavi) July 21, 2021
Let's show the power of Kollywood Industry …..😎💥#KWoodDominatingIndia pic.twitter.com/wvI0Fnrvlm

— 👑தல_முகில்👑 (@KM_ajith_kumar_) July 21, 2021
#TwoodDominatingIndianCinema
This two people enough for 2000 cr cinima #Tollywood #Prabhas #RamCharan #unitedtwood pic.twitter.com/zBvwDVqXJr

— Rebal Veerendar (@Veerendarzero) July 21, 2021
OMG :-🤣 This is the best answer for ☕wood #KWoodDominatingIndia pic.twitter.com/X4hlpJJd8Y

— Nandha Gokul (@Nandhaoffl) July 21, 2021
Entire K wood top heroes are struggling to get an industry hit.. but a t wood film achieved that feat in their den…

Remember " this is power of t wood"#TwoodDominatingSouth #TwoodDominatingIndianCinema pic.twitter.com/rbAKByJzV2

— Ajay (@Ajay74062239) July 21, 2021
I think these two pics is just enough for this tag 😌❤️@ikamalhaasan @arrahman #KWoodDominatingIndia pic.twitter.com/pAzjdsLvle

— f u e d a l (@Unngal_Rio) July 21, 2021
Other heroes about telugu audience❤️

We love respect and encourage everyone 🙏🏻🙏🏻 #TwoodDominatingSouth #TollywoodDominatingIndiapic.twitter.com/nCQUgfM6mp

— dheeraj (@Dheeraj61718597) July 21, 2021
We Have A Strong Basement Noone will Shake A Little Stone of our Basement ~#KWoodDominatingIndia pic.twitter.com/3Ev4OjLwsf

— Gαυτz ツ (@itz_Gautz) July 21, 2021
TFI is biggest Film industry in India in terms of actors, production houses, and Directors.
Kollywood industry never even comes close when u compare with TFI#TollywoodDominatingIndia pic.twitter.com/udk0yY7UrQ

— . (@_nameisBILLA) July 21, 2021
This is 😍🔥❤️Kollywood 🤫#KWoodDominatingIndia pic.twitter.com/ZrUPM4COml

— தளபதி 😎விஷ்னுᴮᴱᴬˢᵀ (@vishnu_VFc3) July 21, 2021