Ashwin's Candid Narration On Sydney Test Wins Internet !! WATCH
Written by Dhiwaharan Published on Jan 22, 2021 | 11:32 AM IST | 32
Follow Us
Comments: 0
As expected Ashwin came up with a special video narrating what he went through during the Sydney test cricket. He talked about many things that took place during the test match including about how he batter throughout the fifth day to draw the match which helped team India to win the series. A special incident he shared about Shardul Thakur's message from the dressing room while he was batting with Vihari made us to relive the moment. He also shared about the obstacles Indian team members faced due to the bio bubble in Australia.
[wp_ad_camp_1]
Ravichandran Ashwin became a super hero after making a heroic 39 from 128 balls which played a major role in the result of the third test against India and Australia. Hanuma Vihari and Ravichandran Ashwin made a valuable 62 runs partnership from 259 balls. Team Australia declared their innings with a lead of 407 runs to win the match. However, Pujara, Ashwin and Vihari displayed quality batting and managed stay till the end of fifth day to draw the match.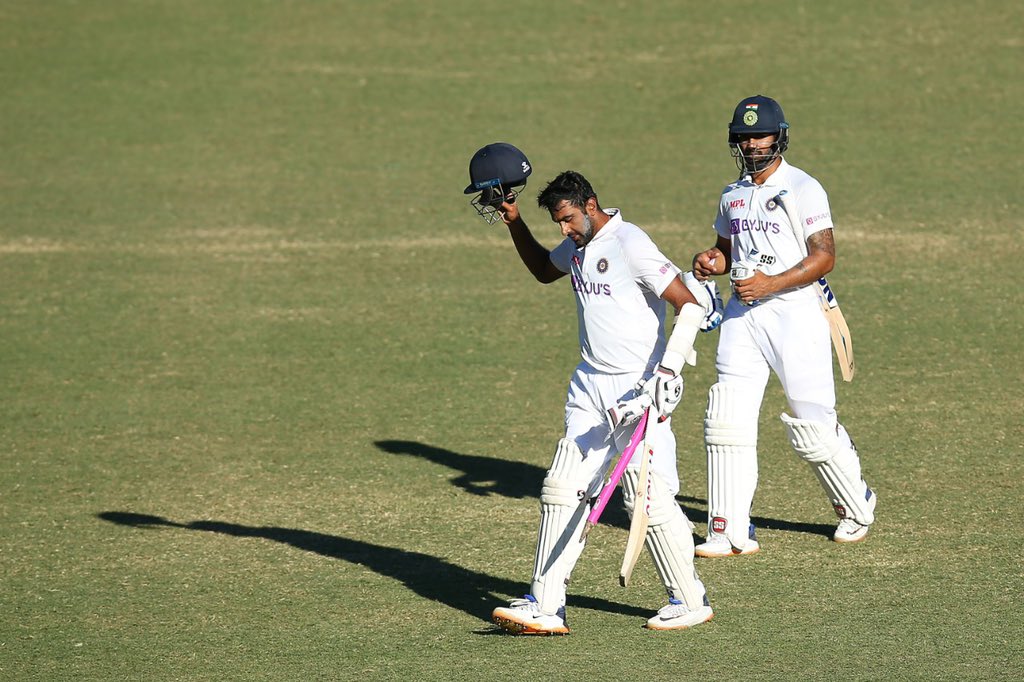 Now, in his youtube channel, Ravi Ashwin made an interaction with India's fielding coach Sridhar about the test series against Australia for the audience of his youtube channel. After talking about how Ravi Sashthri played huge role in making BCCI to accept on the family members of the players staying with them, Ashwin also revealed about how disgusting it was not to share lift with the Australian players who were in same bio bubble of Indian players.
"My wife sarcastically said that she will look for another husband" Ashwin said while talking about the restrictions due to Covid 19. Coach Sridhar revealed that Ravi Shashthri said "Shabash" 249 times while Ashwin and Vihari were batting. They also analyzed about the performances of star players such as Rishabh Pant, Chateeshwar Pujara etc.
[wp_ad_camp_1]
AWhile talking about the final 50 overs of the test match, Coach Sridhar revealed that Ravi Shashtri wanted Ashwin to face Nathan Lyon and Vihari to face the pacers. "He called Shardul Thakur and sent him to convey the same message." said Sridhar. Responding to him, Ashwin's revelation on what Shardul really said to him left the followers of his youtube channel in splits.
"These conversations took place in the dressing room. We were not aware of it and were playing our game. At one point, accidentally I played a single and Vihari faced off spin. After facing the over, he said that he couldn't move his feet. I got shocked as Ravi Shastri was shouting from the dressing room. We went into a tunnel vision and couldn't see what's happening in the outside world. That is the time Shardul Thakur entered the field to provide drinks" Ashwin said.
"Shardul came into the field and breathed hard for a while. I wanted him to say something. He said 'they (people in the dressing room) wanted me to convey many things to you both. But I am not going to say anything. You two were playing well. continue to do it' and I got puzzled and wondered what kind of message is this" Ashwin said to which Sridar revealed that they thought he conveyed the message. "Only after finishing the match, he revealed about what you people wanted him to convey" Ash added.
Watch the video below :
Whether it's Onf-field or Off-field, Shardul is always Mass 🔥😂❤️

Thalaivan Always Vera Ragam..👌😍#ShardulThakur #CSK#WhistlePodu

pic.twitter.com/Bv03613oFq

— Kaarthickkeyan R | MSDIAN FOREVER 💛 (@Kaar_the_k_n_r_) January 22, 2021
[wp_ad_camp_1]
Watch the full video here :
Source : Ravichandran Ashwin
This particular revelation impressed the fans of Indian cricket team with followers started appreciating Shardul for his cute little role in the result of the third test.
Lord Shardul!!!!!!!!!!

— Silly Point (@FarziCricketer) January 22, 2021
Ravi Shastri sends Shardul Thakur to send message to Ash and Vihari in Sydney Test

And Shardul Thakur does this 😂
You just gotta love this man 😂 pic.twitter.com/bZJJf8C2r0

— North Stand Gang – Wankhede (@NorthStandGang) January 22, 2021
Shardul Thakur in Sydney. Even the 12th man is important 😂😂 pic.twitter.com/oTzAstbBET

— Sachin Kalbag (@SachinKalbag) January 22, 2021