Ashwin Got Brutally Trolled By Murali Vijay For His Bowling Actions ?? Watch This Video !!
Written by Dhiwaharan Published on Aug 05, 2019 | 16:06 PM IST | 73
Follow Us
Comments: 0
Murali Vijay is one of the best openers in Indian cricket industry. He still opens for the Indian team in Test cricket format. After a long time, he made it to the headlines for trolling Ravichandran Ashwin, who is currently experimenting so many thing in the ongoing Tamilnadu premier league.
[wp_ad_camp_1]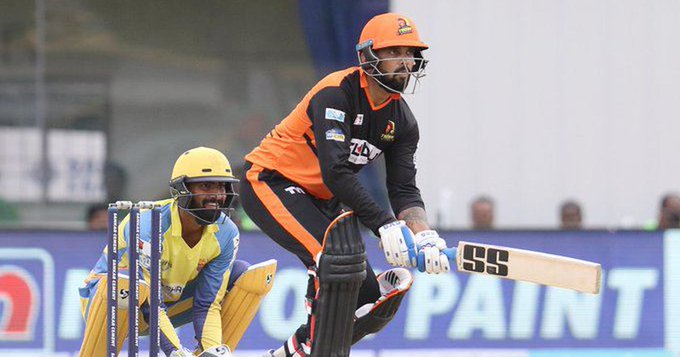 Ashwin, a Tamilnadu based cricketer who is now captaining Kings 11 Punjab, is known for making use of the rules of cricket. In this recent video which was released by the official twitter account of TNPL, Murali Vijay was seen playing left handed while facing his colleague Ravichandran Ashwin.
Initially it was considered as a different kind of shot selection from Murali Vijay. Later when the umpire signalled it as a no-ball, Murali Vijay refused to take single to face the free hit delivery of Ravichandran Ashwin. The opener also seen making some moves for the song that was played in the stadium during the break.
[wp_ad_camp_1]
Ashwin, for his part, tried a different kind of bowling action while bowling to Murali Vijay as well. Check out the video here from TNPL :
R Ashwin 🆚 M Vijay!

The contest that was! Cricket is the winner! #NammaPasangaNammaGethu #TNPL2019 pic.twitter.com/Pqb5swNVHT

— TNPL (@TNPremierLeague) August 4, 2019
Fans who saw the video couldn't keep calm. Many stated that Murali Vijay is trolling Ravichandran Ashwin for his experiments in this ongoing Tamilnadu Premiere League. Check out some of their reactions here :
Murali Vijay batting left handed 🤣 #TNPL19 #muralivijay pic.twitter.com/vekTpxfnun

— 😎 (@arihantbanthia5) August 3, 2019
Parugaaaaa…!!!! MuraLi Vijay Left-hand Batsman Ya Mariiiya Moment…😂😆😂

Vijay Vs Ashwin..❤🔥#TNPL pic.twitter.com/fiV2tO2FFK

— Mohan Raina (@mohankrish_mk48) August 3, 2019
Ravichandran Ashwin tries out one of his quirky bowling actions. What does Murali Vijay do? He bats left handed. Some stunning crictrolling from Tamil Nadu's top cricketers 😂One of the most entertaining phases of play in #TNPL2019 #NammaPasangaNammaGethu #RTWvDD

— Arun Venugopal (@scarletrun) August 3, 2019
Ashwin : I am the most unpredictable player in this TNPL

Murali Vijay : (Batting with left hander stance) Hold my beer, Ash! 😉#TNPL2019 #Contest @ashwinravi99 @mvj888

— Manish Chavda (@IManish_77) August 3, 2019
Murali Vijay(turning left) 😂facing Ravi Ashwin's Unpredictable bowling action 🤣

Courtesy: @TNPremierLeague
Caption this @ChennaiIPL https://t.co/X6V2H8MO5d

— Vaseem Ahammed (@vaseem9999) August 3, 2019
[wp_ad_camp_1]
Vijay Matching up with Ashwin attrocity…

— MOHAMED RIYAZ (@ursriyaz) August 4, 2019
Adeiii @mvj888 @ashwinravi99 neenga rendu perum cricket velayaadra maari terla da😂😂😂😂😂😂

— ❤️Thãlàpàthy PrÀVÈÉÑ❤️ (@praveenyalu) August 4, 2019
Only thing left by @ashwinravi99 is to change his name…😂😂
Almost tried everything.. 🙄@BCCI @lionsdenkxip

— Prathmesh Petkar (@PrathmeshPetkar) August 4, 2019
Both are killing the Cricket😡

— hariz pk (@pkharis03) August 4, 2019
What do you think on this behaviour from both the cricketers ?? Comment your views below !!