Good News to everyone residing in the state of Andhra Pradesh. The internet, that's the most crucial service when it comes to advancements in technology is now going to be available at a very affordable rate & this is because the Andhra Pradesh government is trying its best to ensure it can offer the best services to everyone. Mr. Chandrababu Naidu, the Chief Minister of Andhra Pradesh state in India has today launched the Fiber Grid Project in Visakhapatnam with
high-speed internet plans
to 1.3 crore households. According to the CM, this will be a trendsetter and the project would be available to both home users and offices.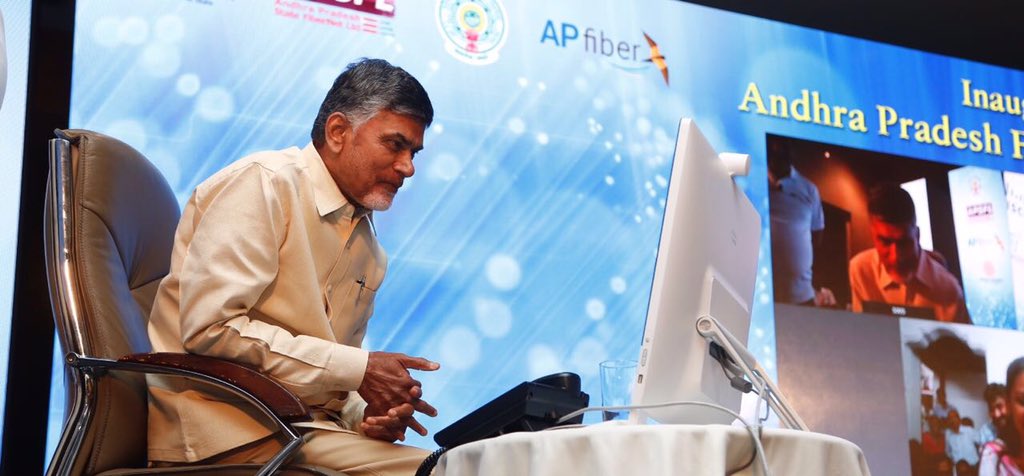 Along with the Internet options, there would be Smart classrooms that would make e-learning easy. The initial Fiber Grid package would cost Rs.333 crore to the government and would be done in collaboration with Cisco. According to a few rumors these connections would be coming with 100 free-to-air TV channels and telephone facility to everyone in the same cable network. There is no doubt these services would be giving a tough competition to the Airtel 4G that is slowly being launched all over the country.

Here are the plans:
15 Mbps – Rs 149 / mo
100 Mbps – Rs 999 / mo
The service would be available in North Andhra districts of Visakhapatnam, Srikakulam and Vizianagaram, while it would be extended across the State by July. There is no information available at the moment on the FUP limits or any other limits that would be linked to these packages but that said if you are offered Internet at throw-away prices, it's certainly something that would make anyone happy.
AP Fiber Grid Vision:
"To establish a highly scalable network infrastructure, accessible on a non-discriminatory basis, to provide on demand, affordable and end-to-end broadband connectivity of 10 to 20 Mbps for ALL households and 1to 10 Gbps for ALL institutions & Multi-Dwelling Units by 2018, to enable realization of the Vision of Digital AP, in partnership with the Government of India and the private sector".
We are looking forward to know more about your Internet package Speed, Cost & your location to compare with these plans that are now in India. Let us know in the comments section below.