Art Director Got Removed From A Film For Trying To Use A Picture Of Dr. Ambedkar??
Written by Dhiwaharan Published on May 31, 2022 | 18:30 PM IST | 80
Follow Us
Comments: 0
A Facebook user named Aravind claimed that the makers of the recently released feature film "Pothanur Thabal Nilayam" has denied credits to an art director who worked in the film. Named as Satheesh Kumar, the art director, according to the Facebook post of Aravind, has tried to use a picture of Dr. Ambedkar as a property in a post office set and the director who had a difference of opinion with him, removed him from the project and the credits for his work were denied.
Aravind, in his post, said that the film which got released in an OTT platform is being received well by the audience and the art work of a post office is being lauded by those who watched the film.
"To create such art work, an ard director is needed and I think no one of us could deny it. But no promotional poster of the film or title card of it contains the name of the art director" said Aravind through his post and went on to reveal about how the works done by his friend Satheesh Sivan went uncredited.
"Due to ego issues between the makers of a particular film, many technicians will go unnoticed and it's a routine in Tamil cinema. But the reason behind what Satheesh Sivan faced is completely different" said Aravind.
"I received a call from Satheesh (Pothanur Thabal Nilayam Art Director) few years back. He asked me whether it is right to keep a picture of Dr. Ambedkar in a post office. I said that it is not necessary but morally a right decision and  wouldn't be a blunder as he has created the constituency of our nation. He said "Sari Machi" and hung up the call" said Aravind through his post.
"Few days later, Satheesh said that he walked out of the film. When I asked why, Satheesh said that the picture of Ambedkar he prepared to use as a property for the film, was thrown at the garbage. When he questioned about the same, a problem broke out, he said" read the Facebook post.
"Satheesh was sidelined from the film for the same reason and the bank sets seems to have been prepared by the director himself" Aravind said. "After Satheesh's exit, both the sides of door contained the pictures of Gandhiji and I don't know what anger the director has against Ambedkar" He further said.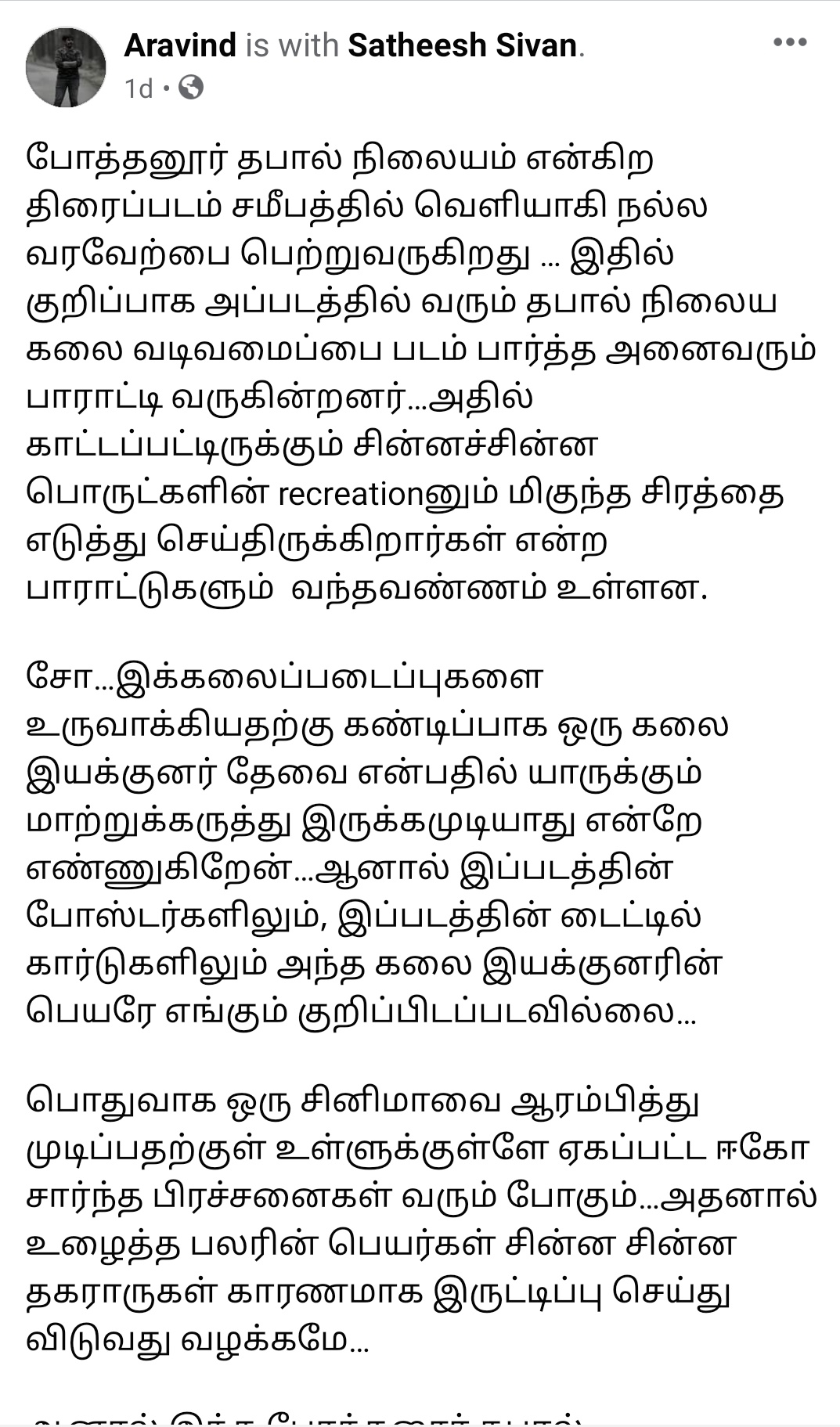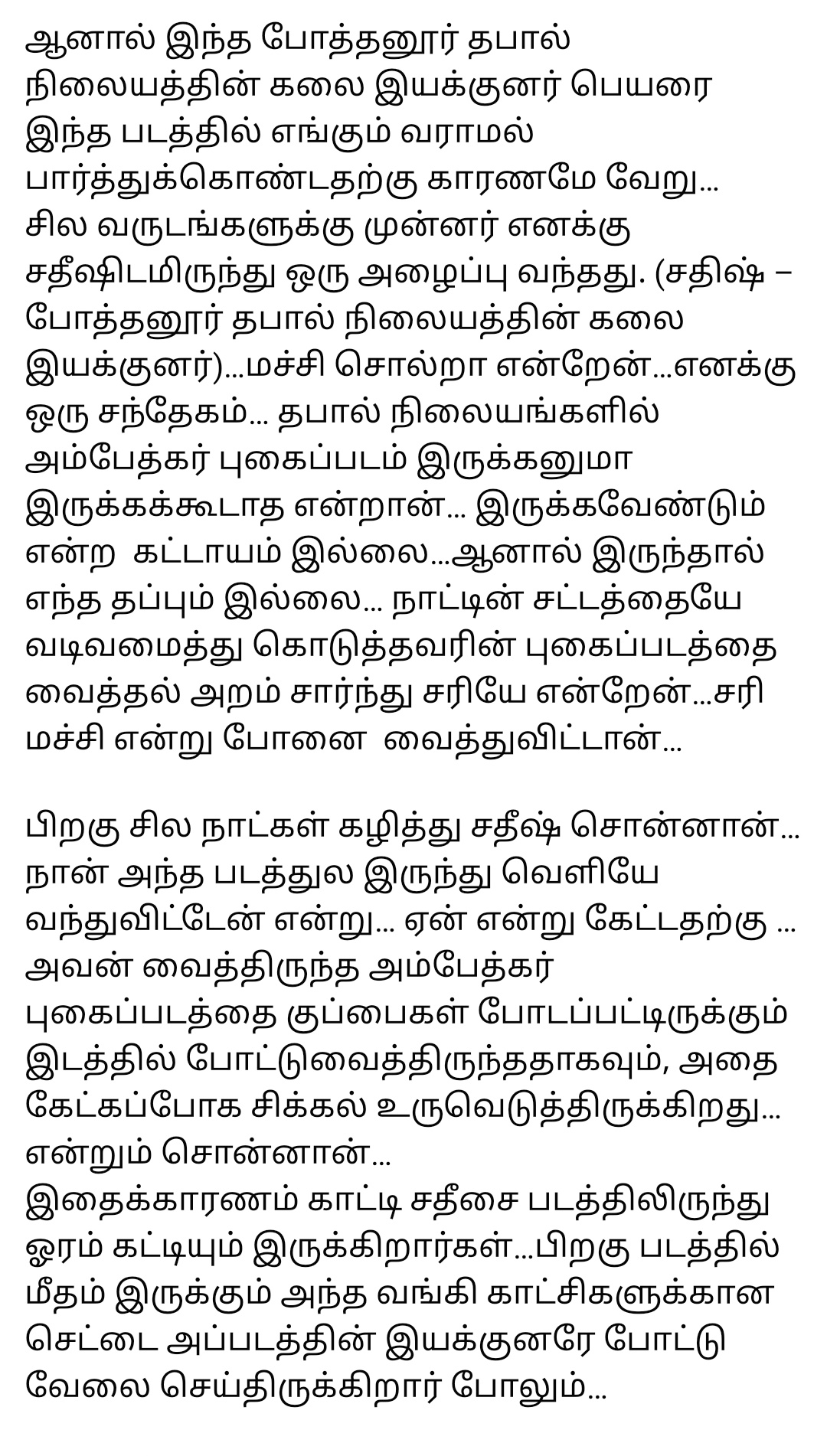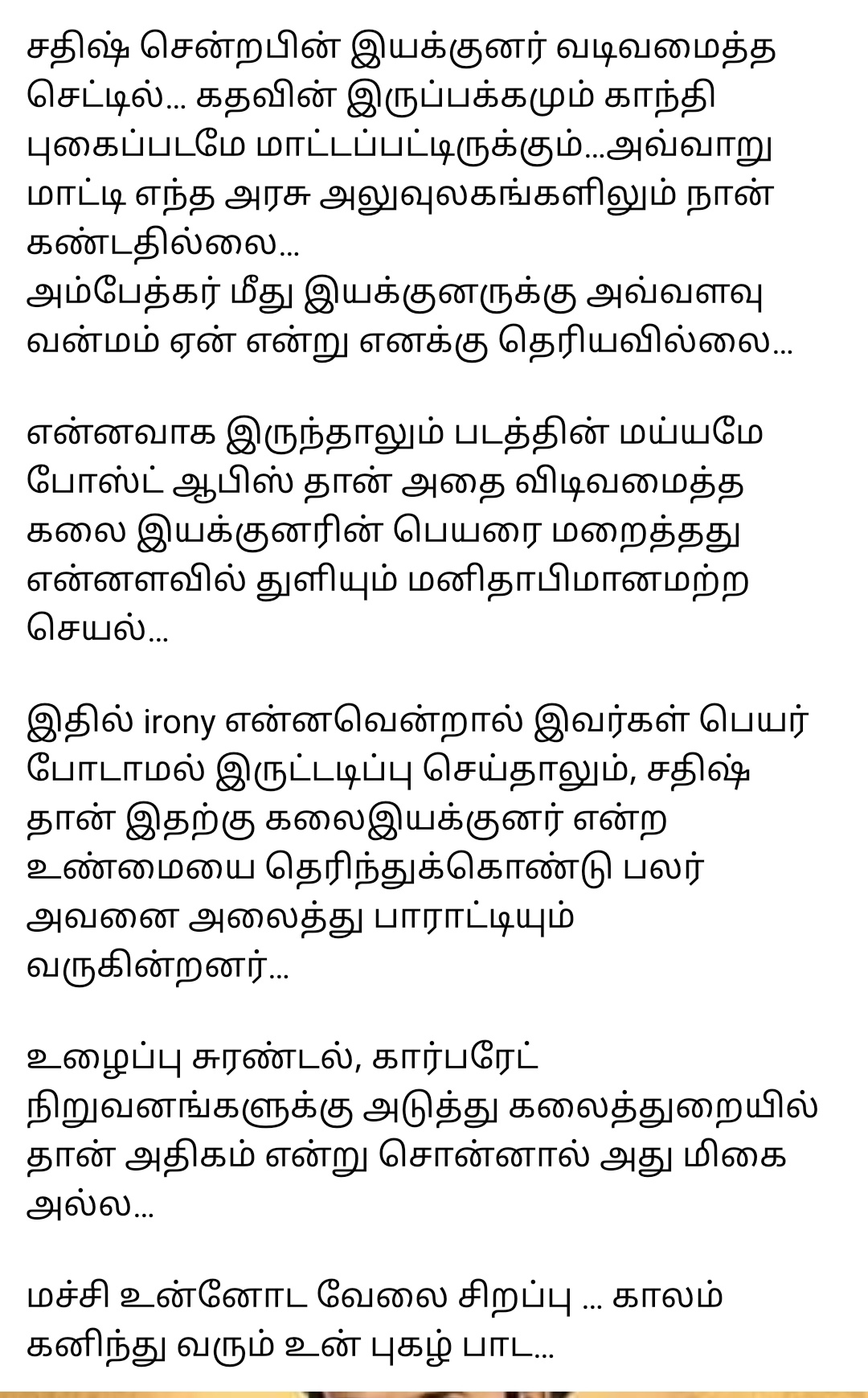 "However, it is inhumane not to credit the art director who worked on the core of the film. Though they didn't credit Satheesh for his work, many identified his work and appreciated him personally. After corporate companies, Exploitation of work is taking place in art field. Your work is best machi, your day will come" Aravind concluded his post.
The post is going viral among the users of online platforms with many condemning the makers of the project for not crediting their art director. Check out some of the reactions below :
சத்தியமா சொல்றேன், trailer பார்க்கும் பொழுதே பார்ப்பனிய, பழைய ஆனந்த விகடன் nostalgia வாட அடிச்சுது. https://t.co/ysQwNSfEXP

— Selvan🖖🇺🇦 (@RogueDravidian) May 31, 2022
90s la appa paiyan English la puluthikunu irukum podhey sandheham vandhuchu. https://t.co/EguL2j49B7

— asnshif  (@usernametakenra) May 31, 2022
அடுத்தவன் உழைப்பை திருடி படம் எடுத்து என்னத்த சாதிக்க போறானுங்களோ https://t.co/Ry8Q1g9GS7

— Dr.Manhattan (@Anandbabu_M_) May 31, 2022
கோயமூத்திர பிரதேஷ்ல இருந்து வரும் டைரக்டர் இப்படித்தான் இருப்பான் https://t.co/ebsby5slTO

— பிரம்மன் (@altappu) May 31, 2022
Feels really sad to hear this, art direction has played the most prominent role in bringing the 80s-90s period back to our eyes with so much of liveliness in #PothanurThabalNilayam & the Art director has to be given due credits for his wonderful work. https://t.co/wVXP4t3cPW

— நிர்மல் 🖊️ || IN LOKI WE TRUST ❤️ (@AthamleVargeesu) May 31, 2022
அந்த படத்துல "Wow" factor இருந்ததுக்கு முக்கிய காரணமே ART Director & his team மெனக்கெடல் னு படம் பாத்த எல்லாருக்குமே தோணிருக்கும்…

— நெட்வொர்க் நாடோடி (@gypsy_online2) May 31, 2022