"Anyone Can Freely Blaspheme Hindu Gods" – Kasthuri's Statement Goes Viral
By Dhiwaharan
Referring to the recent Udhaipur incident where a tailor was brutally killed by two men, Tamil actress Kasthuri who is pretty much active in voicing out on political issues, on Monday, came up with a tweet saying that Hindu religion could be freely blasphemed. The actress who looks pretty much upset over the way the Udhaipur incident is being treated, said that no one will set the country on fire if the Hindu Gods and beliefs gets blesphemed.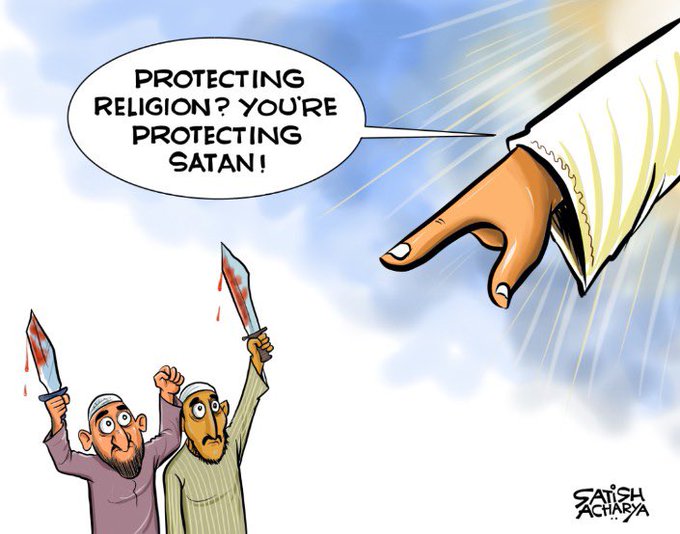 Right from veteran actor Prakash Raj to Kangana Ranaut of Bollywood, many cinema celebrities reacted to horrendous incident of a tailor getting killed by two men for a social media post. In the incident which is sending shockwaves across the nation, two men reportedly entered a tailor's shop posing as customers and killed the tailor in the broad daylight in Udaipur for allegedly extending his support to BJP spokesperson Nupur Sharma who has been facing backlash for her controversial public remarks on prophet Mohammed.
The tailor has been identified as Kanhaiya Lal. It has been reported that the accused chopped his head off and later recorded a video admitting to killing the man over a social media post in support of Nupur Sharma. The two men who involved in the killing has been arrested.
Udaipur: Horrific murder recorded on camera.
(@AnkurWadhawan) #Udaipur #6PMPrime @PoojaShali pic.twitter.com/85xAMkYhum

— IndiaToday (@IndiaToday) June 28, 2022
On Tuesday, a video emerged in social media showing two men entering a tailor's shop in Udaipur and proceeding to attack him with knives. In a separate video posted by the two men, they were heard threatening Prime minister Narendra Modi before admitting to the murder.
The Superintendent of Police of Udaipur said, "A heinous murder has been committed and a thorough investigation will be conducted into the incident. Few accused have been identified"
Rajasthan chief minister Ashok Gehlot, in a statement, had said "I condemn the heinous murder of youth in Udhaipur. Strict action will be taken against all the criminals involved in the incident and police will go to the bottom of the crime. I appeal all the parties to maintain peace" through a tweet. Recently, Congress party alleged that the one main accused in the incident belongs to BJP party.
View this post on Instagram
On Saturday, court sent all the four accused in the Kanhaiya Lal murder case in Udhaipur to 10 day National investigation Agency remand. In the meantime, Tamil actress Kasthuri uploaded a tweet in her twitter timeline saying "Anybody can freely blaspheme Hindu Gods and beliefs, because no one will cut their heads off. No one will set the country on fire. It will not spark a diplomatic row. And anybody who reacts will be squarely blamed for placing their own life in danger"
Check out her tweet below :
Anybody can freely blaspheme Hindu Gods and beliefs, because no one will cut their heads off. No one will set the country on fire. It will not spark a diplomatic row. And anybody who reacts will be squarely blamed for placing their own life in danger.

— Kasturi Shankar (@KasthuriShankar) July 1, 2022
The tweet received wide reception with several kind of reactions from the users of the micro blogging social media site. Check out some of them below :
Please stop such inflammatory hate speech under the garb of any kind of politicoreligious hypocrisy. Such statement goes against the good citizenry values of the plural society we have. @BJP4India @INCIndia @PMOIndia https://t.co/O2tmRLnCYB

— Arun Kumar IFS(Retd). (@arunkum52880760) July 2, 2022
There it is… in simplest words. We Hindus only are to be blamed, not learning from history, being spineless and lying to ourselves it is tolerance/progressiveness. A frightened lot we are, afraid of the barbarism and cruelty that would be inflicted upon us if we speak up. https://t.co/392dVDrz4h

— Pankaj Chauhan (@pankajthe1) July 1, 2022
For talking against superstition and pro rationalism, Gauri Lankesh, Kalburgi, Pansare and Dabholkar were gunned down.

Brahmin maami should read up. https://t.co/F2MFMQ67uS

— BG 🖤 (@joBeeGeorgeous) July 2, 2022
This political judgment will change many things for ever n country will be more radicalized.
Of course the anger on the ground will help @BJP4India to stay in power for longer time . https://t.co/8HHdKii9Ke pic.twitter.com/0RJ0ZhXIa4

— Bhati kamlendra (@bhatikamlendra1) July 2, 2022
How high on gomutra do you have to be, to be utterly blind to any number of cases of Hindu terrorism that has become the norm these days? https://t.co/BRSSBBGy9X

— spcc (@spccmvjc) July 1, 2022
Yes this is 100% the reason for how everything is treated in #India https://t.co/pYRtGQRUDI

— sembra (@sembra22) July 1, 2022
Muslims get killed for eating cow-meat because it hurt some folks' feeling. Let alone blaspheme against gods, some people cannot tolerate others' eating habits. https://t.co/MDnvKSMpu9

— Thus Spake Shevek (@writingback) July 1, 2022
Idiots are getting populated more! Hindus should start carrying weapons to self defend! https://t.co/DF9a8Pm2Ji

— SR (@SankarRamu) July 1, 2022