Anushka Sharma Finally Gives "Savage" Reply To The Allegations On Her Regarding Indian Team !!
Anushka Kohli
Captain
Cinema
cricket
Cricket Cinema
India
kohli
3 years ago
By Dhiwaharan
Anushka Sharma, popular actress and wife of Indian cricket team captain has made a press release through her official social media accounts regarding the allegations against her. Since very beginning of the relationship of Virat Kohli and Anushka Sharma, fans and critics blamed Anushka Sharma for few of the poor performance of her husband Virat Kohli's in field.
[wp_ad_camp_1]
Followed by that the actress was criticized in several occasions by fans for her involvement in Indian cricket. Even her presence in one of a group photo of Indian cricket team instigated trolls. Now most recently, former Indian wicket keeper Farokh Engineer went on record saying that Indian selectors served Anushka Sharma tea in the world cup tournament.
The 82 year old former cricketer, while criticizing the MSK Prasad led Indian selection committee, in his statement to Times of India said "I didn't even know one of the selectors during the World Cup and I asked him who the hell he was, because he was wearing the India blazer and he said he was one of the selectors. All they were doing was getting Anushka Sharma (Kohli's wife) cups of tea," Engineer said who called it a "Mickey-Mouse selection committee"
[wp_ad_camp_1]
Now Anushka Sharma, in a way of answering to Farokh Engineer, stated her opinion on the accusation on her for the first time. "My name was used for false stories to make it look like the board was being bothered for my tickets or security, etc, when in reality I bought my own tickets for matches and flights and I still kept quiet." the statement of Anushka read.
Sharma here was referring to the decision of all the wives of Indian cricketers during the summer's World Cup to manage all their logistics independently, separate from the matters of the board or team management given how much media attention there was bound to be there.
In 2018, Sharma drew attention for being part of a photo of the Indian team taken at the Indian high commission in England. However, she has now revealed that she never intended to be a part of the picture.
Check out the picture posted by Anushka Sharma :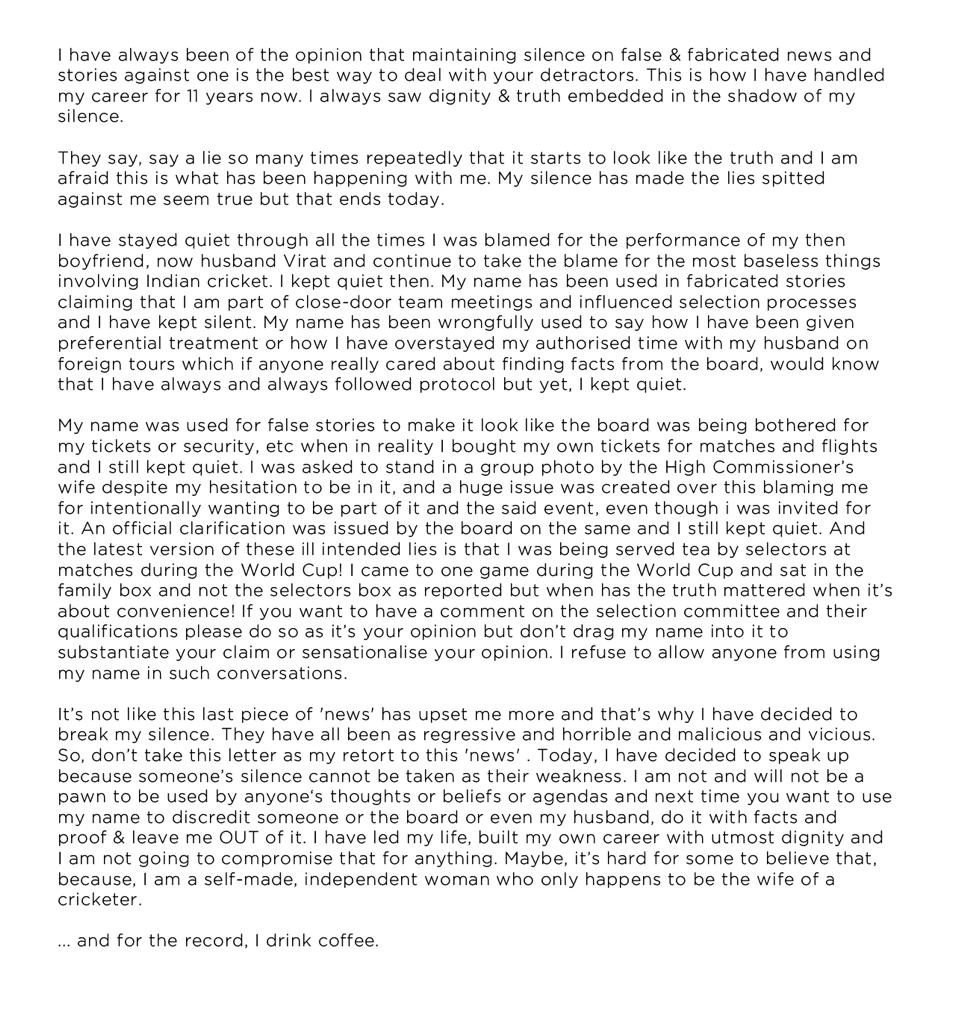 "I was asked to stand in a group photo by the High Commissioner's wife despite my hesitation to be in it," she wrote. "A huge issue was created over this blaming me for intentionally wanting to be a part of it and the said event, even though I was invited for it. "And the latest version of these ill-intended lies is that I was being served tea by selectors at matches during the World Cup!
Here's the post of the "Zero" actress :
October 31, 2019
"I came to one game during the World Cup and sat in the family box and not the selector's box as reported, but when has the truth mattered when it's about convenience!"
[wp_ad_camp_1]
The actress even asked Farokh not to use her name in such conversations. "Next time if you want to discredit someone using my name, do it with proof and facts" the actress ended it.
What do you think on this press release of Anushka ?? Comment your views !!