Another Pollachi Crime?? Woman Blackmailed & Sexually Assaulted For 7 Long Months!!
Written by Dhiwaharan Published on Mar 22, 2022 | 21:39 PM IST | 53
Follow Us
Comments: 0
A 22 year old woman from Virudhunagar approached women helpline to make a complain against a group of men who sexually assaulted her for 7 long months after blackmailing to leak her private videos in internet platforms. The list of the accused include three school going students and a DMK functionary.
According to the Police complaint, the woman befriended with one Hariharan alias Saravana through social media. After involving in a romantic relationship, the duo had sexual intercourse which a recorded by Hariharan.
Hariharan reportedly showed the video to his friends and they got the woman's details from him. Police said that they contacted the woman and threatened to leak the video and forcefully raped her multiple times between August 2021 and March 2022.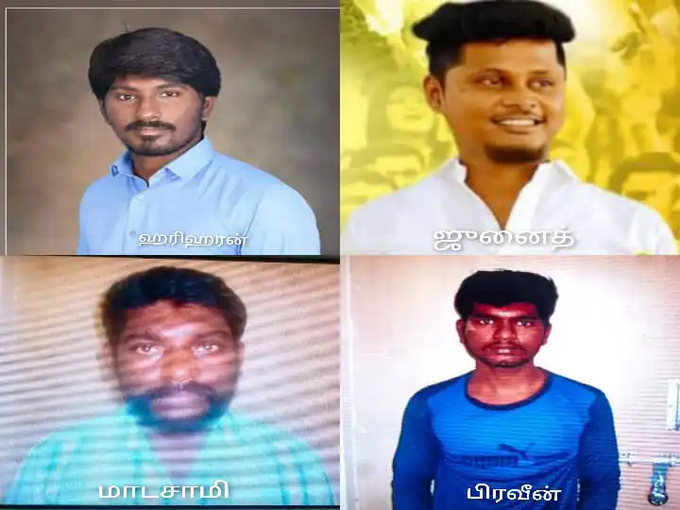 Police said that the action against the accused were initiated after the survivor contacted women's helpline to make a complaint. It also has been reported that the victim sought help from her neighbour named Madaswamy (37) to get out of the situation. However, Police report say that he too used the video to threaten and sexually assault the woman.
திமுகவை சேர்ந்த ஹரிஹரன் என்பவர் பாதிக்கப்பட்ட பெண்ணுடன் காதலிப்பது போல் நடித்து, உடலுறவு வைத்துக் கொண்டதை படம் பிடித்துள்ளார்

வீடியோவை சமூக வலைதளங்களில் பரப்பிவிடுவதாக கூறி அவரும் அவரது நண்பர்களும் அப்பெண்ணை பலமுறை பலாத்காரம் செய்துள்ளனர்

Source : https://t.co/635HAJyvvP

2/2

— DON Updates (@DonUpdates_in) March 22, 2022
Several cases under relevant sections has been filed against the eight accused Hariharan, Madasamy, Praveen, Junaith Ahmed, one 18 year old, two 17 year old's and a 15 year old boy. Further investigations are currently underway as all the eight men were arrested by the police. Junaith Ahmed has been identified as a functionary of ruling party DMK and some reports suggests that Hariharan also belongs to DMK. The Police are investigating whether the accused were involved in any other similar crimes.
The news created huge outrage among the public with many demanding the law to give the highest possible punishment for the accused irrespective of their political background.
பையன் தி.மு.க காரன். இதே எதிர் கட்சியா இருந்தா இந்நேரம் 7 வரி அத பத்தி எழுதி இருப்பீங்க .

நியாயமா , பாரபட்சம் இல்லாம ரிப்போட் பண்ணுங்க @GunasekaranMu . https://t.co/ZhjC6kll6d

— Prashanth Rangaswamy (@itisprashanth) March 22, 2022
இந்த லட்சனத்துல உத்திர பிரதேசத்த கிண்டல் பண்ண வேண்டியது 🤦‍♀️😏😞

— L (@globalsitizn) March 22, 2022
Painful to read.
Law should be made severe for such.
Highest punishment is need of the hour.

— Vasa_Hyd (@VasaHyd) March 22, 2022
Are we going to debate today on the gruesome rape on a Dalit woman by a DMK functionary at Virudhunagar or LPG hike?

At Pollachi & Hathras different standards.

At Virudhunagar & Rajasthan different standards.

— Bulls Eye (@sreeramjvc) March 22, 2022
Now what is next ? Are we going to wait for another news like this ?
Will @CMOTamilnadu @arivalayam serve the justice for that woman ?

Let Women feel safer on everyday not only to be celebrated on Women's Day ! 2/2

— Sneha Mohandoss🦋 (@snehamohandoss) March 22, 2022
இது மாதிரி மனித மிருகங்களை எல்லாம் என்கவுண்டரில் கொல்ல வேண்டும் .
யார் குற்றம் செய்தாலும் குற்றம் தான்.. இவனுங்களுக்கு கொடுக்கும் தண்டனை எல்லோருக்கும் பாடமாக அமைய வேண்டும்.. விட கூடாது. 😡😡
8 நாய்களையும் மக்களிடம் விடுங்கள் தர்ம அடி கொடுக்கட்டும்

— Deva (@DevaTRZ) March 22, 2022