Anikha Surendran's Post Triggered Toxic Online Users!!
Written by gokul krishnan Published on Jun 26, 2023 | 21:00 PM IST | 229
Follow Us
Comments: 0
Anikha Surendran, a renowned actress in Indian cinema, experienced this unfortunate reality. Despite her success and talent, some followers resorted to brutal and hurtful comments on her Instagram pictures. This article explores the impact of toxic online behavior, the strength displayed by Anikha Surendran, and the importance of creating a safer and more supportive online community.
also read: Lamborghini Rammed Into A Auto !! 2 Injured
In the age of digital connectivity, social media has become an integral part of our lives. While it offers numerous benefits, it has also given rise to a toxic culture of cyberbullying and negative commentary. Individuals, including celebrities, are subjected to unwarranted criticism, body shaming, and personal attacks. This anonymity-driven behavior often leads to emotional distress and can have severe consequences on mental health.
Anikha Surendran, a talented actress who has graced the silver screen with her remarkable performances, recently faced the ugly side of social media. Despite her accomplishments, she received brutal and unwarranted comments on her Instagram pictures. Rather than succumbing to negativity, Anikha took a brave stand, refusing to let these toxic remarks define her. She displayed immense strength and resilience, choosing to focus on her passion and love for her craft, rather than dwell on negativity.
Anikha Surendran, popularly known as Baby Anikha, is a highly acclaimed Indian actress who has made a remarkable impact in the Malayalam, Tamil, and Telugu film industries. With notable performances in films such as "Kadha Thudarunnu" (2010), "Yennai Arindhaal" (2015), and "Viswasam" (2019)
Also read: கோலிவுட்டில் அதிகம் எதிர்பார்க்கப்படும் மற்ற மொழி 5 படங்கள் !!
she has garnered critical acclaim and numerous awards for her acting prowess. Anikha's talent and dedication have propelled her from being a child artist to becoming a leading actress. She recently made her debut as a lead actress in the Telugu film "Butta Bomma," an official remake of the popular Malayalam film "Kappela." Anikha Surendran continues to captivate audiences with her extraordinary performances, leaving an indelible mark on the Indian film industry.
Toxic comments not only harm the individuals targeted but also reflect the larger problem of an unhealthy online environment. Such behavior promotes negativity, fosters insecurities, and undermines the essence of healthy discussions and constructive criticism. It creates an atmosphere where individuals hesitate to express themselves authentically and fear being judged or ridiculed. The impact is even more profound when it comes to public figures like Anikha Surendran, who are constantly in the public eye.
also read: Sivaangi Got Emotional After Super Singer Came To An End!!
Anikha Surendran's response to the toxic comments serves as an inspiring example for everyone facing online negativity. Rather than allowing herself to be consumed by the darkness, she chose to embrace empowerment and positivity. She stood tall, reminding us all of the importance of self-love, self-acceptance, and resilience in the face of adversity.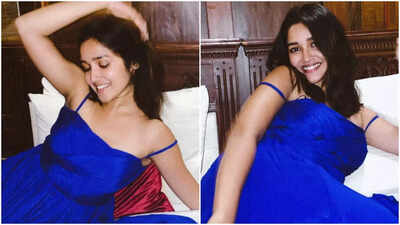 Anikha Surendran, through her actions, encourages others to focus on their passions, talents, and the support they receive from genuine well-wishers. She reminds us that it is the love and appreciation we receive from those who matter that truly counts, rather than the empty words of toxic individuals hiding behind screens.
The rise of toxicity on social media calls for collective action to create a safer and more supportive online community. Individuals must be encouraged to think before they type, promoting empathy, kindness, and constructive dialogue. Social media platforms should invest in stronger moderation systems and algorithms that detect and remove toxic content promptly.
also read: Kabir Duhan Singh Of "Vedhalam" Fame Got Married To A Maths Teacher !! Pictures Out
Education and awareness campaigns can play a vital role in addressing cyberbullying and fostering digital empathy. By encouraging users to report harmful content, supporting victims, and raising awareness about the impact of online toxicity, we can strive to build a healthier and more inclusive online space.
Anikha Surendran's experience with toxic comments highlights the urgent need for change in our online behavior. Let us come together to create an environment where individuals can express themselves freely, share their achievements without fear, and be celebrated for their talents and accomplishments.
Here is the post below:
View this post on Instagram
Here is the comments below: