A hashtag saying "அன்றே சொன்ன ரஜினி" is being trended by the fans of the actor in Twitter since past two days. It is a reference to a press release made by the actor regarding the decision on his political career. In the statement which was released during late December of 2020, the actor predicted that second wave of COVID 19 virus would approach and opted himself out of the electoral politics of state Tamil nadu. Now, while the entire country is suffering due to the second wave of COVID 19 virus, fans of the actor are proudly sharing the statement of their idol and boasting about his "accurate" prediction.
On 29th of December 2020, Superstar Rajinikanth announced that he is not going to enter politics due to his health issues. The actor released a press note saying that he will involve himself in doing good to people by not participating in the electoral politics. He took the decision after "Annaththe" shooting got intervened due to four people tested positive for COVID 19 virus.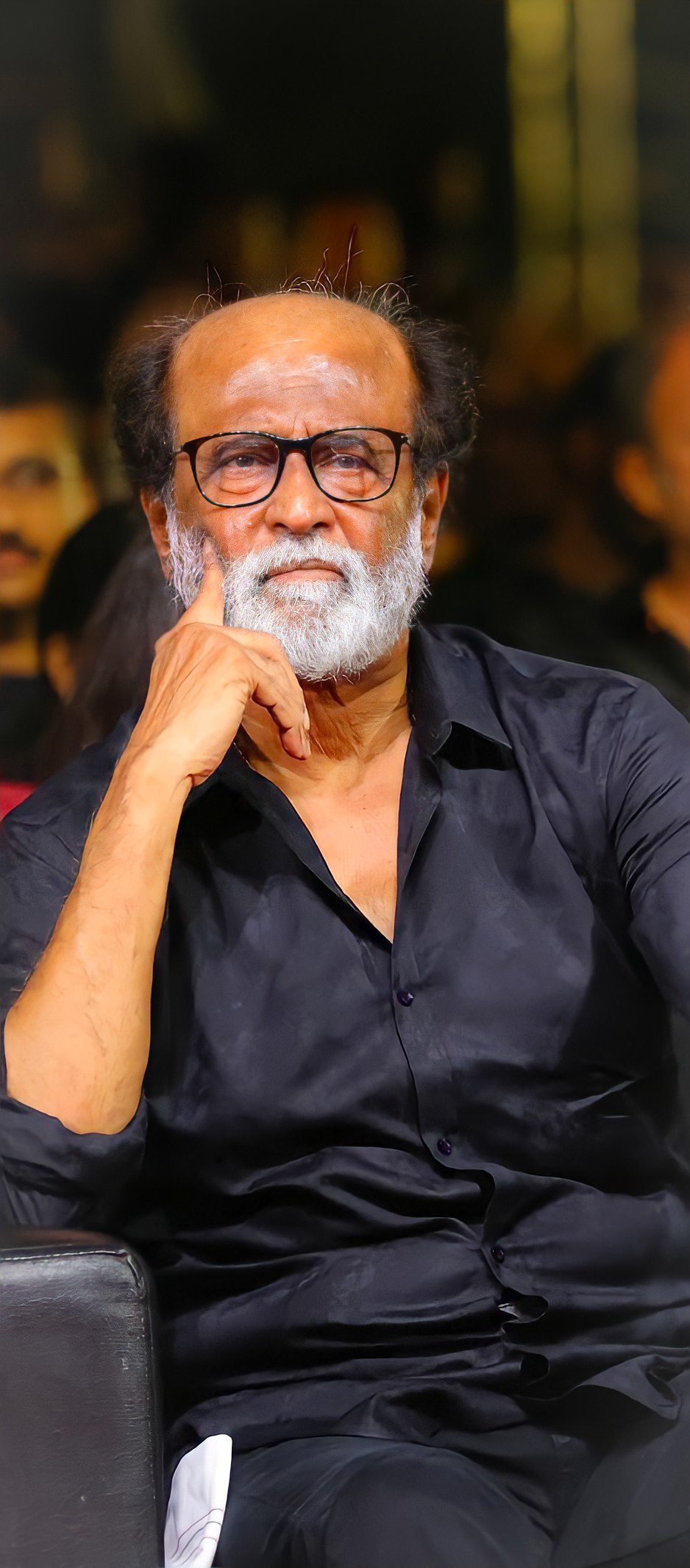 After the shooting of "Annaththe" got affected due to COVID 19 virus, Rajinikanth decided not to enter politics. The actor said that he sees the interruption as a warning from the God himself. "I can't make the revolution by just campaigning my party through social media platforms and media. Just a shooting that consisted 120 people made me to get hospitalized for 3 days. I have to meet lakhs and lakhs of people if I start a political party" Rajini said in his tweet who believed that it will cause financial and mental stress to the people who belong to his party.
"I don't want to make my believers scapegoat to prove that I am a man of my word. So I am announcing that I will not be starting a political party with grief. The pain I suffered while announcing this could be felt only by me" the Superstar actor said. "I will serve people without contesting in the electoral politics. I never hesitated to speak the truth." said Rajinikanth and requested people to accept his decision. In the press release, he mentioned that COVID 19 is slowly forming a new dimension and is approaching as a second wave.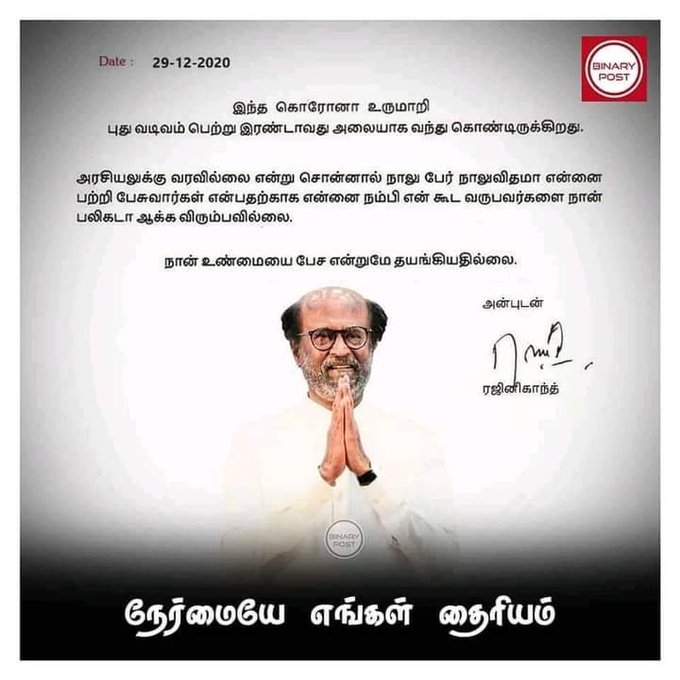 Now, sharing the words of their idol, fans of Rajinikanth are trending a hashtag saying "அன்றே சொன்ன ரஜினி" (Rajini predicted it earlier). They also believe that the decision made by him about not entering politics is a sensible one. It is notable that Madras high court has blamed political rallies allowed by the authorities of Election commission of India as the sole responsible for the second wave of COVID 19.
Check out some of their tweets below :
Sensible decision by #Thalaivar #Rajinikanth 🙏💯❤️

#அன்றே_சொன்ன_ரஜினி pic.twitter.com/9ZvH4GutEY

— Jeeva Thangavel (@jeeva_actor) April 26, 2021
High court 🙏🔥#அன்றே_சொன்ன_ரஜினி https://t.co/IqCl6PIE6M

— Raana (@the_raana) April 26, 2021
#அன்றே_சொன்ன_ரஜினி !

The man who alerted about #COVID19 & #Corona2ndWave 🙏#Rajinikanth #TNElection2021
Video: @rajinireacts 👍 pic.twitter.com/QO3roVYJfl

— Rajini⭐️Followers (@RajiniFollowers) April 26, 2021
#அன்றே_சொன்ன_ரஜினி

Time to acknowledge the decision of our #Thalaivar#Annaatthe pic.twitter.com/HKiqc16ebs

— Suresh-EAV (@SureshEav) April 26, 2021
29th Dec Thalaivar warned COVID second wave in coming..

But these power hunger politicians made wave into Tsunami @rajinikanth only Selfless Leader in the world!!!

#அன்றே_சொன்ன_ரஜினி 🚨🚨🚨 pic.twitter.com/h3UbnkrUkh

— SuseeMaha 💥 ᴬᴺᴺᴬᴬᵀᵀᴴᴱ💥 (@SuseeMaha16) April 26, 2021
That moment when others – including some fans – understand that my Thalaivar was right all along. We will forgive but we'll never forget! #அன்றே_சொன்ன_ரஜினி @rajinikanth pic.twitter.com/uhcgzbJ2sr

— Rajinikanth Fans (@RajiniFC) April 26, 2021
No captions needed.#அன்றே_சொன்ன_ரஜினி pic.twitter.com/gvNVQPBzmM

— ɴᴀᴛʜᴀɴᴹᴵ❁ (@ShaSherNat) April 26, 2021
Can Rajinikanth's decisions ever go wrong?#அன்றே_சொன்ன_ரஜினி pic.twitter.com/t1b9UfwyQV

— ɴᴀᴛʜᴀɴᴹᴵ❁ (@ShaSherNat) April 26, 2021
#அன்றே_சொன்ன_ரஜினி

At Midst of all Selfish Politicians 🤷‍♂️ we saw one Genuine ✅ Human Being who stood for the people !

The Real People's Leader 👏Thalaivar @rajinikanth Proud to be his Fan forever pic.twitter.com/ZpSBfhVFH7

— [email protected]!m [email protected]!〽️ (@AazimKassim) April 27, 2021
Enough 🔥🔥🔥#அன்றே_சொன்ன_ரஜினி pic.twitter.com/WsEcn1OhnN

— அவசர அடி 🌟🌟 (@soundarrtnu) April 26, 2021
The God who saved millions of his fans❤️🙏
Thalaivaaa @rajinikanth 🙏#அன்றே_சொன்ன_ரஜினி pic.twitter.com/mvETUm5Px9

— 𝙸𝚗𝚏𝚊𝚝𝚞𝚊𝚝𝚒𝚘𝚗💔✨ CSK💛 (@anirudh_ssrk) April 26, 2021
#அன்றே_சொன்ன_ரஜினி

Each and every word 🙏❤ pic.twitter.com/zlVtEodmFb

— Naganathan 2.O (@NaganathanBoss) April 26, 2021
This pics tells, Value of thalaivar words🙏#அன்றே_சொன்ன_ரஜினி #COVIDSecondWave #Rajinikanth #TNElections2021 pic.twitter.com/uT71vuXsf0

— Rajini⭐️Followers (@RajiniFollowers) April 26, 2021