Anantha Vikatan Posted A Tweet About Ajith Kumar's Press Release & Deleted It Immediately !! Still Fans Thrashing !!
Ajith
Ajith Kumar
Ananda Vikatan
BJP
Press Release
Thala
4 years ago
By Dhiwaharan
Leading Tamil film actor Ajith Kumar on Monday categorically stated that he will not enter politics either "directly or indirectly" and appealed to his fans not to associate him with politics in any manner.
[wp_ad_camp_1]
In a statement issued in Chennai, Ajith Kumar said that he has no interest in entering politics whatsoever. The statement comes against the backdrop of claims that some of his fans had joined the BJP on Sunday.
"My participation in politics is restricted to standing in line during elections to vote. I will never ask my fans to support a particular political party or urge them to vote for a particular political party. I will not do so in future as well," he said.
His statement released after Tamilisai said that many Ajith fans joined BJP. She also said with the contribution of Ajith fans Lotsu will bloom in Tamilnadu. She confidently expressed  that Ajith fans will take the welfare plans and  policies of Indian Prime Minister Narendra Modi to the people.
அஜித் ரசிகர்கள் பிரதமர் மோடியின் திட்டங்களை மக்களிடம் கொண்டு சேர்க்க வேண்டும் என தமிழிசை சவுந்தர்ராஜன் வேண்டுகோள்!https://t.co/5wMBD3FLqB | #Tamilisai | #AjithFans | @DrTamilisaiBJP pic.twitter.com/PLYtl0ORQB

— News7 Tamil (@news7tamil) January 20, 2019
"Ajith is the most honest person in film industry, and just like he does good to people, his fans will also serve the society, and henceforth, his fans must carry forward the welfare schemes and development plans of Modi to people." Tamilsai praised Ajith fans in the event.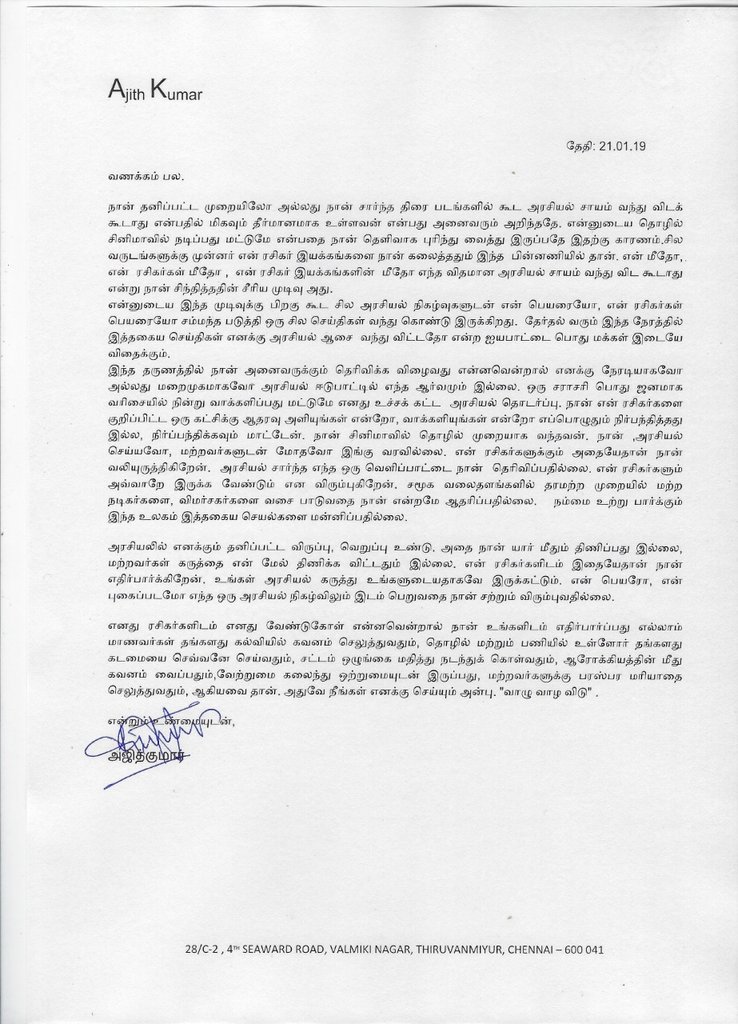 The actor, whose films are known to command good openings pointed out that he disbanded his fan clubs and avoids making political statements through movies to ensure that they were not politically associated with anybody. He asked his fans to exercise their political affiliations in their individual capacity. "I have my own likes and dislikes in politics. I have never imposed my political views and I expect this from my fans as well," he said.
[wp_ad_camp_1]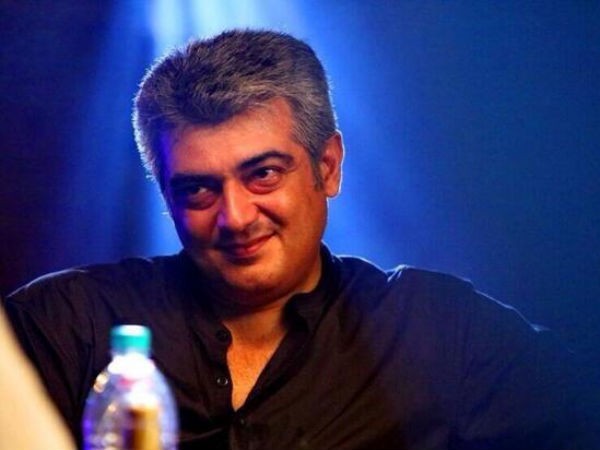 As soon as the press release posted by Ajith's manager Suresh Chandra, it received many positive reactions from the Internet. Welcoming his stand, many people and celebrities supported Ajith Kumar's message to his fans. Ananda Vikatan, one of the leading Tamil magazine in its official twitter account posted a tweet with a picture with the caption "Ajith and Politics"
The post showed Ajith Kumar's statement in 2010 and yesterday. According to Vikatan in an interview to Vikatan in 2010, Ajith said that "No place in this world exists without politics. No man in this world exist without politics. Do Ajith alone able to survive without politics ??"
Vikatan compared that statement with yesterday's press release. Check out the screenshot of their post here :
[wp_ad_camp_1]
This tweet from Vikatan created massive uproar in Internet. Everyone expressed their hatred towards the tweet. Check out some of them here :
அஜித் பற்றி ஒரு நியூஸ்
வந்தா போதும் உடனே
மாமா விகடன் பய அவர
பற்றி தப்பா பேச ஓடி வருவான்
அவர் எவ்ளோ தெளிவா
சொல்லிருக்கார் இந்த பரதேசி
எப்படி போட்ருக்கான் பார்💦💦 pic.twitter.com/I6szET7Ywm

— тнαℓα ֆք (@ThalaSp_) January 22, 2019
விகடன் எச்சை ஆகிப் போய் பல வருடம் ஆகிவிட்டன என்பதற்கு இன்னொரு சான்று அவ்ளோ தான்… pic.twitter.com/hDjT2fZCBN

— விஸ்வாசமான கோகுல் 🇮🇳👍 (@GokulTalks) January 22, 2019
எதுக்குங்க வேணும்னே அவரை கீழ இழுக்க பாக்குறீங்க ? நாம் எல்லோரும் ஏதோ ஒரு வகை அரசியல் செய்யறோம்கிற எதார்தத்தை தான் சொல்லி இருக்காரே தவிர , நான் கட்சி ஆரம்பிக்க போறேன் , என் ரசிகர்கள் சேரணும்னு சொல்லல.

யார் சொல்லி பண்றீங்க இதை ? https://t.co/4PJ3ra5dwS

— Prashanth Rangaswamy (@itisprashanth) January 22, 2019
@itisprashanth full article page diverted by @vikatan for cheap politics / money pic.twitter.com/Fl3TrQn2up

— Thameemul Ansari (@Ansari15590) January 22, 2019
@vikatan இப்படி ஒரு கேடு கேட்ட தரத்துக்கு வந்துட்டியா

— Im_chindhu (@Chindhuprasad) January 22, 2019
Article About #ThalaAjith's Interview by @vikatan in Oct 2017. He Clearly Explains that politics were Flooded Everywhere, without politics We can't Survive in this cine Industry.

But Now he actually Changes According to Time & Uses People's for his own public attention.

Cheap pic.twitter.com/KTiNCAdh6z

— Cinebab (@Cinebab) January 22, 2019
Everyone are ready for STR, but Vikatan came out of syllabus…😌

— PB (@Bharathwajspb) January 22, 2019
As a reaction to this massive uproar Vikatan immediately deleted the tweet. and posted about it.
We are deleting the above tweet, as it has been misquoted.

— விகடன் (@vikatan) January 22, 2019
Twitter users who are not convinced showed their anger in the comment section :
— ranjith (@ranjith_nayagam) January 22, 2019
Never expected that this most loved, favorite, authentic journal became so FAKE 🙌

IGNORE

— Sankar_Tweets (@Sankar__Tweets) January 22, 2019
விகடன் நவ்..
மண்ணெண்ண வேப்பெண்ண விலகெண்ண…
எட்டி ஒதச்சான மக்கள் என்ன…

— Dreamzz 💃 (@nbkvg) January 22, 2019
விகடனும் முட்டாள்தனமும்! #vikatan#Throwback pic.twitter.com/UYHedEqsxY

— Frank Castle (@Stranger_off) January 22, 2019
உண்மைய உணர்ந்து delete பண்ணுனதுக்கு நன்றி விகடன். இனி இந்த மாதிரி மிஸ்டேக் எந்த மனிதருக்கும் பண்ணாதீங்க.

— Habeeb (@Habeeb5440) January 22, 2019
konjam wait pannunga. screenshot eduthikurom

— SK Sethupathi (@arjun08raj) January 22, 2019
அந்த டிவீட்ட போட்டவன் யாருன்னு காட்டிட்டு நீ ஒதுங்கிரு..உன்னய விட்டுர்றோம் https://t.co/sWwKF6Ga5F

— உளவாளி (@withkaran) January 22, 2019
அப்பவே நெனச்சேன்டா ஒரு சின்ன பாராட்டு கூட இல்லாம நீ இப்படி செய்தி போடும் போதே தெரியும் உனக்கு செருப்படி நிச்சயம்னு ,அப்பன்,தாத்தா பேர கெடுக்கவந்தவன்டா நீ

— ஆதிரன் (@Aathiraj8585) January 22, 2019
What do you think on this ? Comment below !!