WATCH : Ana De Armas & Chris Evans Heaped Praised On Dhanush !!
Ana De Armas
Chris Evans
Dhanush
CM / Updated: 2022-07-16
12:24 IST
By Dhiwaharan
With the most expected "The Gray Man" is nearing its release in "Netflix" platform, cast of the "Russo Brothers" directorial are busy promoting the film by appearing in interviews and promotional events. The film which stars few of the high profile stars of Hollywood including Ryan Gosling, Chris Evans, Ana De Armas, also has Tamil actor Dhanush in a prominent role. Video clippings and the posters of the actor who has a huge fan base in India, especially in Tamilnadu were released by the makers and he is one of the main reasons for the fans in India to watch the Hollywood project in Netflix.
What a cast. The Gray Man is out in theaters NOW and on @NetflixFilm in 1 week… pic.twitter.com/6xLHDOcT2E

— Russo Brothers (@Russo_Brothers) July 15, 2022
Recently, the entire cast of "The Gray Man" attended the premiere of the film in Los Angeles. Dhanush who plays the role of Avik San in the film, made his presence in the event with his sons Lingaa and Yathraa. In one of the recent promotional interviews to an Indian channel, Ana De Armas and Chris Evans, lead actors of the film heaped al praise on the Tamil nadu based actor for his patience and professionalism.
Ladies and gentlemen, we give you…@dhanushkraja #TheGrayMan pic.twitter.com/abPLFxHq6B

— Russo Brothers (@Russo_Brothers) July 12, 2022
"He is the most patient human being I have even seen" said Ana de Armas about the "Asuran" actor and Chris Evans joined her saying "Poised and Lovely and so polite and professional" about the actor.
Ana de Armas continued "Really hardworking Dhanush and I spent endless hours with this, you know, the stunt facility we were training and rehearsing for weeks these fight scenes and he was just there and he was focused and he was there no complaining, no nothing and just so into it"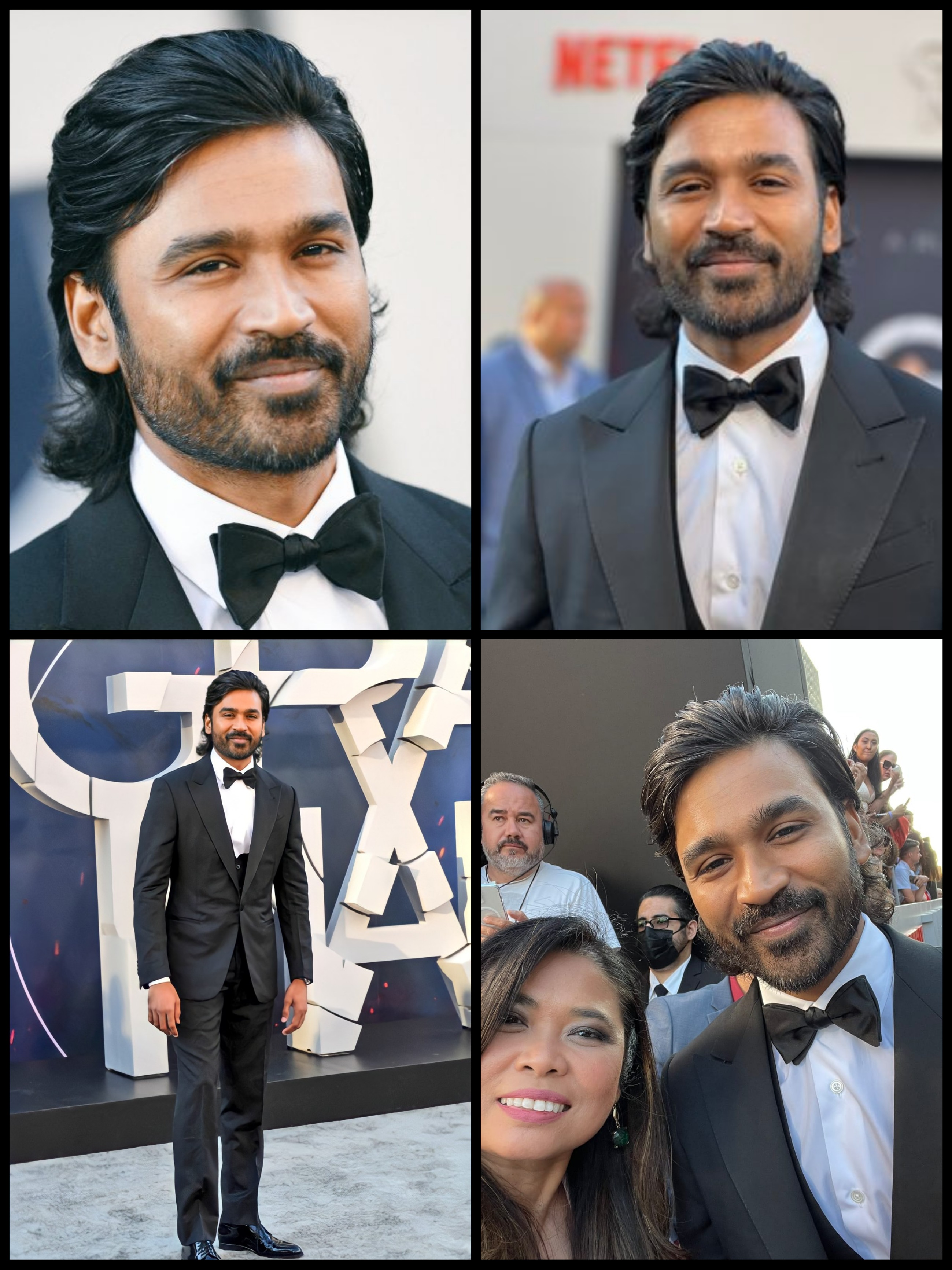 "So lovely to work with him, I mean he's so much fun" she added. "Well said. Truly a professional. Really poised man, there's something about him that almost has like an elegance to him and he set a bar for professionalism" Chris Evans said.
Watch the video below :
AnaDeArmas and Chris Evans About Dhanushkraja#TheGrayMan #Vaathi #NaaneVaruven @dhanushkraja @ChrisEvans #AnaDeArmas pic.twitter.com/V1yKsMvDhX

— Raguvaran ᴸᵉᵗʰᵃˡ ᶠᵒʳᶜᵉ (@Dhanushblood10) July 16, 2022
Fans from India can't keep calm after seeing the most famous stars from Hollywood praising Dhanush who acted in a number of films in Bollywood. It is believed that Dhanush has played a role of an assassin in the film and a scene of himself fighting Ana De Armas and Chris Evans was released for promotion as well. However, we have to wait till the 22nd to see  what kind of role our very own Dhanush has played in the film.