The Indian Premier League 2019 Eliminator between Delhi Capitals and Sunrisers Hyderabad turned into a nail-biting, drama-filled contest in Visakhapatnam during the final over as Amit Mishra was given out for obstructing the field.
Amit Mishra became the talk of social media after becoming a victim of one of the rarest forms of dismissals. With Delhi, who have had an exceptional season, requiring just two runs to win off the final three balls, Mishra brought the equation down to two off two balls.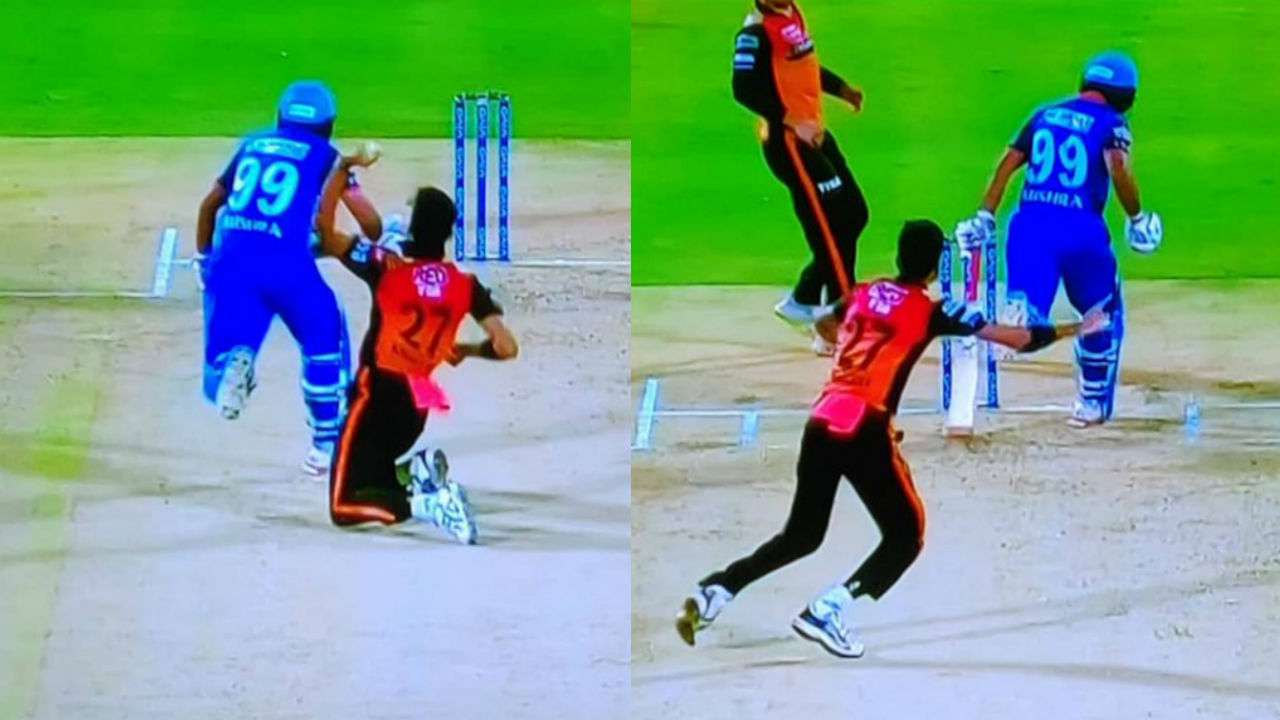 [wp_ad_camp_1]
On the fourth delivery of Khaleel Ahmed's over, Mishra went for the big one which he missed. Then, he took off for a single and wicketkeeper Wriddhiman Saha aimed at the stumps. He missed it as well. Khaleel then collected the ball and took an aim at the non-striker's end. Mishra changed his track while running and the throw hit him on the arm, in front of the stumps.
Watch the video here :
Initially given not out by field umpire S Ravi, the decision went upstairs and Mishra was adjudged out for obstructing the field. This grabbed the attention of social media users who had a good laugh by creating memes.
Tamil comedy actor Sathish got shocked on seeing this behaviour of Amit Mishra to which he reacted by tweeting "Ada Paavi"
Adappaaavi Amith Mishra 🤨🤨

— Sathish (@actorsathish) May 8, 2019
[wp_ad_camp_1]
Check out some of the other reactions here :
Ada paavigala.. cricket apapo paakra engaluke therium few Obstructing the field dismissals in the past.. especially legend #Inzamam😂🤭https://t.co/xmD8OTAjbX

— Vinu Chandar (@VinuChandarN) May 8, 2019
Amit Mishra a typical Delhiite – changing lanes in traffic and hoping there are no consequences. pic.twitter.com/JcIYaPcDWT

— Abhishek Editz (@AbhishekEditz) May 8, 2019
Amit Mishra- body before wicket, elbow before wicket, etc, etc.
Zarurat kya thi Mishra ji.
Congratulations Delhi Capitals! #DCvSRH pic.twitter.com/nGIq3QYN6n

— Abhay Anand 🇮🇳 (@ABHAY_1987) May 8, 2019
Amit Mishra run-out explained#DCvSRH pic.twitter.com/Ewf1mV4iZF

— Rajpurohit (@gajender00) May 8, 2019
My phone always disturb me while studying please, koi mere phone ko bhi out karwa do Mishra Ji ki Tarah😂😂#DCvSRH #SRHvDC #amitmishra #khaleelahmed #RiseWithUs pic.twitter.com/FkufPQSPK7

— लौह पुरुष ⚡ (@Ironnnmannnn) May 8, 2019
Amit Mishra trying a Googly while running on the wicket also🤦🏻‍♂️#DCvSRH

— Shridhar V (@iimcomic) May 8, 2019
#AmitMishra bringing in all his experience in that crucial run 😉

— Mikkhail Vaswani (@MikkhailVaswani) May 8, 2019
[wp_ad_camp_1]
Amit Mishra driving his car.#DCvSRH #SRHvDC pic.twitter.com/It3jQBo1xJ

— Farrago Abdullah (@abdullah_0mar) May 8, 2019
Amit mishra and Ashwin played gully cricket in a same gully .! #DCvSRH

— korg (@khizer_8) May 8, 2019
Time to plug the funniest run-out in history of IPL 😂😂😂

Amit Mishra even that time
#DCvsSRH pic.twitter.com/3OxBiwPXsO

— Shrii (@4th_Umpire_) May 8, 2019
Amit Mishra legendary runner between wickets since forever

— Gaurav Sethi (@BoredCricket) May 8, 2019
Amit Mishra: India's Best Batsmen.
No bowler, no fielder, no keeper could get him out.

It required the entire field. pic.twitter.com/VyiOFCm7Ka

— Sorabh Pant (@hankypanty) May 8, 2019
What do you think on this weird dismissal and the hilarious memes on it ?? Comment your views below !!