"Am I A Fool ??" Kovai Sarala Hit Backs At Kumaravel For His Allegation !! WATCH
Written by Dhiwaharan Published on Mar 19, 2019 | 05:11 AM IST | 176
Follow Us
Comments: 0
Entrepreneur turned politician C.K. Kumaravel, the co-founder of Naturals chain of salons, has resigned from the Kamal Haasan-led Makkal Needhi Maiam (MNM), citing "internal politics".
[wp_ad_camp_1]
In his letter to the MNM founder-president, Mr. Kumaravel, who had been a member of the party since its inception, said, "The internal politics and the management committee's attitude towards inner-party democracy has led to this decision." He added that the delay in announcing the candidate list was also a cause for concern. "We (MNM) are a start-up and we need to move fast. That was not happening. All the big parties have already announced their candidate list," he said.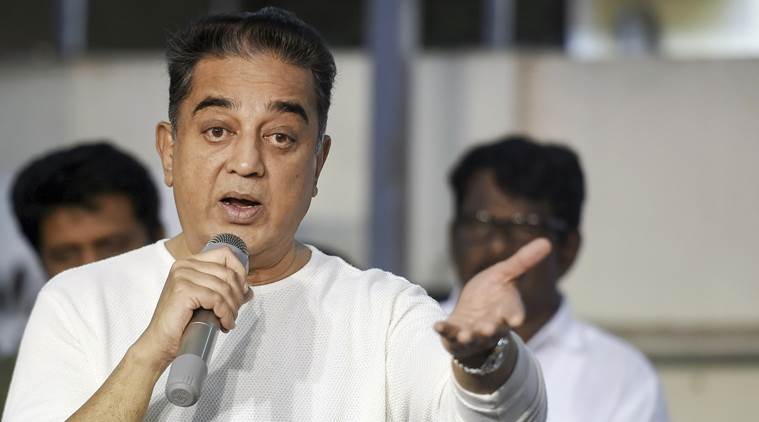 With less than a month to go for Lok Sabha elections, actor–turned politician Kamal Haasan's Makkal Needhi Maiam (MNM) has found itself in trouble with the party's senior leader and Naturals salon chain co-founder CK Kumaravel quitting the party citing internal politics.
Kumaravel, who had been part of the party's core team since its inception on February 21, 2018, submitted his resignation on Monday citing "internal politics". Hours after his resignation, MNM's National Media Manager Mandvi Sharma issued a statement that the party is accepting Kumaravel's resignation on the grounds that his acts were not in keeping with the democratic selection process of candidates.
While giving press meet C.K Kumaravel also added that he doesn't even have Kamal Haasan's phone number till now despite of traveling 1 year with Kamal Haasan's Makkal Needhi Maiam. My wife asking me "Are you entered in politics to be interviewed by Covai sarala ??" to which I had no answer at all" he said.  MNM was launched by Haasan on February 21 last year from his home town Rameswaram. During the election campaign, Haasan has reached out to the state's rural places interacting with locals and villagers.
[wp_ad_camp_1]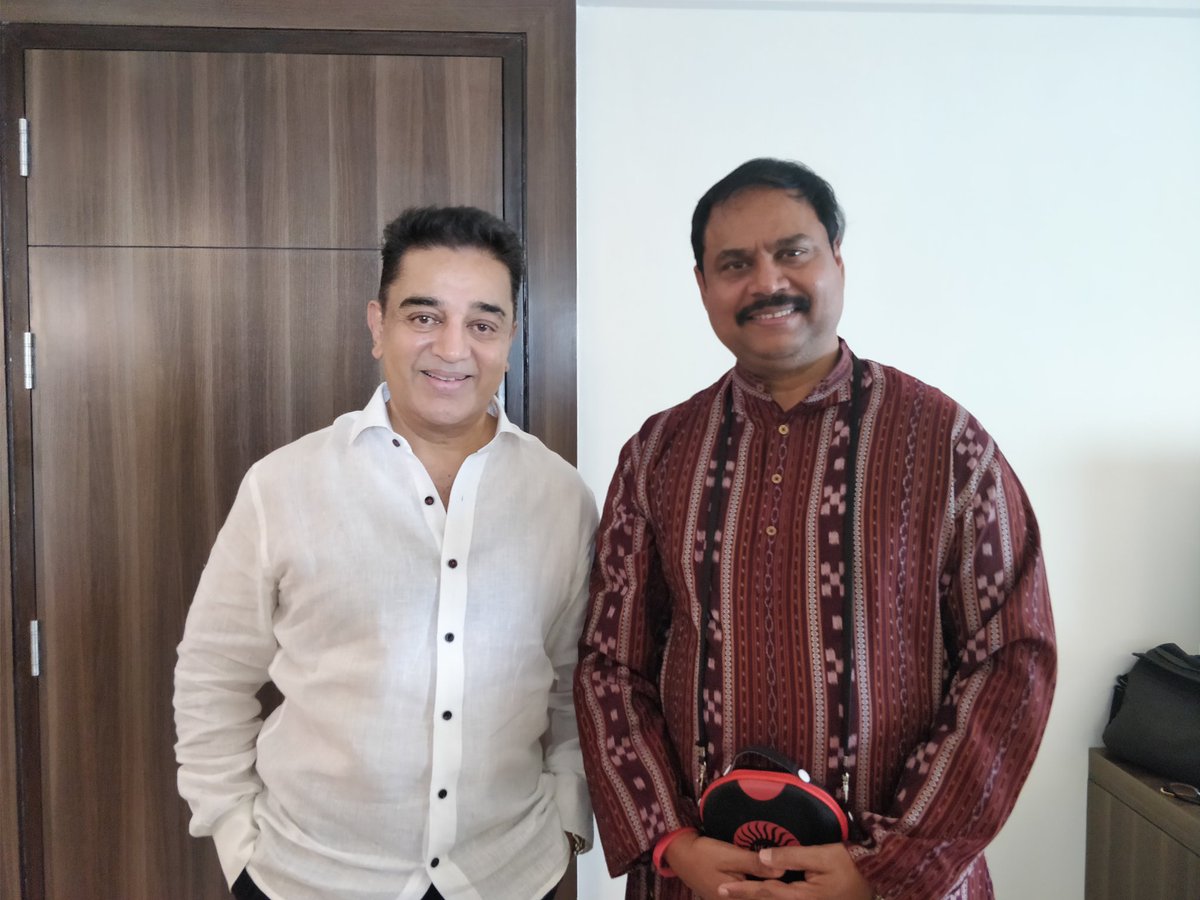 In a way of answering him "Is he saying that Kamal has kept a fool in his party to interview everyone ?? If he say so I will answer him directly. Headship would have issued him the reason and his report will be in head office. Don't ask me about it, read the reports" said Kovai Sarala who is working in Tamil Industry as an actress for more than 30 years.
Source : Puthiya Thalaimurai 
Further she added that she got a citizenship of Indain country which gives her the rights to vote. "Kamal Haasan called me only under that qualification. He wanted public to be a part of it. Moreover people who are not politicians are also been present there. Am I the only one who grabbed your attention ?? " asked Koval Sarala in her interview with Puthiya Thalaimurai. 
"External politics is something I can handle. But, I just cannot deal with the internal. We were a young party, a start-up. Start-ups are supposed to be fast and agile, and we are one of the last to announce our candidates. There are many other factors and differences in opinion that led to my decision to send the letter," Kumaravel told ET, adding it would be a waste of his, and his family's, "social capital" to continue to be a part of the party.
[wp_ad_camp_1]
Following this Makkal Neethi Maiam also released a press release in which it stated that he violated the rules of the party.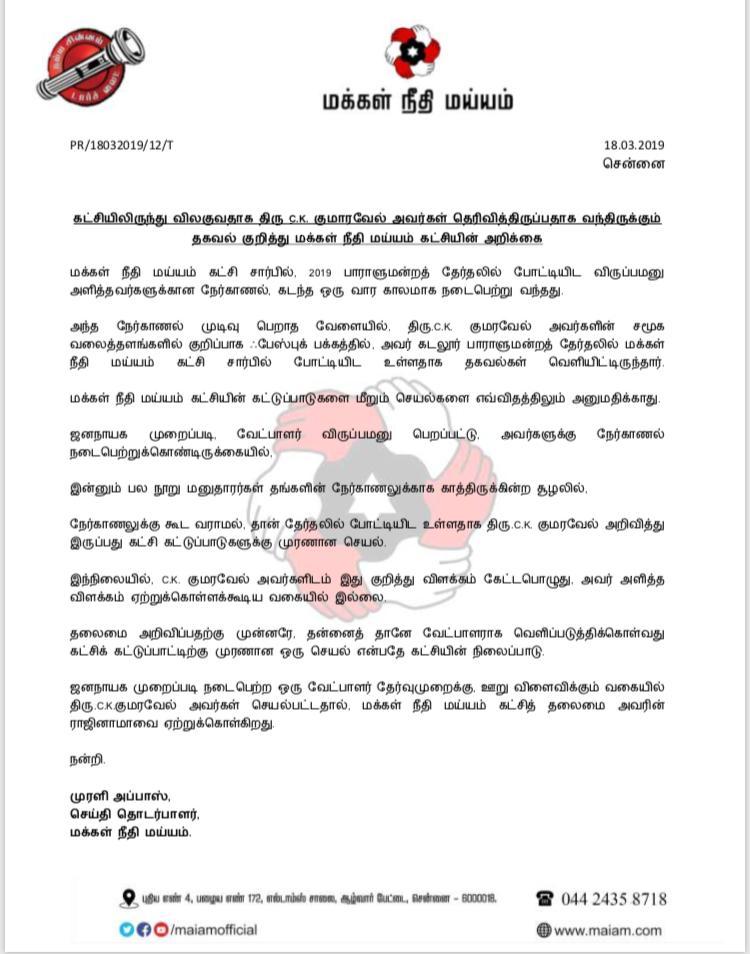 கட்சியிலிருந்து விலகுவதாக திரு @ckknaturals அவர்கள் தெரிவித்திருப்பதாக வந்திருக்கும் தகவல் குறித்து மக்கள் நீதி மய்யம் கட்சியின் அறிக்கை.#MakkalNeedhiMaiam pic.twitter.com/KgNrnKCmwy

— Makkal Needhi Maiam | மக்கள் நீதி மய்யம் (@maiamofficial) March 18, 2019