Alya Manasa's Expensive Birthday Gift To Her Husband Grabbed Internet's Attention!!
Follow Us
Comments: 0
Alya Manasa's Gift To Sanjeev, a beloved couple on the Tamil screen, have garnered immense admiration and affection from fans. Their remarkable journey, which began with the popular Vijay TV series "Raja Rani," has now transcended fiction and extended into their real-life romance. The pair's love story has become an inspiration to many, and as they celebrate milestones together, their fans never fail to shower them with love and congratulations.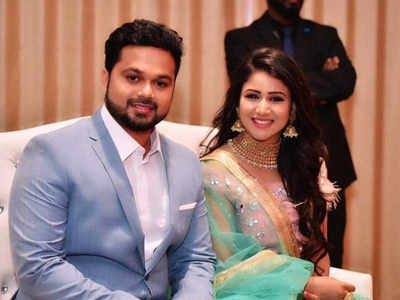 ALYA MANASA & SANJEEV
Alya Manasa and Sanjeev's on-screen chemistry in "Raja Rani" was so palpable that it didn't take long for viewers to speculate about a possible off-screen connection. As it turned out, the rumors were true, and their love blossomed behind the camera as well. Their genuine affection for each other translated beautifully on-screen, endearing them even more to their fans.
Also read: Pooja Hegde Tried To Commit S*icide ?? Shocking Statement!!
SANJEEV & ALYA MANASA
After their successful stint in "Raja Rani," the couple continued to work together in other projects, further solidifying their bond both professionally and personally. As their love story deepened, they decided to take their relationship to the next level and tied the knot in a heartwarming ceremony. The news of their marriage sent ripples of joy through the Tamil entertainment industry, and their fans rejoiced at seeing their favorite on-screen couple become a real-life couple too.
Soon after their wedding, Alya Manasa and Sanjeev were blessed with two beautiful children, a son, and a daughter. Their adorable family became a source of joy not just for the couple themselves but also for their numerous fans who eagerly followed their updates on social media.
In an era where many celebrities strive to keep their personal lives private, Alya Manasa and Sanjeev took a different approach. They embraced the love and support from their fans and decided to share glimpses of their family's joyous moments on a dedicated YouTube channel. Through this platform, they invited their fans into their lives, offering them an intimate look at their daily routines, special celebrations, and candid moments. This openness further strengthened the bond between the couple and their ardent supporters.
Also read: Kalidas Jayaram Got Thrashed For Tagging His GF In This Story !!
As Sanjeev's birthday approached, excitement grew among their followers. Alya Manasa, known for her thoughtful gestures, decided to surprise her husband with a significant and unforgettable gift. She gifted him a brand new car, a gesture that left Sanjeev both thrilled and deeply touched by her love and generosity. The car represented not just a luxurious possession but also a symbol of their enduring love and commitment to each other.
Sanjeev, overflowing with gratitude, shared a picture of himself sitting inside the car on his Instagram account. He expressed his heartfelt thanks to Alya Manasa, acknowledging her love and the extraordinary present she had bestowed upon him. The social media post was inundated with congratulatory messages from fans and fellow celebrities, all of whom appreciated the couple's affectionate bond and Alya Manasa's heartwarming gift.
The couple's love story has been a beacon of hope for many, proving that fairy tales can indeed come true. Their journey from on-screen chemistry to off-screen romance, marriage, and parenthood has resonated deeply with fans, instilling in them the belief that true love knows no boundaries.
View this post on Instagram
Also read: Noida Woman Accused Her Husband Of Wife-Swapping!!
Beyond their professional success, Alya Manasa and Sanjeev have cultivated a genuine connection with their fans by involving them in their personal lives. By sharing their joys and sorrows, they have formed a unique bond with their audience, one built on mutual trust and affection.
As Alya Manasa and Sanjeev continue to celebrate life's milestones together, their fans remain dedicated and enthusiastic supporters, cheering them on every step of the way. Their enduring love story serves as a reminder that true love, whether on-screen or off-screen, is a rare and beautiful gift that deserves to be cherished and celebrated.