Akshara Haasan's Private Pictures Leaked & Her Reaction Was Heart-Breaking !!
By Dhiwaharan
Akshara Haasan is an Indian film actress and assistant director. The daughter of actors Kamal Haasan and Sarika Thakur, and the younger sister of Shruti Haasan, she made her film debut with the comedy drama Shamitabh (2015), and she made a very small appearance in Kollywood movie Vivegam. 
[wp_ad_camp_1]
Kamal Haasan's daughter, Akshara Haasan, was the recent victim of cybercrime since private pictures of the actress got leaked on social media. While it's not clear how the pictures got leaked but they have been going viral on social media. Akshara reacted to the incident with a strong note on Instagram and also adds that with the ongoing MeToo movement it's depressing to see such things happen.
While some were speculating that the photos are morphed, Akshara in her tweet confirmed being a victim of the cybercrime. "Recently, some of my private pictures were leaked on the Internet. Who did this or why is not known to me yet. But what I do know that it is deeply unfortunate to make a young girl the victim of such an act only for a pervert mind's enjoyment. And each time someone shares it with eye-catching headlines to draw more traction, it scars me deeper and adds to everyone's participation in my harassment and helplessness," her tweet read.
[wp_ad_camp_1]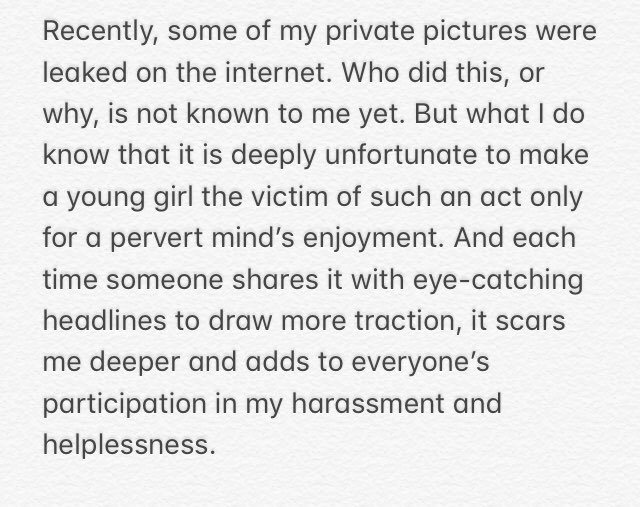 "And each time someone shares it with eye-catching headlines to draw more traction, it scars me deeper and adds to everyone's participation in my harassment and helplessness. It's particularly disturbing and deeply upsetting to see that at a time when the nation has woken up to the #metoo movement, there are still people out there who would harass and attempt to share private pictures of a young girl in the public eye only to derive some perverse pleasure that appeals only to them."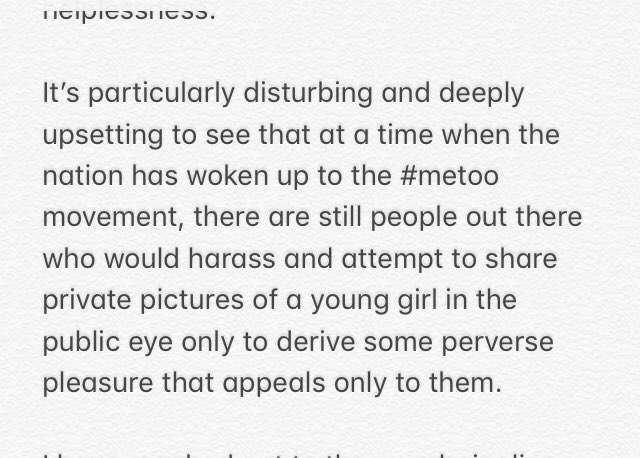 Akshara has approached Mumbai Police and Cyber cell and has said that she will get to the bottom of it. She added, "I have reached out to the mumbaipolice and the cybercell to seek their help in tracking the person/s responsible for this leak and hope to get to the bottom of this soon. Till then, I can only request that we all learn to live and let live with dignity and privacy and hope that the internet won't continue actively participating in my harassment. #metoo."
@MumbaiPolice @Cybercellindia pic.twitter.com/JS1lJVdD6u

— Kutty Haasan (@aksharahaasan1) November 7, 2018
Shruthi Haasan retweeting the post, Check out other reactions Akshara received here :
Nowadays Celebs like you facing these kind of problems many!! So please be careful while handling the electronics gadgets ma'am! Don't worry! Everything will be alright! And we'll support you!!👍

— 😀 i n u (@Dhineshprabu007) November 7, 2018
Take care ma
B careful with pple whom u are close with. There may be black sheeps.
If you are still feeling depressed, look at your appa's life, all the struggles that he went through and how it made him the strongest person he is now!
Be strong! Never give up!
Your elder brother

— François GASTON (@gfranx) November 7, 2018
தயவுசெய்து தற்காப்பாக இருக்க வேண்டும் தைரியமாக இருக்க வேண்டும் இது போல் சமூகவிரோதிகள் ஆயிரம் பேர் உண்டு என்றும் ஜெயித்து வர என் வாழ்த்துக்கள் லவ் யூ மா …

— Nammavar (@lathaprasath5) November 8, 2018
Don't Believe Anyone Around You….
Nowadays Most of Them are Cheap In this type of activities,,,We Support You😊 Be Aware And Strong…

— Divakaran (@dhvakr) November 7, 2018
Someone is watching u..hacking ur phone..so alert, report again to severe action to catch that hacker

— blacknight08 (@blacknight0811) November 7, 2018
[wp_ad_camp_1]
Akshara also tagged the cybercrime cell and Mumbai police to her twitter and Instagram post. We do hope that necessary actions are taken immediately to prevent the pictures from being circulated further. Stay tuned with us for more updates on the same.