Ajith Fans Liked Shah Rukh Khan's "Zero" Trailer To Restrict BIGIL Trailer ??
Written by Dhiwaharan Published on Oct 16, 2019 | 09:39 AM IST | 109
Follow Us
Comments: 0
No words could describe the craze level that is being created by Bigil Trailer. Director Atlee, who himself a biggest fan of actor Vijay, carved the actor inch by inch it seems. The most awaited trailer of Bigil released on Saturday and left the Internet in explosion. The film which marks the third collaboration of Atlee and Vijay, has actor Vijay in the lead in three different get ups.
[wp_ad_camp_1]
The trailer ticks all the boxes of the expectation list of a Vijay fan. Looking like a emotional action drama, Bigil trailer promises an absolute treat for the fans who are waiting for it since past one long year. Within 3 days since release, the trailer of Bigil reached 2 million likes and became the second most liked trailer in India after Shah Rukh Khan's "Zero" trailer.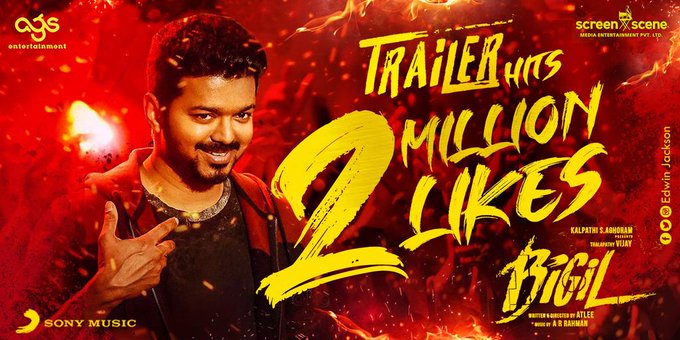 Now the reason behind Bigil becoming the second most liked trailer instead of becoming the first ever to reach 2 million likes has been revealed. The trailer of Shah Rukh Khan's "Zero" released on the 2nd of November in 2018. When Bigil trailer released on Saturday, the likes of "Zero" trailer were around 1.8 million and it was seen receiving more than 120 million views.
[wp_ad_camp_1]
As soon as the trailer of Bigil released, fans of actor Ajith Kumar who is considered as the rival of actor Vijay, started liking the trailer of Shah Rukh Khan-starrer, to restrict Bigil from becoming the first to reach 2 million likes. This is evident through some posts which surfaced in the social media platforms.
Check out some of the tweets here :
#Bigil தான் இந்தியாலயே முதல் 2M #LikedTrailer ஆ இருக்கும்ன்னு தேவாங்குங்க கனவு கண்டானுங்க.

நம்ம பசங்க #ZeroTrailer ல கொஞ்சம் வேலபாத்தாங்க போல, அவனுங்க ஆசயல்லாம் கனவாபோய்ருச்சு😂🙏#TrollMaterialBigil pic.twitter.com/jU5dRBbWr7

— மிஸ்டர் தங்கம் 😎 (@askithalaV4) October 15, 2019
சம்பந்தமே இல்லாம பிகிலை பழிவாங்க ஜீரோனு ஒரு பழைய இந்தி பட ட்ரெயிலரை லைக் செய்து கொண்டிருக்கிறார்கள் அஜீத் ரசிகர்கள். அவ்வளவு ஃப்ரீயா இருக்கீங்களா, அல்லது நாடுதான் அவ்வளவு நல்லா இருக்கா! நம் Priorityகளை நினைத்தால் வேதனையாக இருக்கிறது. அஜீத் கூட இதை விரும்ப மாட்டார். #ZeroTrailer

— Ashok.R (@thedonashok) October 15, 2019
Zero trailer's likes were at 1.9M and Bigil trailer was about to become the first Indian trailer to get 2M likes and Ajith fans noticed that and started liking the Zero trailer. Now Zero has become the first Indian trailer to hit 2M likes. Crazy! 😂😂

— bk. (@NotBobbey) October 15, 2019
Yeah it crossed but later it fell down to 1.9 and Ajith fans today started to like it and it reached again to 2M so that Bigil couldn't be the first one. But Zero did 2M way before.

— JUST A FAN. (@iamsrk_brk) October 15, 2019
Thanks Thala Ajith Fans For Zero Trailer Complete 2m Likes On You Tube#WeWantConfirmationSRKandAtlee pic.twitter.com/6b5oW8z6gy

— Nafees Ali (@NafeesSrkian7) October 15, 2019
[wp_ad_camp_1]
What!!!! Seriously this Fan fights are leading to some psychological disorder. Some actions should be initiated by both of the actors ASAP. https://t.co/HNl2N2Z7Qz

— யாளி (@imcomrade) October 16, 2019
Produced by AGS Entertainments, Bigil has Nayanthara as lead lady. Kathir, Vivek, Yogi Babu, Indhuja Ravichander, Jackie Sheroff, Daniel Balaji are some of the other actors taking part in the film. On the other hand, Ajith Kumar is all set to appear as cop in his next which is tentatively titled as Thala60. The film is going to be directed by H.Vinoth who directed Ajith in his previous venture Nerkonda Parvai.