Agra : Mother & Daughter Duo Arrested For Doing Reels On Railway Track!!
Written by gokul krishnan Published on Jul 25, 2023 | 14:13 PM IST | 63
Follow Us
Comments: 0
The surge in social media's popularity has led to a concerning trend of people engaging in risky stunts and irresponsible acts solely for the sake of creating attention-grabbing content. A recent incident reported from Agra, India, shed light on this dangerous phenomenon when a mother-daughter duo put their lives at risk to film a dance reel on live train tracks. The video quickly went viral, drawing widespread criticism and sparking conversations about the need for responsible social media use.
The video depicted Meena Singh, a YouTuber with a substantial following, dancing fearlessly on the railway tracks at Agra Fort Railway Station. With her daughter behind the camera, she performed to the song 'Ab Tere Bin Hum Bhi Jee Lenge,' displaying complete disregard for the potential dangers posed by trains passing nearby.
The reckless behavior displayed in the video was not limited to the rail tracks alone. Meena Singh had also uploaded footage of herself dancing on the railway platform, even as a train approached. The alarming lack of concern for her own safety and that of others at the station demonstrated a growing issue with individuals prioritizing online fame over common sense and responsible conduct.
also read: West Bengal : Teacher Arrested For A*using Minor Student In School!
Following the video's online circulation, the police took swift action and apprehended both Meena Singh and her daughter under relevant sections of the Railway Act, including 145 (Drunkenness or nuisance) and 147 (Trespass and refusal to desist from trespass). Indian laws mandate prior permission from railway officials for any filming activity on railway premises. However, the more significant concern lay in the life-threatening nature of their actions, posing risks not only to themselves but also to the lives of passengers and railway staff.
It is essential to recognize that social media can be a powerful tool for communication, creativity, and inspiration when used responsibly. However, when users engage in dangerous stunts for the sake of gaining views, likes, and shares, it becomes a pressing issue that requires immediate attention. Influencers and content creators hold a level of responsibility to their followers, and promoting risky behavior can have severe consequences, both for the individuals involved and those who might emulate them.
also read: Vignesh Shivan's Important Message to Pradeep Ranganathan!!
The case of Meena Singh and her daughter serves as a cautionary tale for all social media users. It highlights the need for stringent guidelines and regulations to curb such reckless behavior on online platforms. While granting them bail, the police extracted an assurance that the duo would refrain from repeating such dangerous acts. However, it is crucial that social media platforms and society as a whole take a proactive approach in addressing this problem.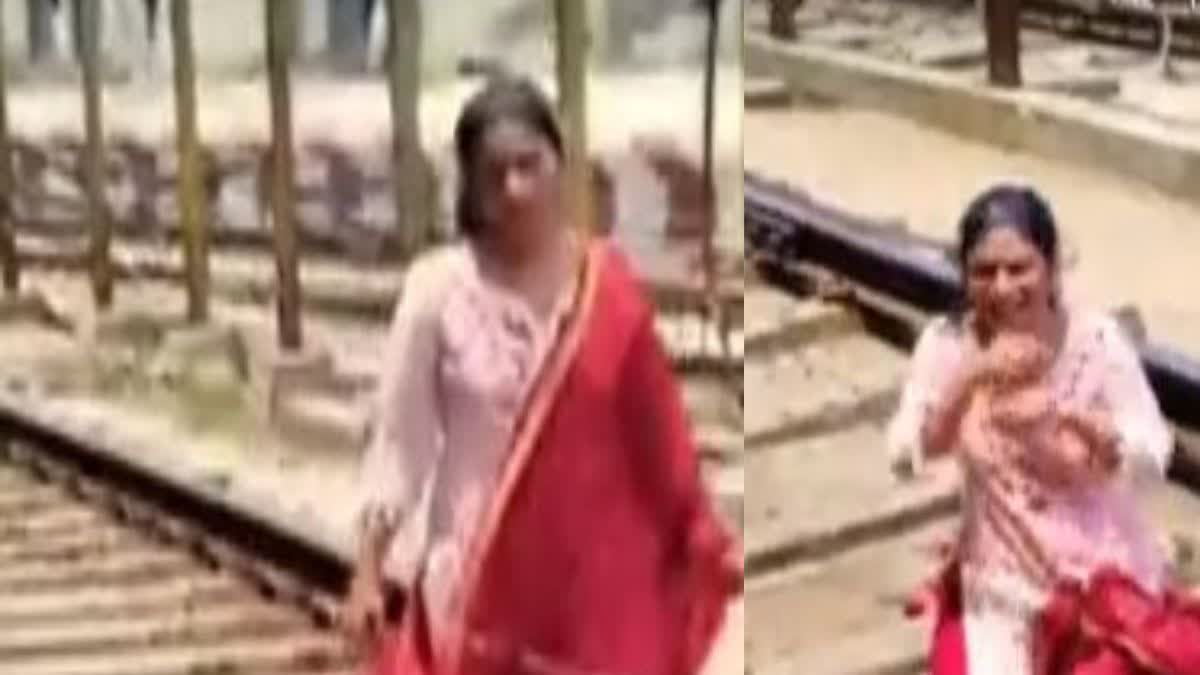 In response to this growing trend, social media platforms should consider implementing stricter policies regarding dangerous content. This includes promptly removing videos that promote risky behavior and issuing penalties for users who violate safety guidelines. Additionally, platforms can introduce educational initiatives to raise awareness about responsible content creation and the potential consequences of engaging in dangerous activities for the sake of social media fame.
also read: Dhoni's Wife Sakshi Comment On The Salary Of Prabhas !!
Furthermore, parents and educators must play an essential role in guiding the younger generation towards responsible social media use. It is crucial to instill in them an understanding of the real-life implications of their online actions and to emphasize the importance of valuing one's safety and well-being above virtual recognition. Local authorities and railway administrations should also take measures to improve surveillance and safety measures at railway stations and tracks. The installation of warning signs, barriers, and increased security presence can act as deterrents for potential trespassers and minimize the occurrence of such incidents.
Here is the tweet below:
आगरा में रेलवे ट्रेक पर प्लेटफार्म पर मां बेटी ठुमके लगा रही थी । माँ बेटी ने बीच रेलवे ट्रेक पर बनाई थी रील,
आरपीएफ ने मां बेटी को पकड़ा और हवालात की कार्यवाही जारी है@RPF_INDIA @spgrpagra @DeepikaBhardwaj @Uppolice pic.twitter.com/jsi6b6fqoy

— Madan Mohan Soni (@madanjournalist) July 23, 2023
Lastly, as social media users, we all have a responsibility to report and discourage unsafe content. If we come across videos or posts that promote dangerous activities, it is our duty to report them to the platform administrators and encourage others to do the same.
Here is the video below:
The case of Meena Singh and her daughter in Agra should serve as a wake-up call for everyone involved in the digital sphere. While seeking recognition and validation online is understandable, it should never come at the cost of our safety or that of others. It is high time we collectively take responsibility and work towards fostering a culture of responsible and mindful social media use, where creativity and authenticity can thrive without endangering lives.