"Again Started To Drizzle" Reported BCCI !! Fans Thrashing ICC Left & Right !!
Written by Dhiwaharan Published on Jun 13, 2019 | 09:17 AM IST | 68
Follow Us
Comments: 0
India's match against New Zealand which is due to be held in Nottingham later today (June 13) is threatened by a high chance of rain. Inclement weather has been a feature of the World Cup 2019 for the past few days with as many as 3 games being washed out. Fans of both teams would be praying that today's match doesn't suffer the same fate.
[wp_ad_camp_1]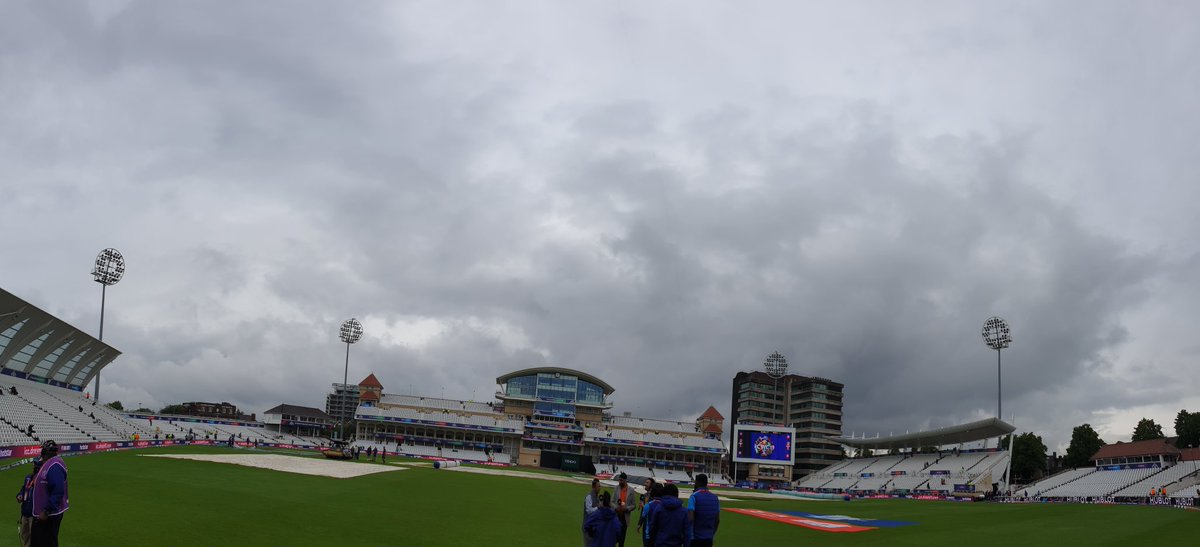 While it has been raining for the past 2 days in Nottingham, today the rain has been intermittent but the wet outfield could still affect the duration of the match as we could see a reduction in overs as well.
When it stopped raining few minutes ago, officials tried to dry the field when it again started to drizzle as per the report by BCCI.
Covers are back on as it has started to drizzle again 😑#CWC19 pic.twitter.com/N5B09s3reh

— BCCI (@BCCI) June 13, 2019
This irked the cricket fans who are thrashing ICC for selecting England to held the World cup. Three World Cup matches have already been called off cause of the rain. On Tuesday the match against Sri Lanka and Bangladesh was washed out without even a single ball bowled.
Twitter is busy wondering why the climatic conditions weren't checked while hosting the mega event. Fans are screaming over the top of their voice for a reserve day for called off matches. ICC was slammed by the Twitterati.
[wp_ad_camp_1]
Check out some of the hilarious posts here :
Full Form Of ICC : International Chutiya Council #INDvNZ

— राज सिंह (@officialRajkr) June 13, 2019
Cover like this and play 🙄 pic.twitter.com/UiNkoJXLNU

— कृष्णा हिन्दू (@kldCiVkGrSZsTJj) June 13, 2019
#CWC19 #INDvNZ pic.twitter.com/arVx4EnF1h

— super bhakt😈 (@nasamajhchora) June 13, 2019
AS expected !!! Simply call off this match as the viewers are wasting their time in waiting for the match to begin which is never possible ..

— Ashutosh kumar Singh (@Ak_One8crew2018) June 13, 2019
Meanwhile Opening pair for world cup pic.twitter.com/KwXF4fDwKk

— Timepasshub (@timepasshub_) June 13, 2019
— ♌🦁.. (@urstrulyM4hesh) June 13, 2019
[wp_ad_camp_1]
The weather of England is quite irritating.

— Prateek kumar rai (@Prateekkumarr12) June 13, 2019
I bought new 40″ FHD LED TV to watch rain?

— 🌴 Zaid Al Attas 🌴 (@ZaidAttas) June 13, 2019
Don't frustrate us more, cancel the match @ICC

— Fantasy Cricket (@Fantasy46964737) June 13, 2019
இன்னைக்கும் மேட்ச் நடக்காதோ இங்கிலாந்து சல்லிபுண்டைகளா 🚶🚶🚶

— Dr.Lee Chandler (@kandaknd) June 13, 2019
Inspection Cricket Club
😀😀

— KSS (@KripaSharma19) June 13, 2019
Match gone abondaned pic.twitter.com/hxuiWFezk1

— Abhayraj Singh (@abhayrajsing1) June 13, 2019
— Dothraki (@AsliJP) June 13, 2019
மழை காலத்தில் ஏன்டா கிரிக்கெட் வைக்கிங்க😥😥😥😥😖😖😖😖😖😖😖😖😖😖😖😖😖😖😭😭😭😭😭

— Bharathi (@Bharathishivan) June 13, 2019
Is a drizzle enough to stop a cricket match yes bcoz patches form on d ground bt my question is if stop patches from forming then can we not play cricket in slight drizzle or in light rain difficult but not impossible. Every other outdoor game played in rain except 🏏 .#IndVNZ

— sumit kumar (@sumitkumar_s10) June 13, 2019
ICC world cup England :😂🤣😅#ICCWorldCup2019 #ICCWorldCup pic.twitter.com/l0UvBsq3bd

— Joykhan (@Joykhan18923460) June 12, 2019
@ICC 😡😡😡😡😡😡 pic.twitter.com/QUTQvxTUei

— ANINDITA🇮🇳 (@aninditavirat02) June 13, 2019
This is irritating ain't it ?? What do you think on ICC selecting England for World Cup ?? Comment your views below !!