After Watching This Telugu BIGG BOSS PROMO, Tamil Audience Wants To Remove Kamal Haasan From BIGG BOSS TAMIL !!
Written by Dhiwaharan Published on Sep 15, 2019 | 23:55 PM IST | 66
Follow Us
Comments: 0
Bigg Boss Telugu 3 enters its 55th day and the show is creating anticipation day after day because of the ample controversies at stake in the house. Bigg Boss is one of the popular Television show which is keeping the viewers of south India busy. As the Tamil version of the show is being hosted by Kamal Haasan which is running successfully, the Telugu version of Bigg Boss show has been hosted by Nagarjuna.
[wp_ad_camp_1]
Unlike Kamal Haasan, Nagarjuna is known for his own way of hosting the show. Recently he took break from hosting the show and went to spain to celebrate his birthday with his family. That week Ramya Krishnan was brought as "guest host" to host the Telugu Bigg Boss show.
Now, as the actor came back from his vacation, made his appearance to host the weekend show and one of the promo of it grabbed the attention of Tamil audience who want him to host the Tamil Bigg Boss show.
Watch that promo of Nagarjuna warning a contestant here :
BiggBoss is the boss of the house!!!#BiggBossTelugu3 Today at 9 PM on @StarMaa pic.twitter.com/zQGmMq23g8

— STAR MAA (@StarMaa) September 14, 2019
For expressing a opinion, Nagarjuna warned Sreemukhi and reminded her that Bigg Boss is the Boss of the house. As soon as watching this promo, few Tamil Bigg Boss viewers want him to host the Tamil Bigg Boss show to thrash contestants like Kavin. "Kamal should have slapped such comment on Vanitha's face" said of a Twitter.
Check out some of their reactions :
இப்படி முகத்தில் அடிச்ச மாதிரி வனிதாவுக்கு சொல்லி இருக்கணும் கமல் https://t.co/Aon4yYJXKj

— சௌம்யா :)) (@arattaigirl) September 14, 2019
Definitely bbtelugu promos ellam 🔥🔥🔥than very tough serious tasks no one is doing fake love drama&sacrificing games. If possible bring @iamnagarjuna to host one weekend instead of dubakoor @ikamalhaasan he will shit out of kakooskavin &his gang.#biggbosstamil#biggbosstamil3

— Thalapathy James 🐯🦅ᴮᶦᵍᶦˡ (@Jamesji46788905) September 14, 2019
What a promo semma 👌👏 rip bbtamil

— 💕💞👸💞💕 (@chithirai89) September 14, 2019
[wp_ad_camp_1]
Kamal panradhulam patha simbu dan intha post ku next year opt a irupanu thonuthu. Vettu onnu thundu rendu nu perusavaru dan venum. Politics ponathularundhu diplomatic ave show run panitu irukaru

— Vajhu (@vajhullah) September 14, 2019
👆🏻 I'm seriously telling I want @SunTV or @ZeeTamil or any other channel to telecast #BiggBossTamil3 season 4. And change the host. We need someone like Nagarjuna or Salman khan, here.

— Rizaniya Ferin 🇱🇰 (@my_rizaniya) September 14, 2019
😀😀

— G@y@+hr!e S!v@π@πd@m (@ThisIsGayathrie) September 14, 2019
Sir Plz Come to #BiggBossTamil3 🙏

— D.N.A Thala fan ⭕ (@ThalaArmy1) September 14, 2019
Kamal Haasan started yesterday's Bigg Boss episode by addressing the death of Subashree who died because of an illegal political hoarding. In last season, Kamal Haasan once told that he suggested Vijay Tv not to bring the pattern of north Indian's Bigg Boss as it contains a whole different culture. He even asked the Tamil Bigg Boss management not to fill the water in swimming pool by considering the water scarcity in Tamilnadu.
[wp_ad_camp_1]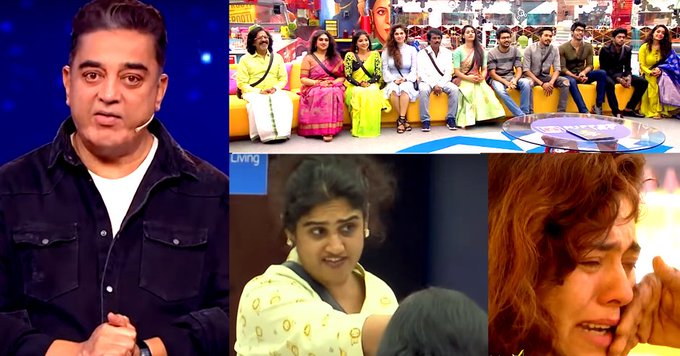 The actor with his influence brought back "Pommalattam", an old form of storytelling in this season of Bigg Boss show. Kamal Haasan who is hosting the show for the third consecutive time, never expressed hatred towards one particular contestant or bashed them directly, instead he would make sure they understood the consequences of their behaviour with the consideration of their future after the Bigg Boss show.